picture of your garage

10-19-2015, 02:32 PM

---
I don't have anything recent, but this photo brought back some good memories from about 5 years back. This was my garage at the first condo I bought at age 23. This was where all the wheel, brake, and fluid changes happened in preparation for track days. The crest on the wall was hand drawn by me at the age of 13. I guess you could say I bit the bug very early in my life.

10-19-2015, 03:00 PM

---
I have a warehouse at my office where I keep my track cars, trailers and I rotate cars from there . My main Garage holds 8, has a bar area, sitting area and bathroom. I have a 3 car garage for my daily drivers..

10-19-2015, 09:17 PM

---
Recently bought a house and just finished re-doing the original garage (circa 1940s). Insulated, air conditioned, pine walls, epoxy floors. Lista cabinets coming in the next month.
---
Last edited by Shivatron; 10-19-2015 at

09:34 PM

.

10-20-2015, 04:05 AM
GT3 player par excellence
Lifetime Rennlist
Member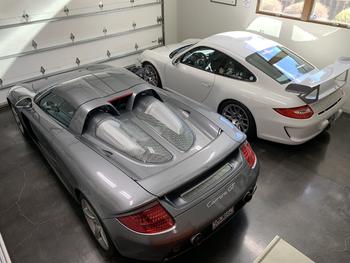 ---
i like the green trim outside never seen pine wall, interesting.
u will love lista, i have a bunch.
cant make out the bike, i see dura ace (di2?), front hub looks like C King?