Orthojoe's track build journal

01-19-2015, 11:52 PM
GT3 player par excellence
Lifetime Rennlist
Member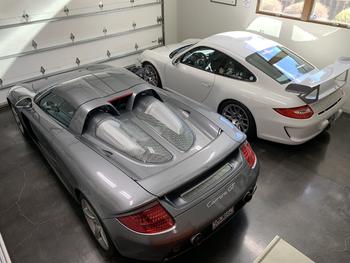 ---
Originally Posted by
eurotom
A bit OT:
I stopped by Joe's last night to have a look at the new addition to the family. First impression its a much smaller car than images depict, both inside and out. Its a very pretty car. Joe handed me the keys and said " take your wife out for a ride" I declined and asked him to drive

Rewind to its release I was the first to jump on the bandwagen protesting PDK, the 9A1 block, digitization of the 911 blah blah blah. After 2 mins of driving 25 through the neighboorhood I was sold. This car is special. Then after a proper warm up Joe and PDK went to work. The sound, acceleration, downshift rev matching shocked me. I drove my ~600hp 997TT to Joes and felt as if I had no buisness in this fight.
I thanked Joe for possibly hurting my bank account in the next year, went home, took a cold shower, started drafting a "for sale" thread.
Sorry for going OT. Joe a big congrats and thanks for the ride!!!!
the stick shift brigade is missing out


01-20-2015, 12:02 AM

---
So no Velcro?
The flap can be cut off, or it's just to Velcro in place under the seat?

On my 997's I thinned out the cushion so I'd sit way deeper in the seat.
On track I remove the cushion.

They look great but I need easily removable.

01-20-2015, 12:14 AM

---
Still velcro, but the front flap has a clip. Not a huge deal because you can just leave it unclipped. Just not ideal. Plus I have reservations about having enough slack in the sub straps to go past the flap for storage. It's difficult to describe, so I uploaded a video.
Here is a pic of the bottom of the passenger side seat. You can see where the cutout should go, and you can also see the bladder for the seat occupancy detector.

01-20-2015, 12:22 AM

---
Thanks. So weird that it's different for the passenger seat. Looks like a mistake.
Those flapps hanging loose in front of the seat is no improvement.

Hopefully someone with a CS package can post some installed pics of the roll bar, seat belts, sub bar and pass through.

01-20-2015, 12:40 AM

---

01-20-2015, 12:04 PM

---
Except the LWB seats have GT3 embroidered in the head rest! LOL.
Don't get me wrong, I love the LWB seats and would option them again in a heartbeat. I'm just noting the subtle differences in position between the GT2 and LWB seats. It seems that Porsche made these small adjustments to handle the non-stop complaints about how the seats are uncomfortable because they are too upright, and to accommodate the ever increasing waistline of people...
Gratuitous underbody shot and silly mod pics:
(Thanks, Eurotom!)

01-20-2015, 01:11 PM

01-20-2015, 01:35 PM

---
Slight divergence from topic - just got one of these, since picking up smarty HD go pro is relegated to bumper duty.
Question: Which field of view do you setup your go pro at? Wide/Med/Narrow?