987 Spyder - a new owner's perspective.

07-08-2019, 01:02 AM
Addict
Rennlist Member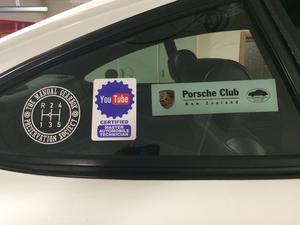 ---
Originally Posted by w00tPORSCHE
Lovely intro to your spyder. Congrats and so glad the journey to the Kiwi land was uneventful. Looks to be in good fettle considering the miles. It certainly is a Bantam weight David in the world of overpowered Goliaths.
I'm going to put it up on my lift and check underneath. If it's as good as the top side then I'll be very happy.
Re the mileage, it helped me get a good price (didn't pay the asking and had service and pads thrown in), but I'm struggling to see the real downside. Fast forward a few years and the cream puffs will be garaged for fear of losing value with miles whereas I will have completed a track tour and have the memories

07-08-2019, 01:39 AM
Addict
Rennlist Member

---
John you've seen my signature right ..

"Our cars are meant to be driven ... Not polished"

Late Ferry Porsche

The only reason I sold my Guards red spyder was because I wanted one water cooled (my 997.2) and one air cooled (an early car). Three cars is just a bit too much .. hence the spyder had to leave my garage. The biggest disservice we can do to these driver focused cars is is to not drive them and let it stay covered like a Christmas ornament plugged to a battery tender.

07-08-2019, 02:23 PM
Addict
Rennlist Member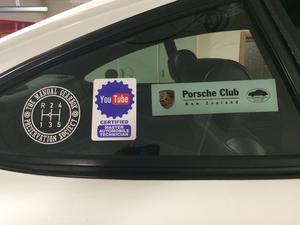 ---
While the OE cover fits perfectly, there will be times I'll just want to protect the cabin. It's taking a while to manufacture but I have one of these Covercraft covers coming.

07-08-2019, 02:45 PM
Addict
Rennlist Member

---

07-08-2019, 02:57 PM
Addict
Rennlist Member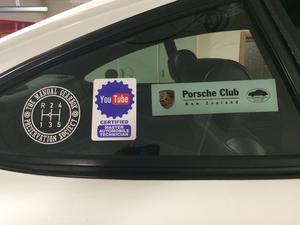 ---
Originally Posted by Marine Blue
It's an interesting material. More a canvas/vinyl than the soft Boxster top material on my 986. I gather that's why you chose the vinyl product.
Mine is in very good condition considering the car is 9 years old. Do they wear or fade?

07-08-2019, 03:41 PM
Addict
Rennlist Member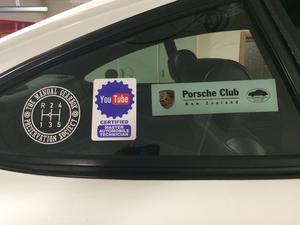 ---
It was a long wait. I had container tracking so could update myself on progress every day, which at 18 knots was modest. I also had a nervous blackout period from the Suez Canal to Reunion Island stage as the ship went through the pirate zone. It all ended well however.
Are you setting up a RHD register, like you did for the Turbo 3.6?

07-08-2019, 03:43 PM
Addict
Rennlist Member

---
I haven't seen any worn or faded Spyder tops yet although I suspect most of the tops don't see very much weather. RaggTopp is what is recommended by the OEM that supplies the tops to Porsche.
I've heard through the grapevine that Porsche no longer stocks the tops which could be a big issue as our cars get older. I'm going to research this a bit to confirm if Porsche intends to build more.

07-08-2019, 11:53 PM
Addict
Rennlist Member

07-09-2019, 01:00 AM
Addict
Rennlist Member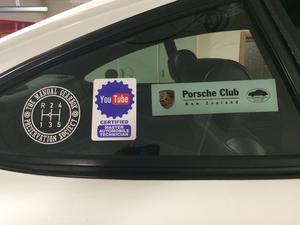 ---
I notice a chip in the top of each window. It seems to be where the window hits the rear edge of the top frame. I imagine this is common?

07-09-2019, 01:14 AM
Addict
Rennlist Member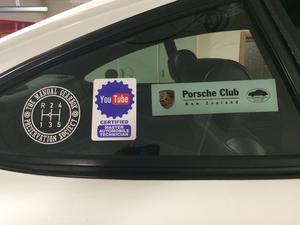 ---
I pulled the seat centres panels out to see what's in there.
Unless there's something magic with the foam it's rather underwhelming. One piece of ordinary foam. That's it.
I see there is at least one aftermarket provider but they are $$$.
My solution is to add one inch thickness of soft memory foam. It's USD 60 per metre which is enough to do both seats.
I've done one and will do the other when I've made sure it works. Memory foam on its own is not a good upholstery material but this application should allow some comfort by conforming to the body without overly adding to the thickness when compressed.
NB I did not add foam to the front half of the squab as it's not weight bearing and I need that area as low as possible given my height.
---
Last edited by John McM; 07-09-2019 at

01:57 AM

.