968 turbo rs replica

12-16-2008, 06:03 PM

---
You can have ports ceramic coated. So start off with a bare port, make it the size you want, and if you want heat insulation you can have a thin layer applied, instead of the massive sleeve which porsche used. New coating is much less likely to come off.
---
Last edited by FRporscheman; 12-17-2008 at

11:39 PM

.

12-17-2008, 07:16 AM

---

12-30-2008, 09:55 AM

---
Pictures of my intercooler setup. Picked up another stock hood latch and located them to the sides, so the intercooler would fit up front without hood latches.
Tate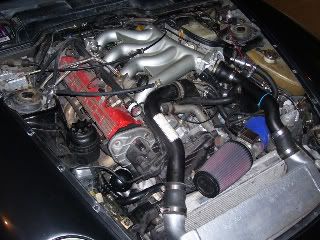 12-30-2008, 01:29 PM

---
Just curious to know if anyone has had a ceramic coating like Jet-Hot applied to exhaust ports, and, if so, did it work well?

12-30-2008, 01:53 PM

---
My intercooler is mounted below the factory mounting position which made enough room for a larger custom intercooler and direct airflow from the front of the car.The original hood latch position was also used.
---
Last edited by rm968; 07-06-2010 at

11:50 AM

.

12-30-2008, 04:22 PM
User
Join Date: Jan 2007
Location: Hotlanta, GA
Posts: 306

---
Nice cab rm, mine is as well sandwiched between twin oil coolers (it's a 6spd)
---
Last edited by 968turbos2; 12-31-2008 at

03:58 PM

.

12-30-2008, 04:59 PM

---
Very cool 968 you've got there! Could you start a new topic with more details about it and additional pics?


01-07-2009, 07:03 AM

pistons
---
Somebody sugested to me to use the 944 s2 pistons in the 968 block, acording to this person this would bring down c/r to 8.5/1 (2.7l head).Can this be done??

01-06-2010, 07:27 PM

01-07-2010, 06:09 PM

---
Not yet, still heeps of work. chassis has been painted, engine is almost ready ,al the parts are there just a matter of getting things togheter

01-13-2010, 01:57 AM

---
Looking excellent!! Where did you get the light conversion from?

01-14-2010, 03:42 AM

01-14-2010, 09:46 AM
Slayer of Economic Optimism

Rennlist Member
Join Date: Oct 2009
Location: one thousand, five hundred miles north of Ft. Lauderdale for the summer.
Posts: 27,107

---
those are 993 headlamps how can we make them fit ? bore the lower part of the fender's lamp cutout make room for the taller headlamp ?

01-14-2010, 04:08 PM

---
those are indeed 993 headlamps , the lower part of the hole in the fender is enlarged just a bit to make them fit ,since these are fiberglas fenders and the headlights do not have to be adjustable (the car will not be made road legal) it's a fairly simple job ,I doubt if it could be done for a road car .

01-14-2010, 04:17 PM