Sold, with a bit of a story...

12-14-2014, 07:39 PM

Sold, with a bit of a story...
---
Evening Gents,
I thought I'd post a final thread on the sale of my 964, which comes with a bit of a precautionary tale.
My beloved 964 finally sold last week after first posting it for sale a few months ago. The phone rang very quickly after posting the original advert (which included some great photos by forum member John Rampton, I can highly recommend his expertise with a camera if you are selling or just want some great shots of your pride and joy- thanks John, I'll be in touch when I start my next project).
The caller was the owner of Hendon Way Motors in North London (who I won't mention by name), who excitedly informed me that he had a buyer lined up who was very keen on the car and was 'ready to proceed' (quote) pending viewing and inspection, both of which he informed me they would arrange on my behalf the next day if I could bring the car in and leave with them for a few hours.
Although my preference was to sell the car privately so that I could explain the cars history in person and hopefully find a new owner worthy of a car that had given me so much fun over the past few years, financial circumstance meant that I couldn't turn down such an offer, so I took the day off work and drove the car an hour or so North to the garage. Having dropped the car off for the viewing I was told to come back in a couple of hours after the interested party had viewed the car following an independent inspection. 2 boring hours later (not the best part of London to kill time in) I returned to the garage to be told the following:
Inspection went very well and there were no negatives to report.
Interested party had arrived to view the car and loved it (quote).
Interested party was now going to "see if he could raise the finance" to complete the purchase.
Having previously been told by HWM that the guy was ready to proceed I was pretty pissed off that he hadn't already got the funds together, but things sounded pretty positive as I was informed that he was a repeat customer and therefore there shouldn't be much of a delay.
To cut a long story short, over the next 3(?) months I've been fed line after line about the original interested party, and then multiple subsequent potential buyers who had viewed the car and were "about to confirm a purchase". On a number of occasions I told HWM that I would collect the car and advertise it again myself as I was getting increasingly annoyed at the stereotypical (but in this case spot on) second-hand car salesman bull**** they were feeding me. Each time I was told "no, no, no, we have a buyer ready to go, give us a few more days".
I recently bought a new property and due to the extensive renovation work required (the reason for selling the car in the first place), my new garage has been full of my belongings. If this wasn't the case I would've collected the car, but the convenience of having the car sold by a third party while they stored it for me convinced me to give them repeated chance after chance.
Having cleared the garage a couple weekends ago I decided enough was enough and gave them (HWM) an ultimatum that I would pick the car up the following weekend. Coincidentally (?) I was told that they had a viewing lined up that week, and that it was almost a done deal. Yawn. Fully expecting the same old story I made plans to collect the car. I then received a phone call to say that the deal was underway pending an inspection arranged by the new interested party.
The following day I was informed by HWM that they wanted me to reduce the asking price based upon a number of issues found by the inspection. While I didn't agree to the reduction that they were asking for, and despite knowing the car was in great condition as proved by the original inspection arranged by HWM) by this time I really was wanting to finalise the transaction as the whole situation had left a bad taste in my mouth that I wanted to forget about ASAP. So I agreed to a reduction in my asking price and the deal went through last Wednesday, with very mixed feelings on my part.
Now, finally, to the crux of the matter. After the original "ready to go" buyer deal fell through, HWM apparently advertised the car themselves with a considerable mark-up. A friend of mine said that he saw the car listed at a price of circa ú5k more than I had advertised it for. Although I appreciate that they wanted to make a mark-up, the fact that they had lied to me originally in order to get me to bring the car to them had made me believe (naively I guess) that they would do their best to move the car on ASAP after the original transaction proved to be not as concrete as they had promised me. This being the case I was very annoyed to learn that they were trying to make such a relatively large profit, and the reasons for the ongoing delay in sale became apparent.
Lesson learned: I will never sell a car (of this ilk) through a third party again, and I would highly recommend that anyone of you that is contacted by HWM in a similar fashion takes note of my experience.
I really hope that the car is now with a loving owner, and I would really love to hear from any of you if you know who the new owner is. I was promised by HWM that they were making "less than 5%" mark-up on the deal due to the fact (which they eventually admitted) that they had messed me around. I would be very surprised if this was true, especially based on the figure that my trusted friend told me he saw the car advertised at by HWM, and I would therefore love to get in touch with the new owners to find out what they actually paid for the car.
My only reason for finding this is out so that I can highlight HWM for being the untrustworthy 'characters' I believe them to be, so that hopefully they either up their game or worst case you guys have a pre-warning should you deal with them in future. If I hear back from the new owner and my concern that HWM have indeed made a considerable profit over the maximum 5% promised, then I will contact HWM and demand a partial refund of said profit.
Thanks for reading and I really hope someone can put me in touch with the new owner - I have hundreds of photos which I'm happy to pass on to them showing the work complete during my ownership. I also have a full set of Boge/ H&R suspension that I'd be happy to give to the new owners if they are willing to tell me (privately) what they paid for the car.
Thanks for reading, hope you all have a good Xmas and new year. This forum has been a great asset during my ownership and I hope to return one day with a new toy

PS I hope the above is vaguely coherent, it's been a long day finished off with a couple of medicinal pints.

12-14-2014, 08:14 PM

---
I have done some research on them since originally handing the car to them, even more reason why I want to try and add some extra evidence if they have indeed screwed me (and the new owner) over.

12-14-2014, 08:31 PM

---
Yup as soon as I saw red HWM I knew where it was going also. This is why they advertise as POA so that they can hide from you the real margin they're making. Having met the guy, I found him to be a pompous baboon and immediately I felt something was off about him.

L9O'r StuartQ had the exact same story with a 996 back in the day.

12-15-2014, 06:30 AM

---
What a torrid story! I feel for you and hope you get to learn the true sale price. If i see your car pop up I will point you in the right direction. I have to ask, as you didn't explain above, why did you leave the car with them in the first instance? What was their reason for suggesting you 'walk' home?

12-15-2014, 09:07 AM

---

12-15-2014, 09:50 AM
GT3 player par excellence
Lifetime Rennlist
Member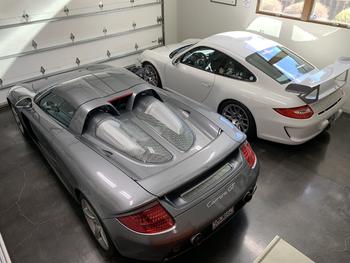 ---
sorry to hear that, but looks like u r off to a new chapter, enjoy the new prop and renovation.

I sold close,to 100 car in 20 yrs. lessons learned.
1. I never show the car u less buyer show me he has more than enough unemcunbeted cash balance on a bank stmt. financing letter doesmt count. I'm a banker, I can and will,issue stmts for pre approval. it means NOTHING.
2. make sure buyer know exactly what car he's buying. some would look at a red car ( advertised ) then tell u afterwards, I really wanted blue, and red was my last choice!! I'm very confident with my cars and always price them fairly. it's always sold to first view with no exceptions (the last ten yrs, as the first ten yrs, I was in ur position... learning)
3. sell to educated buyers. I'm selling a used car, LLS don't tell me my tores are used, or seats are soiled. they will reflect in pricing. if buyer wants new, they pay up,to get a new car. an educated real buyer closes deal very very fast. I never hold deposits, who,sees it and wore the entire amount Firet gets the car. usually I receove wore in the spot or in 24 hours. if u know what ur car is worth stick to it.
4 NEVER consignment. NEVER. have them buy outright. it they are confident they will successfully market a car and make a profit, then why don't they put own equity into it and buy it. u see the prob? sure, u are in GB. but tell u want, I'll help u sell into the growing new Asian money. I'll net u 2x more an u can. pls,ship ur car here let me take care of the rest.

sorry to be dim, but I have been to the circus way too many times.

but looks like ur pain is over.
but I know u will b back soon.
cheers!

12-15-2014, 02:13 PM

---
A friend was going to buy a 996 turbo from this shower until I pointed him to the MANY threads about them. Your experience is yet another one that serves to prove the point that dealing with them is quite risky!

12-16-2014, 08:46 AM

---
Thanks for the replies gents.

I only have myself to blame for not reading up on them first, schoolboy error. My poor but genuine excuse was the requirement for the sale to go through quickly.

The one thing Im glad i did was to agree to the price reduction in writing -only on the basis that HWM were taking a maximum 5% mark-up. I'll be delighted to take legal proceedings if it turns out that they broke this contract.

Regardless, I've never owned a car that a) I've had so much enjoyment with and b) appreciated in value so rapidly in a 5 year period, so my experience with HWM certainly hasnt deminished my love of all things 964!

12-16-2014, 08:52 AM

---
Fair play for being so pragmatic in the face of such mean behaviour.

Being badly let down by a garage I considered to be operated by good friends led to me vowing never to own a VW again, despite them being great cars. I'm over it now, but I was bitter for years!

12-16-2014, 10:22 AM

---

12-16-2014, 10:50 AM
Addict
Rennlist Member
Join Date: Jun 2012
Location: Minnesaota
Posts: 308

---
sorry to read your tale of woe! None of us like to be taken. even more none of us like to own up to it let alone go public with our stories. You are good man for letting others know so they can be informed and hopefully avoid similar fate.
Thank you for sharing!
All the best in your renovation
Happy Holidays to all

12-16-2014, 11:15 AM

---
As has been said, HWM should have set alarm bells ringing especially if you're on PH as there are loads of threads about them.

With regards to selling through 3rd parties - I sold my Jubi through Phil Raby as I had nothing but timewasters when I was selling it privately - I can't believe the amount of hours I spent on the phone, sending emails, taking photo's etc only for people either not to turn up or simply lowball me. Never again.