964 and 993 prices now the same?

11-27-2018, 02:23 AM

---
Its much easier to find a clean 993 and they are all over- i think their prices have definitely gone down and 964 gone up. The last 3 964 i have bought i have had to spend a considerable amount of money to make them right, the last targa i had to repaint and redo the interior, the last 2 coupes one had to have a top end rebuild and one is now getting an engine reseal..these processes take over a month or 2 to complete and are a pain..but hey, i myself don't mind it & love bringing these cars back to everyday good representable drivers condition at least.

11-27-2018, 02:10 PM

---

11-27-2018, 06:25 PM

---
I'm waiting for the wave of 993 "reseals" coming, because....it is coming. Already seeing signs of that at my local shop. So many 993 owners think their engines are immune from those issues, but that is not the case.....

It's just a matter of time...

11-27-2018, 11:14 PM

---

12-05-2018, 06:56 PM

---
Just a point; I think as far as investment for 964 NA platform A nice Targa will appreciate the most.
They are getting rare and are the last platform of a classic Porsche design. This is being renforced by the 991 Targa retro styling.

Just .02s
Elliot

12-05-2018, 11:05 PM

---
Elliot,
I agree. There have been some nice targas sell these past couple of years. Overall US spec production numbers are quite low. Decent examples are still quite reasonable considering similar money will buy you a C2 coupe that isn't worth the cost of a PPI.

12-06-2018, 12:05 AM

---
This thread has been a good read in addition to some of the BAT auction threads. This has convinced me to keep my 91 Guards Red C2. My 2 car garage has a 98 C2S and 08 turbo. Now to raise the garage roof to fit a lift.

12-06-2018, 01:13 AM
GT3 player par excellence
Lifetime Rennlist
Member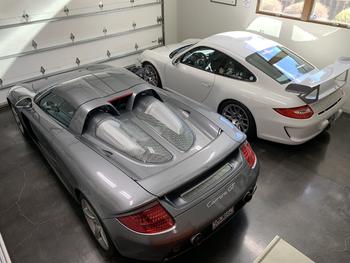 ---
Originally Posted by
golfnutintib
As usual Anthony speaks the truth.

I have four 964's at present... the highest-acquisition-cost ones I bought have turned out to be definitely 'cheapest' ones when all is done and the cars are rehabbed to a point I can legitimately say all is right and the car needs nothing.

Most recent buy was a 92 C2 bought in the high $40's... a bargain, right??? NO. It needs so much body and paint wise it will be a $75-80 car when all is said and done. And that is with a power train that is basically sound. If not, then it would approach becoming a $100 car...

This having been said, in my case, I have good shops I work with and it is fun process to 'heal up' these cars, and in doing so, add some nice personalized and performance-oriented touches to them, so when they are done, they look/feel special and much better drivers' cars than stock... but still the process is definitely not for the faint of heart nor the light of wallet.

The truism still holds, and is more true than ever, for 964's -- pay up front or pay later and paying later is higher risk with unknown bounds. If you are highly competent mechanically and can do body work on your own the equation may be different.

Also, yes, that black one in RI on BaT is trouble rolling on 4 wheels!
right on
as I said long ago on any p car purchase, pay now or pay more later.
but I may have overdone it a bit.
however, none of the cars I bought ever needed any work done ;-)
if it's a porsche it will leak at some point and needs reseal.
but hey it never happens to you until it happens to you.
aha, you are alive, STILL....
I told you, that you will thank me when I sold you the red car ;-)
and that's why I dragged my feet when you asked me to sell it... I was thinking you must have taken your patient's meds erroneously!!!
now about that 08 turbo......
you need to put that drug bottle down...

12-06-2018, 08:58 AM

---

12-06-2018, 10:33 AM

12-07-2018, 12:20 AM

12-07-2018, 10:15 PM
User
Join Date: Nov 2018
Location: Houston, TX
Posts: 17

---
Does anybody have a plot chart of recent 964 sale prices. Price on y axis, mileage on x axis? Could be broken down by MT, TT, Turbo, etc. Given the thread, would think most others would be interested in this, and for 993s.

12-08-2018, 08:09 AM

---
I believe that the 964's are gaining in value, because they are the last of the air cooled Porsche's that resemble what came before. And before Porsche pushed the frog eyes down in to the hood.