DEI Titanium Wrap v Ceramic Coating

04-11-2014, 07:03 AM

---
My opinion is that a coating can never be as effective as a good wrap. But I can still see a few occassions where a coating is sufficient, and nicer, than a wrap. Such as a nice street car etc.
On my race car everything is wrapped all they way from the exhaust port to the tailpipe.

04-11-2014, 07:15 AM

---
Duke - I'm looking at a tuned street car which will rarely be driven on the street but will be driven long distances to track days. Obviously I want it to look nice but my concern with the wrap is corrosion between of the SS header/pipes beneath the wrap - has this been an issue?

How has the appearance of the wrap held up on your racer - which obviously sees more spannering than a tuned road car?

How frequently do the ceramic coatings (Zircotec, Swaintec) blister & crack? Is it rarely or relatively commonplace?
Tim

04-11-2014, 12:51 PM

---
Though I don't have the experience Duke does, I would think the coating for the few track days you see would be better. I like that the inside of the pipe coated, the wrap is only outside, the exhaust piping still take the brunt of the what in the wrap, where the coating helps eliminate hot spots on edges if not wrapped very well.

I will coat first, and then wrap if I am looking for a bit more performance.

my .02

04-11-2014, 12:59 PM

---
I used FinishLine on my 924 NA MSDS header and my 951S turbo. On the 924, the MSDS header melted the rear poly bushing on the front control arm, after coating, it no longer does that and I can also touch the spark plug wires without burning myself.
On the 951S, a PO tried to use exhaust wrap (poorly) on the Precision Billet turbo from SFR and when the downpipe gasket went, it burned through the wrap:
While the center section was off being refreshed, I had the hot side and downpipe done in FinishLine's black 70% block and the cold side coated in polished along with the intake: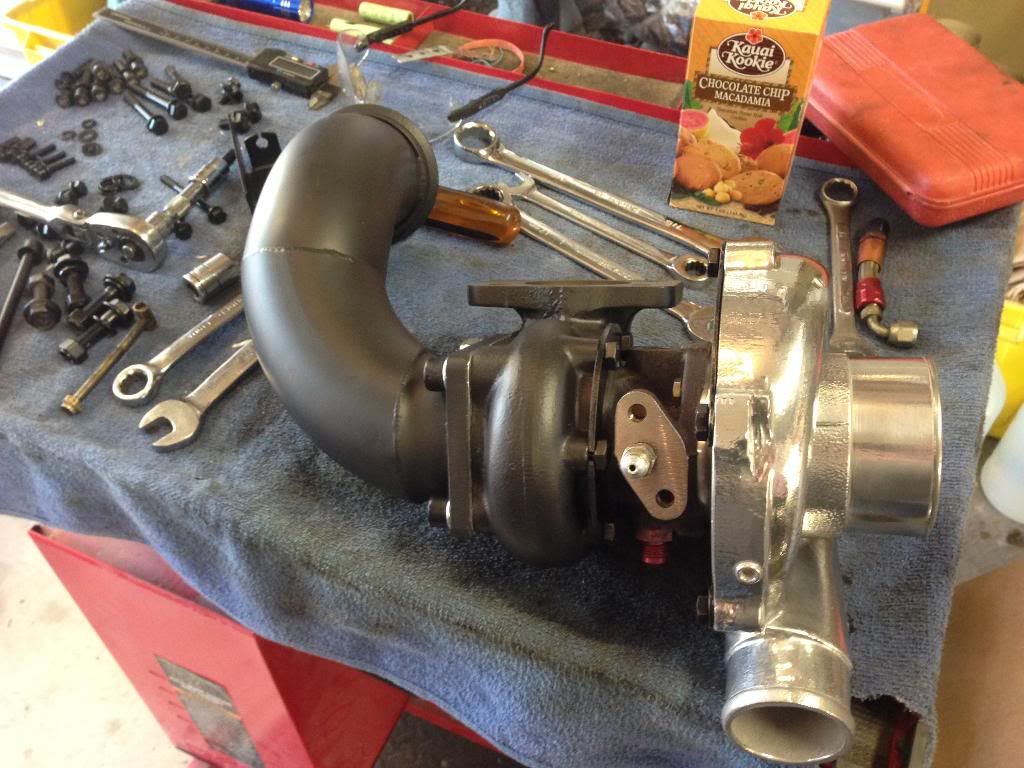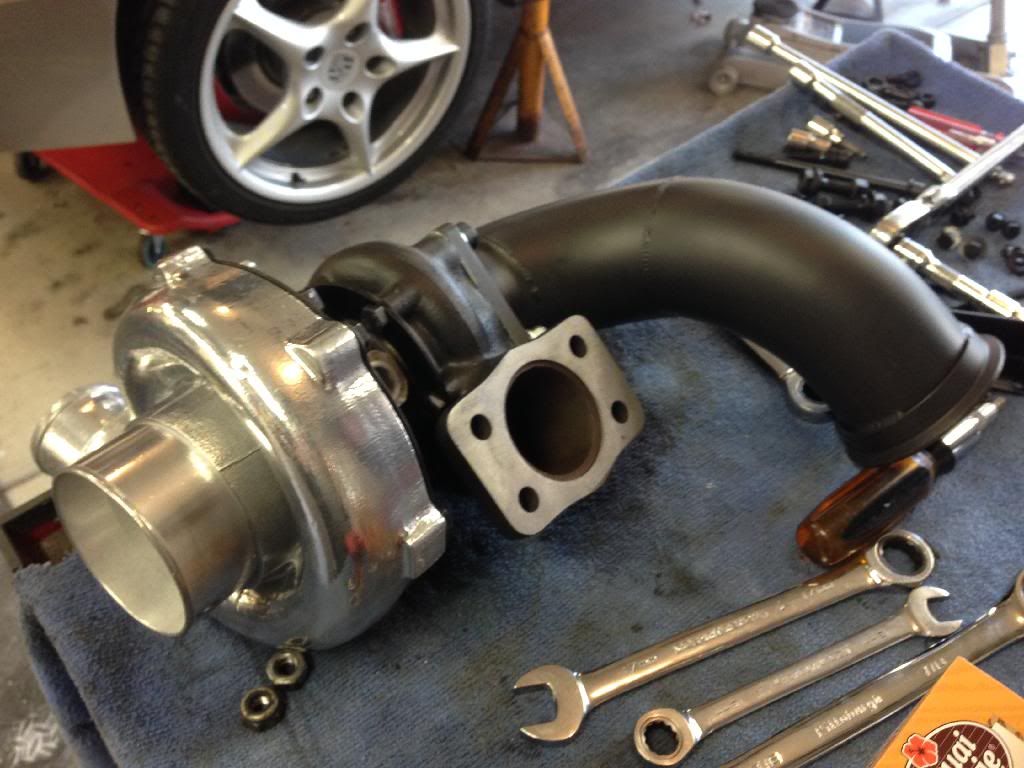 Since I'm going to convert the 924 to an ersatz Carrera GT (already has the fiberglass bodywork, vented nose and GT headlights) I had a BAE exhaust manifold and Mitsubishi TE04H turbo coated: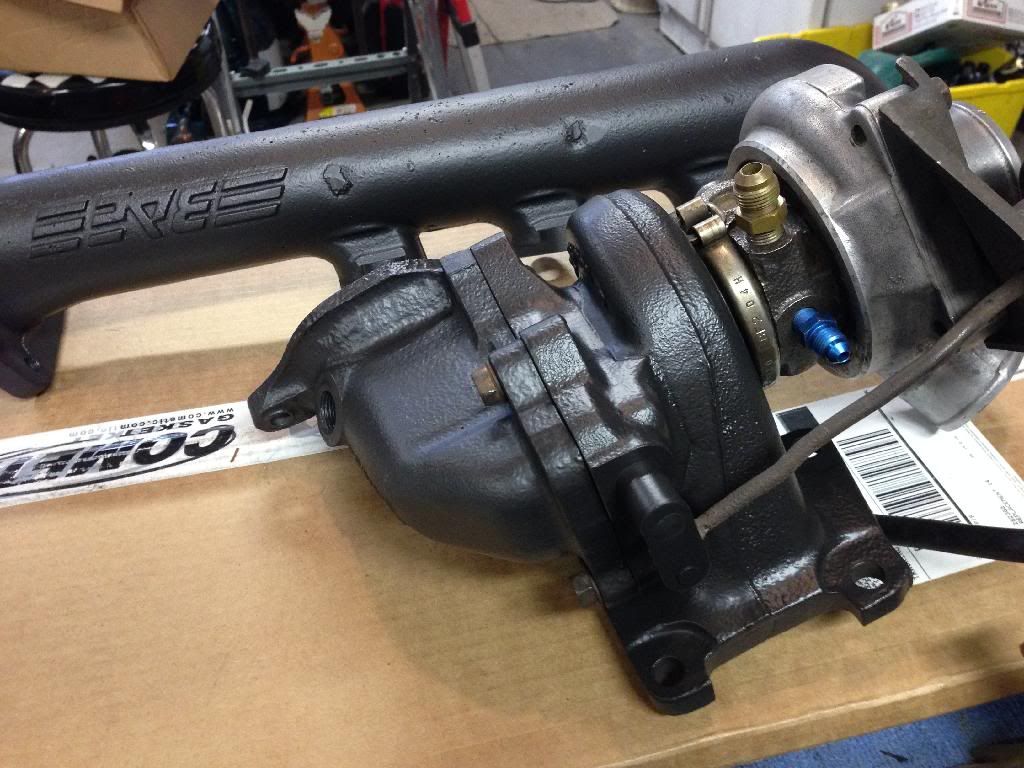 Since this manifold is designed to sit very close to the stock location of the alternator on the 924 NA, I'm hoping the coating will reduce any potential damage to the alternator and stave off the cracking issue that plaques those manifolds (I'll also brace the turbo as well).
I see where a wrapping can be an advantage, especially in very close quarters, but it can increase the likely hood of the underlying material to fail. Using Stainless, etc. will help stave that off, but I'd rather avoid it if possible and coat both the inside and outside of the material with a good ceramic coating that will not flake or blister and if there are still heat issues then perhaps a wrapping could be added on top of that.
I would reach out to FinishLine Coatings:
http://finishlinecoatings.com/

04-11-2014, 01:16 PM

---
there is new technology with coated thermal barriers now (applied and baked) .ceramic is obsolete. The newest is an Extremely high temp black coating. no longer wow factor for looks, just insane insulation from heat. The only problem i have with wrap is that if it ever gets soaked in water... it will cause the factory piping to crack.. havent tested on 321 ss though.

04-11-2014, 01:27 PM

---
kev, I believe that is what FinishLine uses. It is a powdered product that is applied to clean metal and baked at very high temp to set it. It is still a ceramic coating, but I believe it might also have a high carbon content.