944 Turbo Nissan Alternator mod (reposted and to the point)

11-03-2013, 07:24 PM

944 Turbo Nissan Alternator mod (reposted and to the point)
---
It's more work than replacing a stock alternator, overall this was quite easy to install. The only items I had to buy were the alternator, a new 6 rib pulley as it came with a 5 rib pulley (the alternator in the link below will put the correct pulley on for you by request) and a slight modification to the mounting bracket for fitment. No extra brackets or bolts. Everything else was reused.
Alternator with 6 rib pulley option
Optional female alternator harness plug
Optional positive terminal boot cover
Place the stock alternator and the alternator you plan to moddify side by side on a flat surface, sitting on the face of their pullies and rotate the mounting tabs towards each other. You'll clearly see how much material needs to be removed or shimmed with washers.
It's a good idea to wrap or cover your alternator to avoid metal chips from getting inside. Cut the alternator tabs down, fit washers as needed and tap or drill out the rear sleeve to fit the long m10 bolt. Verify your cut tabs to the stock alternator to be sure your cuts are accurate. (One tip here to get nice flat cuts would be to place your grinder in a fixed vice and carefully rotate the marked alternator tabs into your grinding wheel). This is important as it verifies the pulley will be in line with the crank. Next, I like to install the alternator into the mount using the long bolt then pivot the alternater in the mount to check if you need to grind the lower mounting tab of the alternator and / or the bracket for clearance. Cut the mount to accommodate your new alternator body as needed and the lower tab on the alternator for the lower bolt hole to line up.
You might try taking your stock alternator to the parts store and comparing the mounting tabs on their counter as described above before purchasing it if you don't order the eBay one with the correct pully pre installed, which is recommended, to check fitment with other alternators.
This picture is with the MAF kit removed.
Use a rubber cover to protect the wire and terminal from anything that could possibly ground against it.
This is the only configuration that would give me controlled charging and allows the factory voltmeter and warning lamp to work as intended. It's actually quite simple as shown here (wiring diagram)
Your results may differ as I have modified many other items on my car that may have made it easier to remove my alternator mount and various other things. I suppose you could grind the mount down while on the car although I would highly suggest against it, way too much room for error if something slips.
Also, I tried grinding the alternator body down some at first but quickly realized this would not be enough clearance. You may have to grind more or less of your mount to get it to fit. I was worried about weakening the mount by cutting into it; however after close examination I came to see this was another over-engineering feat by Porsche. Once bolted in, the alternator itself will act as support to prevent the mount from collapsing.
Here is a photo of the Nissan alternator installed on my engine out of the car.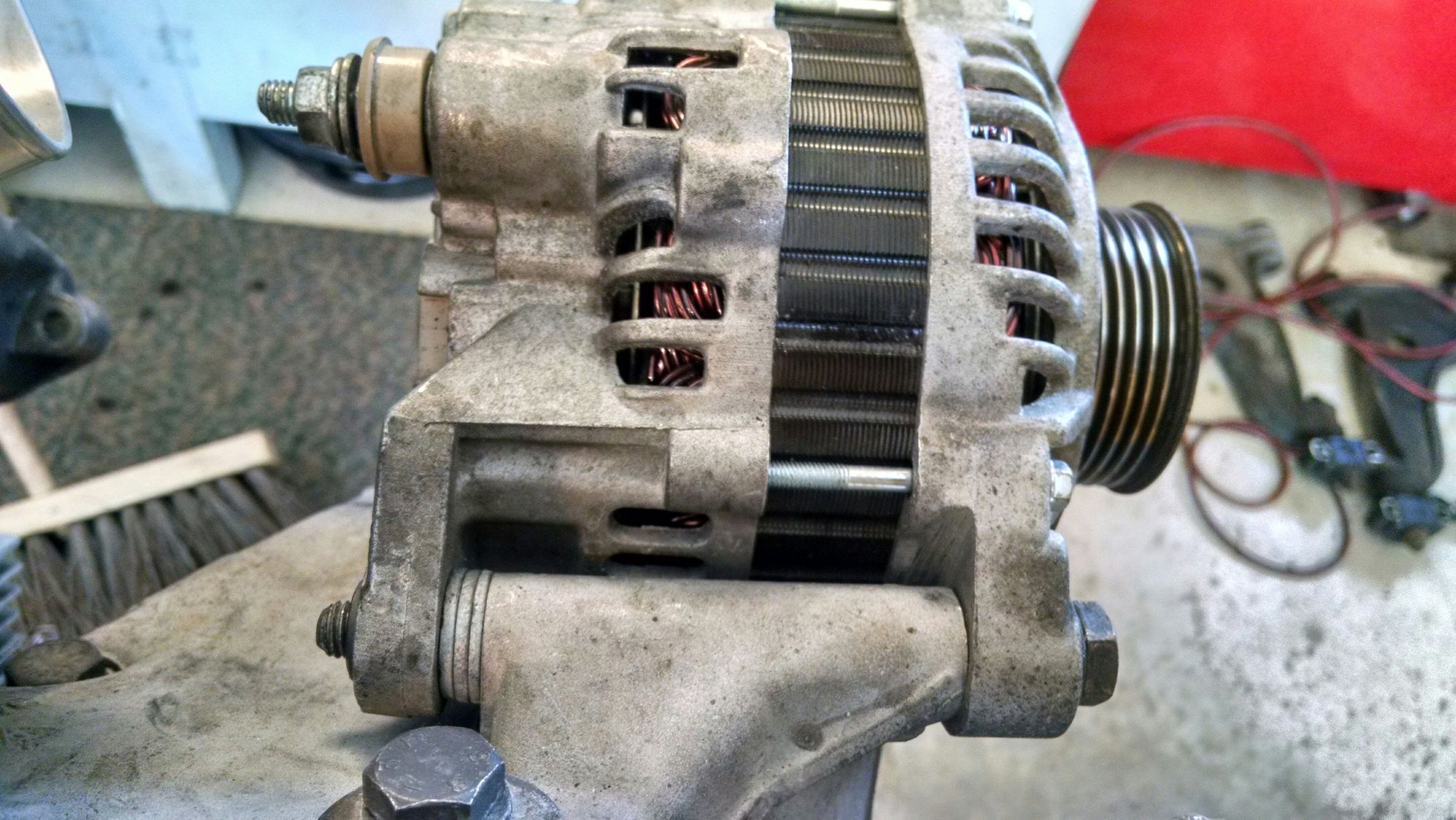 Here's a picture of the modified mount out of the car.
I want to give special thanks to everyone that contributed in all these posts that were all brought together, This makes doing this modification much easier for everyone who is interested in doing it. I tried to bring all the good posts from all over rennlist into one easy to use forum. Hope this helps. Thanks!
Reloaded pics 1-18-19
---
Last edited by mahoney944; 05-02-2019 at

09:05 AM

.

11-03-2013, 08:16 PM

---
A friend bought a 951 race car and he called me when his alternator packed it in because he knew I had a spare one. However, when it was taken out it was obvious it was not a 951 unit as it was 1/2 the size. After much reasearch we found out someone had adopted a Suzuki Swift alternator.

11-04-2013, 01:20 AM
Addict
Rennlist Member
Join Date: Oct 2010
Location: Tennessee
Posts: 668

11-04-2013, 11:24 AM
Super User

---
one thing to add, you should have posted my link on where to buy the upgraded HD Quest alternator with the correct pulley installed and the proper Nissan connector. This will save time and money.

11-04-2013, 06:02 PM
Super User

---
Sorry, getting old and was only looking at pictures.

I just clicked on the link and notice the add actually says six groove pulley for 944 turbo available, pretty cool!!!
When you look at this from the phone as I did this morning, the links don't show up, so not that old yet, Ha!

So, you actually knocked this out this weekend? Good job if so! 👍

11-05-2013, 05:32 PM

---
This alternator upgrade is mostly for spacing purposes as well as heat reduction of the alternator. The new alt is smaller and is less weight but the weight difference is minimal. The room is frees up is the perfect amount of space for intake systems and plubbing in that area. Due to the fact that the new alt shell is completely vented and sits farther from the turbo, not to mention half the cost of the stock one, it makes it an ideal mod.

11-06-2013, 12:39 AM
Super User

---
I believe the weight difference is in the original thread. It is considerable, percentage wise that is. This alternator has much better output than the factory unit if you are running upgraded lights and/or a large stereo. I have four of them in four different cars and never have had a failure, so I think longevity is also a key point.

11-06-2013, 10:10 AM
User
Join Date: Sep 2010
Location: Davidson, NC
Posts: 33

---
I also did this swap. The weight savings for the alternator is about 2.5 lbs. A custom lightweight AC delete mount took off another 3 lbs. I used a relatively accurate shipping scale (relative to a bathroom scale) to weigh all the parts.
I should also say thanks to everyone who did this already and posted the info- made this a pretty simple and worthwhile upgrade.
---
Last edited by bjd8386; 11-06-2013 at

10:17 AM

. Reason: insert image