Central FL GTG????

09-24-2007, 08:36 AM

I get the "geeze, you suck" award.
---
Wow, no pix of me on the course? That's because I rarely made a complete lap where I WAS on the course.

Thanks to Mr. Abel for his direction and guidance. I appologize Kevin for being the absolute worst student out there Saturdat but I know that I'll get the "Most Improved" at the next auto-x though!!

I could hear "look ahead, look ahead" all day Sunday and yes there will be a next time!!!

Steve Ed

I think I might need to change my quote to, "If you don't lift, you don't finish".

I've got to get rid of that drag racing mentality.

09-24-2007, 09:37 AM

---
I nearly quit after my first autocross too but decided to stick with it. It is not an easy transition if you mostly have road course experience. And I'm not patronizing you when I say it was a complex course for someone new to autox. I hope you were able to enjoy the rest of your Birthday
The next PCA event is not until Dec, and I am guessing that one will be on the mini road course. This Saturday the Martin Sports Car club will be at the Gainesville Test track for our annual Fall Mini-Prix.

09-24-2007, 10:36 AM

---
Me give up, never. I need to keep telling myself that if nothing else that slower atleast gets you through the ENTIRE course!!
When are you leaving for G-ville Kevin?
Damn I made EVERYONE look really good Saturday, huh!
I'm going to look up some other PCA regions auto-x dates and see if there is one coming up before Dec.
Steve Ed

09-24-2007, 11:34 AM

---
Dang!
You guys are pţ$$ţng me off!
I'll be over here in the corner sulking for not being able to make it...
I've already told everyone that I'll be at the next one, even if it's my son's first ever baseball game!!!
I WILL be there... oh, and I actually
enjoy
tha fact that a 951 is such a "wrestling match"... if you can match a well-driven N/A, it's a victory!!!

Keith

09-24-2007, 08:07 PM

---
Keith - yeah I knew you wouldn't be too broken up over not seeing the CGT this weekend because you had seen andy's.

Next FL Citrus PCA event is Dec 2nd, Ladies Day, mark your calendar.

Steve, I'm hoping to be on the road no later than 5:30am Saturday morning, even that is pushing it to get there in a timely manner.

09-25-2007, 01:39 AM

---
Alright guys lets get a time, date, and place set for the next time we meet so we can spread the word around to other parts of Rennlist as well as other forums too.

So far I think we've had some interest in meeting up at Redbone Garage on a friday afternoon, maybe saturday. So we should pick a weekend probably in mid october for this. Sound good? Any objections? Any suggestions? Any other possible locations?

Someone should get ahold of Robin at the shop and ask if it's alright, and when is best for them.

09-25-2007, 10:45 AM

---
Those guys have seen me three times in the last 3 weeks, and dealt with me on the phone even more, during the process of FINALLY getting to the bottom of my 'disappearing freon' issues. As a result, I've pretty much filled their fridge with beer, and I'm eternally grateful.
I'd be reluctant to 'impose' upon their hospitality or lenghten their work-week, but heck... I'm always up for a get-together!
'Seen' the CGT? -Hey, I even went
out
in it, as part of the whole "buying the 951" package!!! (talk about a sweet deal!!!) -Oh yeah... Robin also put the harnesses in that car... here's a pic: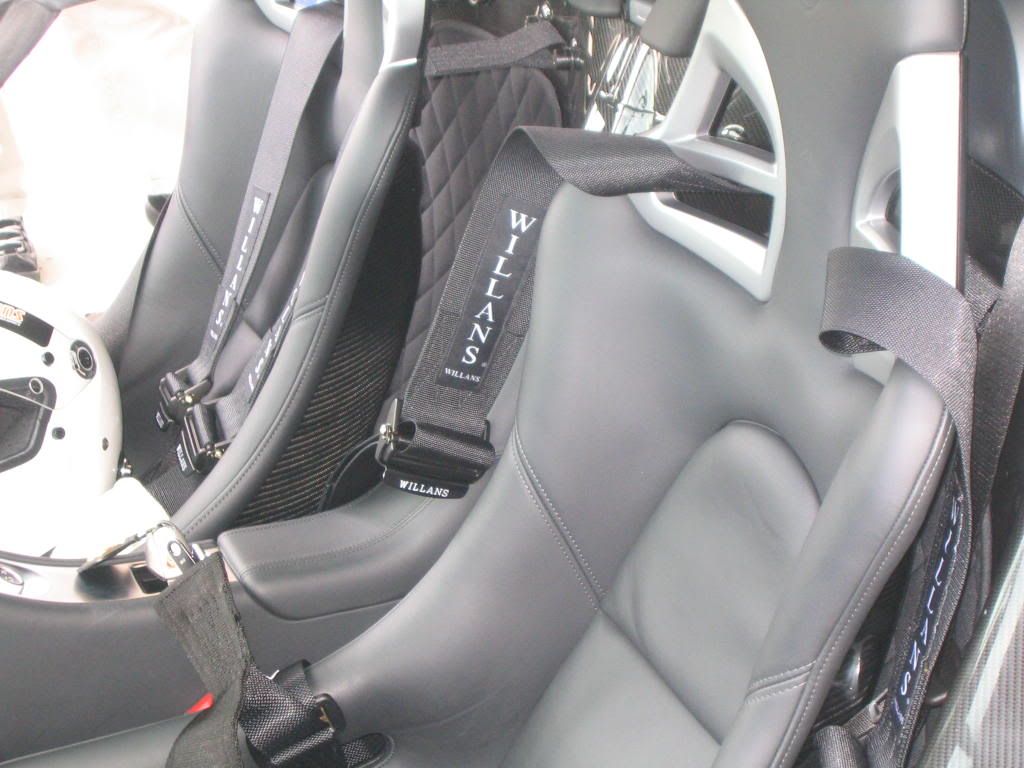 Keith

09-25-2007, 12:54 PM
Drive-by provocation guy
Rennlist Member
Join Date: Apr 2002
Location: NAS PAX River, by way of Orlando
Posts: 10,439

---
I know a Thurs/Friday after work time at Redbone would be cool as they are usually hanging out till 6-7pm anyway. And sometimes Robin is there a lot later.

I think I need to go anyway as I have noticed my oil pressure is lower than normal and was told by a co worker that was behind me when getting on it that I had a "considerable" amount of black smoke.

Steve, would Stratton have a loaner car to use if I brought it to him to check out/fix?????

09-26-2007, 12:47 AM

---
You guys are all welcome to come hang out at the next drift event and watch some 944 sideways action
best time to show up if you do come would be just before sunset. Rest of the info is here...

09-26-2007, 01:51 PM

---
Hey, I had an idea for a Redbone GTG... let me know if this is silly:
Since I'd hate to just show up and 'detain' them just so that
we
have a GTG, and since it'll be right about dinner time, why don't we see if a food-n-drink GTG is a good idea?
-In other words, we show up, we bring some beer, we ALSO bring some sort of 'picnic' type food... possibly semi-organised, so we don't all show up with lots of duplicates... a sort of a picnic GTG... -That way the shop guys and the 'guests' all get something to eat, and something to drink, we get to eat, drink, look at cars, look under cars, and generally don't do silly stuff like drinking on an empty stomach imediately before climbing into a car with lots of boost...
What does everyone think? -is the idea of a "potluck hang" a bit too 'gay'?
just thought I'd ask, since the guys at Redbone would probably appreciate something to eat as well...
Keith