Central FL GTG????

09-11-2007, 10:25 AM
Drive-by provocation guy
Rennlist Member
Join Date: Apr 2002
Location: NAS PAX River, by way of Orlando
Posts: 10,439

---
I'll be there probably late morning/early lunch time.
You should run Elliott and represent for us. Maybe you can get Kieth to run also so he can try out his brake injection coolers.


09-11-2007, 11:25 AM

---
I found a google earth shot of the site also...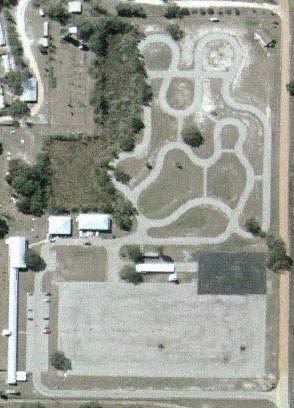 The lower half is the parking lot, the upper half is the road course part. Sometimes they use one, other times the other.I'm not certain which is planned for the 22nd, but it's ALWAYS a blast! -You can also see how the road course is configurable for lots of course options...Tighening right-hand corners one time can be opening left-hand sweeps the next.
Always drive responsibly. void where prohibited. Always wear a helmet. Blast not available to drivers under 16 years of age. Dip$hits, RišÚrs and a55h0le5 not permitted on the course.
Keith

09-11-2007, 12:15 PM

---
In the past I've been there when there's been a few hondas & a BMW or two, from non-club members, but a couple of the drivers started mouthing off when they were asked to dial it back a notch... so the view of people who are both non-Porsche driving, AND non-pca members has dimmed a little, but essentially the view taken is this:
The meetings are held for the specific purpose of enjoying the vehicles safely, in the spirit of friendly competition. Keeping the site free of litter, and driving safely are key. By all means go fast. -If you're not keeping safe control of the car, you should know it, and back off a little. -If you don't know it, you'll get some polite pointers. If those aren't heeded, you'll be asked to leave. -I know I keep mentioning that bit, but you really do have to be a complete dýókhÚńd -both personality wise AND driving style- to get on the wrong side of the organisers. -the only group I ever saw getting sent home were a bunch of mouthy dicks, running over-winged BMWs, hondas and Acuras, with a patchwork quilt of panel-colours... -I'm sure you can picture the type. -The Bimmmer driver was going in FAR too fast, fishtailing one-way,-then-the-other... and doing this time after time, lap after lap. When he was given some suggestions, including perhaps slowing down a little on entry... (you know... "in like a lamb, -
out like a lion"!!!
) he started shouting that he wasn't going to slow down for
ANYBODY
... yep. -You're gonna make a
lotta
friends that way, kidda!
You'll get the idea nice and fast. Some basic ground rules: In order to drive, you have to work (flag-marshal) the course. One group drives the first half, while the other group works the course. Then the groups swap roles, then usually an hour lunch-break. The afternoon session is the same thing: one group drives, then they change back. -It's considered a BIG no-no to take off after driving without working the course... if there are insufficient course workers, it's then not safe enough for the second group of drivers to go out, so you wanna drive, -you gotta work. -Hell, I actually LIKE course-working, because you get to see a range of driving styles, up-close and taking "your" assigned corner any number of different ways... and how the rear-engined cars behave differently from the boxsters or their front-engined bretheren.
Photographing during the course-working of the event is permitted, but ONLY if you have a spotter. -It's too easy to be concentrating on framing up a shot while a second car out on the course loses it behind you... Basically if you want to take pictures that's prefectly fine... but make sure that you're SAFE, and a person that you trust is watching your back.
I know that I've rambled on a little about the rules, but don't take what I've written as gospel: I'm not in any position of authority. All drivers must attend the driver's meeting at the beginning of the event, where you'll hear much of the same thing repeated with some other thoughts about safety and courtesy.
If anybody wants to get there at a more casual hour, watch for a bit or even help out with coursework etc. you're welcome. You can also take pictures while I'm working, and I can spot for you, or -given that we're all sensible people- perhaps even vice-versa.
Heck, there's usually 968s, 993s, 996's, OLD 911s, maybe a 924, a couple of 944s, and ALWAYS lots of boxsters... -The later 'S' boxsters are VERY good at that sort of thing by the way! -Just hanging around during the lunchbreak, looking at the cool P-cars is an unimpeachably agreeable way to spend some time on a sunny day.
-Oh, and bring sunscreen, an umbrella, maybe a folding chair, and a cooler with water, juice etc. -but definately NO alcoholic beverages in it... Meet-ups for a beer afterwards are fine, but I'd personally NEVER bring alcohol to a competitive event... I don't know if it's
actually
forbidden, but I do thnk it would send entirely the wrong sort of message.
Okay, LONG post.... -sorry, guys!!!

oh and yeah... I'm planning to run! -If I can make the date, I'm there ALL day, to have the maximum amount of fun allowed by law!!!
Keith

09-11-2007, 02:38 PM

---
You do not need to be a PCA member, but you must own a Porsche or have been specifically invited to the event by a PCA member if participating in a non Porsche car. I am not a PCA member, but i own a Porsche as well as a member of the Martin Sports Car Club. so I will be there both as a Porsche enthusiast and representing Martin Sports Car Club.

No drugs or alcohol is allowed on the Lake County Site, this is a law enforcement training site. No drugs or alcohol is allowed on site of any event Martin Sport Car Club is involved with, as per insurance. Though I have not seen written text I have to assume PCA has a similar policy.

I'll send Bert or Bob an email an see if we are running on the lot or the mini road course.

Loaner helmets will be available. Don't just come out to spectate, you'll regret it if you don't participate!

I already know of a few non Porsche that will be there, at least two if not three miatas, and a cadillac cts...

09-11-2007, 05:43 PM

---
Yay!!! -We're putin' the TEAM back together!!!

parents
should've had with you when you were fourteen or something...

Keef

09-12-2007, 08:16 AM

---
Keef,
Your previous responce shows a rather quick wit, for a Brit!
The Cup 993 is back at Redbones again along with a red 993 that Stratton just finished also.
Steve Ed
---
Last edited by 87924GT; 09-14-2007 at

01:04 PM

.

09-12-2007, 11:46 AM

---
workin on it....
Just as long as I have enough money saved up to run the autocross AND the drift event on the 6th then I'll do it!
If I do decide to run, I dont suggest Kieth does, or he might get some n/a powered schooling!


09-14-2007, 01:57 AM
Spell Checker
Rennlist Member
Join Date: Jun 2004
Location: City of Alexandria, VA (second home: Tokyo, Japan)
Posts: 18,157

---
Sorry I didn't make it guys, football weekend and all. Well, that and the girl that came down from NYC. Not sure she would have wanted to do that, lolz.

09-14-2007, 09:15 AM
Drive-by provocation guy
Rennlist Member
Join Date: Apr 2002
Location: NAS PAX River, by way of Orlando
Posts: 10,439

---
No problem! As we are looking to do this maybe once a month. Either in a general GTG or in local DE/AutoX events. So in some fashion we will be able to all meet up maybe once a month.

The 22nd in Lake county for AutoX is the next GTG

09-14-2007, 09:17 AM
Drive-by provocation guy
Rennlist Member
Join Date: Apr 2002
Location: NAS PAX River, by way of Orlando
Posts: 10,439