Power Steering Lines

07-18-2016, 12:33 PM
User
Join Date: Feb 2010
Location: Hoofddorp, The Netherlands
Posts: 123
Likes: 0
Received 0 Likes on 0 Posts

Power Steering Lines
---
'87 S4 Automatic
The other day I read a few topics regarding fire hazard and the high pressure power steering lines as potential problems. I even contacted Roger checking the availability of the line(s)....
Yesterday I had a small brainwave and remembered I bought some lines from a guy in Germany through Ebay a few years back.
I had to go look for them, as I left them wrapped up in the box they were send in: the box was in the attic of my garage, covered in dust, but it felt like Christmas when I unwrapped the contents of the box:
Checking PET I think they are nr 17, 18 and 29.
Unfortunately, PET also indicates there are 2 versions:
Nr 17 (928 347 447 05 / -90, 928 347 447 07 / 91)
Nr 18 (928 347 449 07 / -90, 928 347 449 09 / 91).
Can anyone determine what versions I purchased? And if I got the 91 versions, can I use them on my '87 S4 Auto or is that a 'no-go'?
Thanks again for any help, and to Roger: sorry for being blond....

---
Last edited by Smitje 928; 07-18-2016 at

01:08 PM

.

07-19-2016, 12:43 PM
Addict
Rennlist Member

Rennlist
Site Sponsor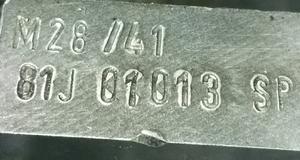 Join Date: Jan 2003
Location: Double Oak, TX
Posts: 15,719
Likes: 0

---
That actually poses a good question.
The only difference between 90 & 91 was the up-rated pump and the increase in pressure to 100psi.
The metal cooler line that runs in front of the radiator is the same from 87 to 95 = 928 347 350 00.

As Porsche no longer differentiates between the higher pressure system and the earlier pre-90 system I suspect that they all fit. I am talking specifically about the pressure and return lines from the rack. Just my assumption in theory and not proven in practice.

Anyone else have any thoughts on the subject???? GB you know any different?
__________________
Does it have the "Do It Yourself" manual transmission, or the superior "Fully Equipped by Porsche" Automatic Transmission?
George Layton March 2014
928 Owners are ".....a secret sect of quietly assured Porsche pragmatists who in near anonymity appreciate the prodigious, easy going prowess of the 928."

07-19-2016, 01:11 PM
Super User

---
Free idea: Home parts inventory app. Ya snap a pic and add a description. Make/model/year, P/N and storage location. Make it searchable and scrollable.

I recently spent quality time with my boxes of stuff. Amazed myself several times at parts I have and, pointedly, parts I had that I had recently also purchased. Yes, a lot of parts in the garage.