A/C Vacuum Solenoid Replacements

05-16-2018, 09:44 PM
Addict
Rennlist Member

Rennlist
Site Sponsor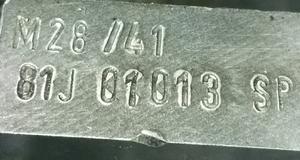 Join Date: Jan 2003
Location: Double Oak, TX
Posts: 15,436

---
We put in requests to Porsche Classics everyday 8>)
Most falls on dead ears.
Basically if enough "dealers" send in PTechs requesting the part with a VIN number (sort of like AOG aircraft on ground) that gets there attention - whether they do something about it is a whole other story.
I have issued hundreds over the years.

Porsche's are great cars but there customer service sucks.

I buy a ton of 927 (rhd) parts from them for overseas customers - no problem. I ordered a set of RHD floor mats for a customer down under and they would not sell them to me as RHD was not in country (USA).
I had to prove I had a RHD car here in my garage to get them to release the mats to me!!!!!!
__________________
Does it have the "Do It Yourself" manual transmission, or the superior "Fully Equipped by Porsche" Automatic Transmission?
George Layton March 2014
928 Owners are ".....a secret sect of quietly assured Porsche pragmatists who in near anonymity appreciate the prodigious, easy going prowess of the 928."

05-17-2018, 04:24 AM

05-17-2018, 09:53 AM
Super Moderator - Cracklin' Rosie
Lifetime Rennlist
Member

---
See my post, apply vacuum & spray in some brake cleaner, keep working the solenoid. I successfully "fixed" 5 of them, just didn't realize it until (I'm assuming) all the brake cleaner evaporated away.
There isn't much to these things. If they are clicking the solenoid is working so either a piece of debris is jamming it, the "hat" is torn or fell off, or possibly the red rubber o-ring on the bottom has failed.

05-17-2018, 12:46 PM

---