White "rust" on bolts. How to prevent, or correct?

03-18-2016, 08:21 PM
Addict
Rennlist Member
Join Date: Feb 2014
Location: Winston Salem, NC
Posts: 337
Received 0 Likes on 0 Posts

White "rust" on bolts. How to prevent, or correct?
---
hey guys. I have issue with corrosion of the coated bits under the hood. The car doesnt get driven much. It sets in the carport 90% of the time. My PC'd parts are starting to get white on them from the bolts.
Is there anything that can be done to prevent this?
I dont mind them dulling from age, but it looks like $HIT.

03-18-2016, 10:56 PM
User
Join Date: Jul 2012
Location: Powder Springs, GA
Posts: 477
Likes: 0
Received 0 Likes on 0 Posts

---
I found some white rust on one of my lower a-arm bolts today, while doing my shocks. Weird.
I cleaned it with gasoline. Bolt looks new still, so not sure what the white stuff is.

03-19-2016, 12:02 AM
Addict
Rennlist Member
Join Date: Mar 2010
Location: Toronto, Ontario
Posts: 657
Likes: 0
Received 0 Likes on 0 Posts

---
That is the sacrificial nature of the zinc coating doing it's job by protecting the substrate steel. Maybe if you have a dehumidifier going in the garage once you've cleaned them up? However, if you mean an open air carport... maybe a thin coat of petroleum jelly? Even an acrylic clear coat from a hobby store would help.

03-19-2016, 02:14 AM
You can call me Otis
Rennlist Member
Join Date: Feb 2013
Location: Terre Haute, Indiana
Posts: 6,664
Likes: 0
Received 0 Likes on 0 Posts

---
White stuff is just normal corrosion, if it were an electrical component, then a bad ground would be suspect, but then again, isn't the body a ground?..
Don't use gasoline.
.to degrease or clean, diesel fuel is less volatile and works better.
.....
---
Last edited by OTR18WHEELER; 03-19-2016 at

02:44 AM

.

03-19-2016, 04:36 AM
Addict
Rennlist Member

---
You should keep the car in a warm and dry garage in order to avoid future corrosion. I usually exchange all not vital screws and bolts for stainless steel ditto.
┼ke

03-19-2016, 07:27 AM
Addict
Rennlist Member
Join Date: Jul 2005
Location: Mechanochondriacism
Posts: 4,633
Received 0 Likes on 0 Posts

---
If only everyone had that warm/dry/car-shelter available to them...I'm surprised there isn't a risk of different-metal corrosion from using the stainless in aluminum alloy?
I've had decent luck with a product called AF50, that inhibits corrosion on aircraft applications. It is also used by some with enduro or street motorcycles operated year-round.
Test apply first on any previously coated/anodized parts.
Second, probably not an issue given that it isn't driven much, but be sure you don't have any galvanic corrosion in-play- search for threads on servicing grounds and check ignition wire insulation.
---
Last edited by SMTCapeCod; 03-19-2016 at

07:45 AM

.

03-19-2016, 07:56 AM
Addict
Rennlist Member

---
The car gets cold at night. At some time in the morning, the dew point rises above the temperature of the parts under the hood, so water condenses on them. Hundreds of times per year.

The car port is good to keep sun off your paint and interior, but may actually make this corrosion worse, since it may delay the warming of the car. A car cover may do the same. It can even happen in an unheated garage. Directing some warm air under a car cover during the morning might keep your parts above the dew point. A 100 watt lightbulb on a timer might help.

The plating on our parts is in two layers. When the first goes (yellow, usually, and quite thin), the zinc or cadmium underneath starts to go. The plating still protects the part against corrosion, but is no longer pretty. Obviously, do not scrub on the coating too hard - it's soft. I see some red (iron) rust on one of your bolt heads....

I just had all my parts re-plated. I ought to do something to keep them nice. Some oily but washable spray may be good. A lacquer that may fail would be risky - I'd want testimony from a user with long-term experience before using one.

03-19-2016, 10:17 AM
User
Join Date: Jan 2014
Location: Winnipeg, Manitoba Canada
Posts: 458
Likes: 0
Received 0 Likes on 0 Posts

---
When ever dissimilar metals are together there is a chance/ likelihood of galvanic corrosion. This is managed inn a number of ways 1) Choosing metals that are close to each other on the galvanic chart, aluminum and zinc for example; 2) Managing mass, masking the larger mass the anode, so stainless fasteners in a piece of aluminum are corroding the aluminum, but if the aluminum is large enough not a problem; 3) Use of sacrificals, zinc on bolts, zincs on boats; 4) All of the above can be enhanced with isolation, cover the joint to prevent the electrolyte, water; put rubber isolated washers on to reduce or eliminate contact, you can see these on the 928 fenders.

Probably the worst thing to do is to reverse the galvanic order, a bolt is pretty easy to replace, the piece that it bolts into not so much.

I was looking at replating hardware in nickel instead of zinc, the problem is that there can be no visible sign of decay, the bolt gets eaten up by the nickel leaving a hole nickel shell. Not into catastrophic failure so I stuck with zinc and the white rust. I coat mine with a product called Walter Hang On.

03-19-2016, 11:36 AM
Petie3rd
Rennlist Member
This Post Sponsored by:
Dow Corning« & DeoxIT«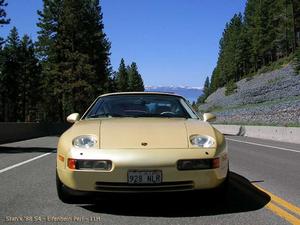 ---
spray the engine with a lite coating of WD 40 wipe off the drips and the parts that are painted,
the stuff will sink into the other metal bits and add corrosion protection,
this may have to be done once a month.
NOTE keep it off the rubber bits

03-19-2016, 01:08 PM
Chronic Tool Dropper
Lifetime Rennlist
Member

---
Nothing like a climate-controlled environment to keep some of the corrosion devils at bay...

The fasteners (socket capscrews) on the side covers of the intake are blaock-oxide coated on my car. Others seem to have cad- or zinc-plated parts in that location. Ditto the socket capscrews that hold the fuel rail covers down.

Sometimes stupid-simple techniques will help otherwise-sacrificial things last longer. Clear spray paint on plated engine bay bits may do the job, but that needs to be done before the new parts are installed. There's then the risk of breaching the coating during installation. Instead, consider using a good paint sealant like Rejex just on the heads of the fasteners so the moisture is isolated. Got pretty new plated parts? Treat the non-threaded areas with Rejex and extend their prettiness-life.

The boat guys have a slew of things for spray-coating metal bits during lay-up. I used to buy CRC 6-56 by the gallon, and use it to fog the boat engine to protect it from corrosion. Consistent with Curt's reminder about condensing moisture and dew points, there are always a few small heaters running to keep temps slighly above the dew point. This is for mildew cotrol at least as much as for corrosion control. If your car is stored in an unheated space for the winter, a normal incandescent light bulb is often all that's needed inside the car. Does nothing for the engine bay though. For that the car needs to be bagged, with the air inside dessicated to keep RH below 100% at all temps it will see, etc.

03-19-2016, 02:21 PM
Addict
Rennlist Member

---
I had a look at my old BMW 635CSI where I have had stainless steel bolts holding the aluminum thermostat housing for years and I cannot find any galvanic corrosion. Living in a cold climate where the humidity usually is fairly low and always having the cars in a warmed up garage minimize the risk for corrosion. The contrary I experienced when I visited my father┤s cousin in Florida, all the tools hanging on the walls in the shed behind the house were all heavily rusted from humidity, something we never see where I live.
┼ke
PS And of course I never use the nice cars during wintertime when the roads are all sprayed with salt.

03-20-2016, 12:07 AM
Addict
Rennlist Member

---
Another thing you can try is a product called Fluid Film. We use it very liberally to coat all the metal parts on my salt spreader trucks. John Deere uses it to coat the vehicles they send by container ship overseas. Really does the trick to prevent corrosion. Lanolin base, smells pretty good. I buy it by the gallon and use their air sprayer to apply it to our salt trucks, in fact all of my vehicles, Porsche included.
You can find it on Amazon by the spray bottle or the gallon and aerosol applicator.

I believe in it. Also helps with previously rusted parts to help them out.