928srus windscreen trim is awesome!

01-17-2019, 10:47 AM

---
Originally Posted by
ROG100
I stopped selling them because of potential fitting issues. The seal is soft rubber and the same shore hardness as the original GTS seal. The cross section of the seal is an identical copy of the Porsche 91 to 95 seal. The seal requires careful installation on pre 91 cars due to the gap being different including the trim clips.
The trim needs to be a tight fit for obvious reasons. This requires the trim to be pushed into the slot. In doing so too much pressure can be exerted and the older more brittle glass can crack. It did so in a couple of installations. Because of this I withdrew the seals from the market.
Probably sold about 50 sets and have them fitted to 3 of my own cars. Better to be prudent than see expensive windshields being broken.
Yep, I had to trim mine down on the driver side towards the top. I could totally see how someone could damage something by trying to force it. To bad cause I think it was a great product, perhaps they could be made with a softer material to allow more compression? (Assuming you probably already investigated that)

01-17-2019, 01:49 PM

---
I installed several of them and it takes some care to cut them down, fit, re-trim and do it correctly. One day I was doing one and a buddy was doing his (first timer) and his windshield cracked after the stuff was installed, an original one at that.. He forced it in instead of gently pushing it in place. I was going to fit them to my car but the new windshield install didn't leave enough room for me to do so. Each one is different, especially if a previous windshield was put in, in the past. Was a good product but I agreed with Roger that pulling it from the shelves was the best way to eliminate issues with people installing them wrong.

01-17-2019, 01:58 PM

---
Mine cracked also...not sure when after the installation but...if i didn't point it out you wouldn't see it. Its a shallow 1 1/2" arc in the black trimmed area on the passenger side, half way up.

Definitively some sort of pressure point. This is a replacement windshield and the rubber trim was exceptionally tight to put it. my guess is the sealant/adhesive application was too thick on the replacement windshield . I almost gave up on it, but with some soap it went in smoothly. no other issues now in a couple of years. It did cut down some wind noise.

01-17-2019, 07:13 PM
Addict
Rennlist Member
Join Date: Jan 2017
Posts: 1,321

---

01-17-2019, 07:24 PM
Addict
Rennlist Member

Rennlist
Site Sponsor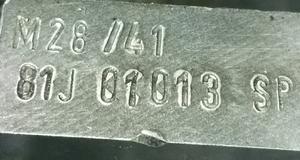 Join Date: Jan 2003
Location: Double Oak, TX
Posts: 15,604

---
Fitted from 91 to 95 ---- PET Illustration 810-000 item #36
GTS Windshield Rubber Side Seal Left 928 559 519 00 70C
GTS Windshield Rubber Side Seal Right 928 559 520 00 70C
All 87 to 90 have the correct trim already. Earlier cars may need the later trim.
__________________
Does it have the "Do It Yourself" manual transmission, or the superior "Fully Equipped by Porsche" Automatic Transmission?
George Layton March 2014
928 Owners are ".....a secret sect of quietly assured Porsche pragmatists who in near anonymity appreciate the prodigious, easy going prowess of the 928."