Rough on startup. Idle air valve?

11-08-2012, 12:53 AM

Rough on startup. Idle air valve?
---
Hey Guys.

Recently I have run into a cold start issue with my 85.
For quite a while now, my car would start, burble and then rev a bit before settling into idle. No big deal and only happened when the car was cold.

Now the car is having some startup issues. Car starts, burbles badly and stalls. After two or three tries and some really rough idle, it finally settles and runs fine. Once warmed up this does not happen any further.

Is it saw to assume I am having an idle air valve issue? It's never been replaced in the 12 years I have owned the car and all the vacuum lines were replaced with silicone ones years ago.

Just curious on your take?

Cheers
Bermie

11-08-2012, 01:29 AM
Petie3rd
Rennlist Member
This Post Sponsored by:
Dow Corning« & DeoxIT«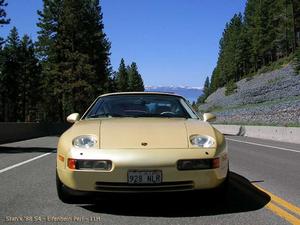 Join Date: May 2004
Location: Philly PA
Posts: 20,395

---
Berni the ISV is a wear item , the armature starts to get holes worn into it from the brushes rubbing on it then after a while the brushes will stick in the worn areas thus the valve may not move as it should .
Also to consider the MAF will age and the the O2 sensor can go out of spec, If you install a rebuilt MAF the mixture will have to be reset via the port on the MAF

11-08-2012, 02:52 AM

---
I'd check the temp-2 sensor if it hasn't been replaced already.

11-09-2012, 10:06 AM

---
I've had a similar issue with my early 32V.

Car would start, then sputter and die once, then it would keep running on the 2nd start. I put some Marvel Mystery Oil in the gas tank and that eliminated the need to crank it twice once I drove it 50 or 60 miles with the MMO (it still sputtered a bit and idled roughly on cold startup, but didn't stop running).

The car, however, still stumbled under more than minimal load at about 2200 rpm. I have an extra MAF (none of my MAFs have been rebuilt) and decided to swap MAFs to see whether that made a difference. Now, I have to start it 2 or 3 times again when cold, and it runs worse when cold than with the previous MAF, but the stumble under acceleration once warmed up is greatly mitigated (traded one issue for another). Today, I plan to adjust the CO on the MAF that's now on the car, as I haven't done that yet. The intake was refreshed some years (but only 4-5000 miles) ago but I'd have to pull the records to remind me whether the ISV was replaced.

It seems to me that a cold-only symptom wouldn't be due to ISV-- that a bad ISV would cause issues when warm, too, unless the "stickiness" that can develop is lessened once the ISV is warmer. With both MAFs, the idle speed increased as the car warmed up...the 2nd MAF tries to idle it at the proper RPM, 685, but it won't keep running, when cold, the 1st MAF idled it around 800 cold, and both idle it closer to 1000 when warm with minor (~ 20 rpm) hunting.

Another thing I wonder about, but need to borrow a fuel pressure gauge to check, is whether my fuel pump is weak, it used to hum a lot when warm...although that was more a candidate for a cause of the acceleration stumble than the cold start issue, in my mind. Fuel injectors are new.

11-09-2012, 03:07 PM

11-17-2012, 12:35 PM

---
Thanx for the replies guys.

Got sidetracked working on my Ridgeline.
Can you believe the mechanic who changed out the RL timing belt missed the rear cam timing by a tooth? Nice to know that I take more care in doing this type of work than a trained professional. I told my wife "if I can change the timing belt on a 928 motor, I think I am safe fixing this guys screwup". Truck is back to normal now so I can start working on the shark again.

The car is actually running rough consistently. When you first start it, it dies. Start it again and it may die again but most times it stumbles and then catches itself. The revs increase and then the car settles into idle. It will still stumble for a little bit but won't stall again even when driving. It is now idling roughly at all times. Definitely not smooth like it used to be.

I am seeing more people directing me to the temp 2 sensor as the culprit, then the MAF and then the idle stabilizer as the lowest probability. Good thing since it is the most difficult to get to.

Is the temp 2 sensor the one on the water neck on the front of the engine? What's the technique for checking it? Appreciate the help guys. Wanna get the old girl back in shape and I have a lot of issues these days. Most I can fix no problem myself but some I am going to have to troubleshoot.

BTW - I am now a resident of Las Vegas!

Cheers
Bernie

11-17-2012, 01:19 PM
Petie3rd
Rennlist Member
This Post Sponsored by:
Dow Corning« & DeoxIT«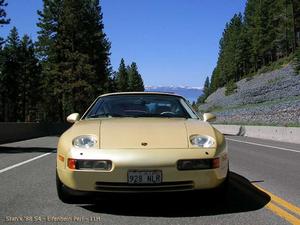 Join Date: May 2004
Location: Philly PA
Posts: 20,395

---
THE ISV should be replaced on principal,
its not a question of if its bad ,
you now know it is a wear item.

12-20-2012, 05:10 PM

---
Follow-up to my earlier comments in this thread...

After adjusting idle CO on the MAF using the Blink'r, and continuing to run Marvel Mystery Oil with the gasoline for a tank or so, the idle is a little rough at 750-800 on startup, then once warm, it idles a little higher and more smoothly. I gather that the MAF needs rebuilding but once the O2 sensor heats up, it's able to compensate reasonably.

I still suspect that I should install the new fuel pump sitting on my shelf but still haven't acquired the gauge to check the pressure; sometimes, I get the bucking on (attempted) acceleration, even when warm. I did replace the fuel filter not that many miles ago, but not the pump.

None of this implies that my Temp II sensor is good, and that's a fairly simple test, a common failure and cheaper to replace that than to rebuild a MAF, but I suspect the root cause of the OP issue is the MAF sensor. Try resetting the idle CO and/or try swapping it with someone else's to compare running quality, if you can borrow one from any 32V 85-95 model.

12-21-2012, 05:49 PM

---
Recently had very good luck just cleaning the terminals on my Ignition relay on the big board in the footwell. Car would hunt for an idle, not spool up when romping the go-pedal and even under moderate acceleration, would stumble a bit. Acted like a vacuum problem but removing the IR, cleaning the terminals and re-installing it cured it and it runs and idles just fine as well as doing the scalded cat acceleration it's supposed to.

12-21-2012, 05:54 PM

---
Your TempII might not be bad but until you pull the boot back and look at the wiring, you won't know for sure if it's working the way it should be. What was described above is typical for when the wires are frayed .

12-21-2012, 09:06 PM
New User
Join Date: Dec 2012
Location: Arlington, Texas
Posts: 4

---
Im having a similar issue on my 89. I have replaced the Temp II and pigtail. along with plug wires not the plugs yet( the wires were dryrotted). My car runs fine on startup but if you let it idle for more than a few seconds it goes into a low idle and will eventually die.SometimesI cant get it restarted, let it sit and it will restart. Once the car is warm its fine.

Could I be looking at a MAF issue? Normal driving is fine no lugging or mssing. More spirited driving is met with some hesistation. I dont hit WOT still babying it till I trust it fully.

On a side note I as well as friedns have noticed a strong exghaust smell coming from the tailpipe recently. I still have the cats, dont know if they work. would a weak spark cause any of these issues, or am I barking up the wrong tree.
---
Last edited by TxJeeper; 12-21-2012 at

09:26 PM

.
Thread
Thread Starter
Forum
Replies
Last Post
944 Turbo and Turbo-S Forum
944 Turbo and Turbo-S Forum
944 Turbo and Turbo-S Forum

Posting Rules
You may not post new threads
You may not post replies
You may not post attachments
You may not edit your posts
---
HTML code is Off
---