928 Trailer Hitch/Tow bar

09-27-2012, 10:12 PM
Addict
Rennlist Member

Rennlist
Site Sponsor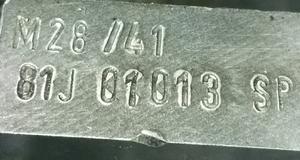 Join Date: Jan 2003
Location: Double Oak, TX
Posts: 15,655

928 Trailer Hitch/Tow bar
---
I have a customer looking to purchase a trailer hitch/tow bar set up for a 928.
If you have one, or know where I can find one please email me at
[email protected]
.
Thanks,
Roger
__________________
Does it have the "Do It Yourself" manual transmission, or the superior "Fully Equipped by Porsche" Automatic Transmission?
George Layton March 2014
928 Owners are ".....a secret sect of quietly assured Porsche pragmatists who in near anonymity appreciate the prodigious, easy going prowess of the 928."

09-27-2012, 11:11 PM
Shameful Thread Killer
Rennlist Member

Join Date: Aug 2004
Location: Rep of Texas, N NM, Rockies, SoCal
Posts: 19,481

---
The best ones are home brewed. I like the one that comes out of the license plate area. A hole is cut in the bumper cover behind the plate, and the plate is on spring swivel. There's a receiver mounted behind the plate to the bumper bar. Tip down the plate, insert the hitch in the receiver and away you go!

09-27-2012, 11:31 PM

---
You could build one for very little. Here's my solution.
Angle iron from Home Depot: $15
Grade 10.9 nuts and bolts: $5
944 bumper shocks, welded solid: free from parts car
Tow bar: $ varies, but roughly $130
I towed the car about 10 miles a couple weekends ago with no issue. I've been towing my 924S to and from the track for over 4 years with a nearly identical setup.
The best part is I can bolt the bumper on and the tow bar arms fit through the fog light holes (since I deleted them).

09-28-2012, 12:17 AM

---
I could easily make one of these.

But the style I prefer is the style that TerryGT has on his car. It requires the entire bumper cover to be removed and the aluminium bumper be modified. Then the hitch gets put through the rear license plate (on a flip down hinge).

I will look into the costs associated with making this style though as it doesnt require the rear cover to be removed.

What size of ball do y'all want?

09-28-2012, 12:56 AM

---
Colin /Wally etc,
I would much prefer one that attached to (at least) the factory points and was hidded behind the bumper cover with a removeable std type hitch receiver if this is possible.

With this setup the owner could then choose the ball size.

Myles

09-28-2012, 01:14 AM

---
928Myles,

For that design, you will require taking off the rear bumper cover, cutting a hole in the cover, and either shipping the rear bumper to me, or me shipping you the pieces ready to have a shop over there weld it on.

But if you do that, then I could not guarantee that their welds are strong enough.....

09-28-2012, 03:27 AM

---
Nothings ever easy is it.

If I could figure out the stock mounting points then I could probably make something up myself. It would be good to get a photo of one mounted on a car to confirm exactly how they were mounted by the factory.

Something in the back of my mind tells me that the one Wally pictured is not factory - can anyone confirm that?

Myles

09-28-2012, 07:17 AM

09-28-2012, 11:26 AM

---
I made one based on a design from a long time 928 DE guy in Indiana - Randy Faunce - who I met at Road America. I only pull a small 2 wheel trailer with 4 wheels/tires and a tool box weighing a total of about 500 lbs to and from the tracks.

Piece of flat steel bolts onto the bottom of the aluminum bumper bar, has a receiver welded to it, and a hole cut in the plastic "bumper" behind the license plate. Use a '50's type GM license plate holder that has a hinge and folds down. Slip the receiver with a 1 7/8" ball into it, insert the locking pin and I'm ready to connect the trailer and the electrical wiring for it's lights.

Once I'm at the track, just withdraw the locking pin that is behind the plastic bumper and withdraw the square bar from the receiver and flip the license plate up for the event.

Anyone who wants a copy of the "plans", send me a direct e-mail. I 'think' I can find them in my files somewhere!!

Gary Knox