cam gears

09-04-2012, 12:46 AM

---
Originally Posted by
Lizard931
looking at your pictures, your gears are too far gone, get new ones from Rog, do NOT reassemble using those gears. I do have a few good sets of gears that I am going to get recoated, but if I sold you a set there would be a higher cost as you dont have good cores.
Also replace your oil pump gear with a new steel from Rog.
Heh, I got so paranoid after the scare about cam gears becoming NLA, that I have two spare sets of oil pump, crank and cam gears on the shelf, despite both my 928's having new ones (well the 89 has 7k miles on them)

09-05-2012, 04:08 PM

---

09-10-2012, 03:10 PM

Crankshaft gear
---
For anyone doing this job, check the crankshaft gear. My steel crankshaft gear is worn down more that my aluminum cam gears or the oil pump gear. I was cleaning parts waiting for stuff to arrive from Roger and I pulled the crank tea just to clean around the area, gear is really worn.

09-17-2012, 06:16 PM

Cant remember where this wire goes??
---
I am about to reassemble the motor after timing belt, water pump and gears. Thanks to everyone who helped, all new gears and belt. porkensioner and cam timing done. Hats off to the designer of the adjustment tools for the cams and the tensioner. Brilliant stuff and easy to use.

I cant for the life of me, remember where this wire goes. I dont remember undoing it and the end is brittle and broken anyway so I have to assume it sits somewhere hot. I know where all the other wires go but this looks like the wire for the knock sensor but it is over by the drivers side and its junction is disintegrated as well.

This wire runs in the same harness tube as the timing belt warning light and travells to the passenger side but I cant find what it attaches to.??

Anyone got any ideas for replacing the ends that are brittle.

09-17-2012, 06:32 PM

09-17-2012, 06:41 PM
Addict
Rennlist Member

Rennlist
Site Sponsor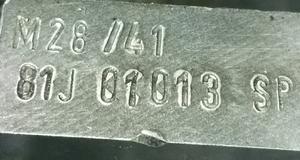 Join Date: Jan 2003
Location: Double Oak, TX
Posts: 15,663

---
We have our cam gears under test at the moment but I would not be happy supplying them commercially until at least six months of in car testing had been completed.

I checked the 928MS site and no current details on testing.

Maybe you can update us all?
__________________
Does it have the "Do It Yourself" manual transmission, or the superior "Fully Equipped by Porsche" Automatic Transmission?
George Layton March 2014
928 Owners are ".....a secret sect of quietly assured Porsche pragmatists who in near anonymity appreciate the prodigious, easy going prowess of the 928."

09-17-2012, 06:48 PM