Brake fluid reservoir

11-20-2011, 06:03 PM

Brake fluid reservoir
---
Guys, While doing other work I discovered that my brake fluid reservoir is leaking where it goes into the master cylinder. Is it possible to remove the plastic reservoir and replace the seals or do I have to replace the whole thing master cylinder c/w reservoir?

Thanks
Sean
---
Last edited by justaguy; 11-20-2011 at

06:04 PM

. Reason: TYPO

11-20-2011, 08:26 PM

---
Yes thats what I thought. I tried prying it off but it didn't want to come free so thought I would ask before I broke something. I mean, before I broke something else.

Thanks
Sean

11-20-2011, 08:54 PM

---
Sean, It really does pull out, you might have to work on it a little. I put mine in a vise, an used a couple of pry bars to get it off. I had to replace my MC, got it from NAPA, rebuilt. Everything about the job is in the search feature of this forum.

BTW, EVERYTHING YOU WILL EVER NEED TO KNOW ABOUT YOUR CAR, IS IN THIS FORUM!!!

BTW, the car in your avatar is black, but the car in the pictures you posted is yellow, you don't happen to have the mysterious yellow 928 that everyone is trying to get a picture of, do you?

11-20-2011, 10:27 PM
Petie3rd
Rennlist Member
This Post Sponsored by:
Dow Corning« & DeoxIT«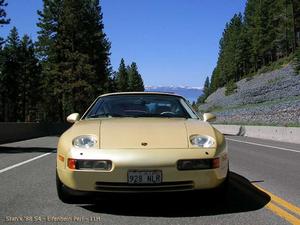 Join Date: May 2004
Location: Philly PA
Posts: 22,661

---
you may find that even replacement seals wont cure the leak as the bore that holds the seals is usually corroded and since its not smooth the seals will leak.
BUT try it first,
if no good then replace the MC

Roger sells the new silicone blue hose
i would also suggest to use ATE super blue fluid on the brake system,
it will keep it working for a long time,
try not to mix fluids as they usually will swell the seals.

To clean the reservoir first rinse out with brake cleaner,
then add some simple green and hot water shake vigorously rinse and repeat,
then shake the reservoir dry,l
then add 1 oz of isopropil alcohol shake and drain,
then add more shake and drain,
then blow dry with a hair drier,
the reservoir will look brand new

11-20-2011, 11:21 PM

---
My yellow car is a custom hand built 1980 wide body. With a 422 intercooled wipple supercharger built by Richard Hatfield in the late 90's for open road racing 550 hp @ 11 PSI. There are a few pic on here somewhere search my posts I think one of the threads was " new to boost"

11-21-2011, 01:34 AM

---
They are std ATE grommets as used on MB etc. Dirt cheap. When I got mine, they leaked all over, so needed replacing. Several years later I accidentally lifted the reservoir out of one while pressure bleeding. Could not get the tube back in - grommet had swelled too much, so had to replace them again....
jp 83 Euro S AT 54k

11-21-2011, 02:19 AM

---
MB? But thanks ,I will pick up some grommets tomorrow. Motor Boats, Moma Bears,Many Bits, Mikes *****,Minni bikes,Master Blaster,Miscelaneous Bores, Many Brakes, You've stumped me, Dunno.
Sean

11-21-2011, 03:06 AM

---
Sorry, it was obvious to me...German car, brakes, ATE (Alfred Teves), Mercedes -Benz. Many times parts we have in common with mercedes are cheaper thrpough their dealers. If the old grommets havent turned to mush, I bet you will read 'ATE' on them somewhere. When I asked for these at MB parts outlet, the guy didnt flinch, didnt look up anything, just reached around to a bin, pulled them out. Try your nearest MB or BMW outlet.
jp 83 Euro S AT 54k