Just Peachy OB project

01-26-2012, 11:37 AM

---
Very nice looking interior Tony! We need more pictures of these goodies!

Cheers!
Carl

01-26-2012, 11:55 AM

---
Only six more to pass Morrison ...

01-28-2012, 01:37 AM

---
Today: Removed the doors, hatch, rear fender liners, and started disconnecting some of the main wiring harness. 77Tony

01-28-2012, 04:39 AM

---
You guys are having way too much fun with that thing.

01-28-2012, 05:35 AM

---
Keep up the great work Tony! Can't wait to see this car back on the road!

01-28-2012, 05:44 AM

---
It's going to be awesome, Tony. I live vicariously through you: that garage, those cars, south Texas...

01-28-2012, 10:30 AM

---
So Tony, are you sending the Red car off to paint and then installing all the parts from the brown car? You using any of the body parts off the brown car? (doors, rear bumper cover, etc)

01-28-2012, 11:01 AM

---
Looking great Tony, that wire harness looks brand new, like it was made yesterday. Did the door bolts come out without a problem?

Carl

01-28-2012, 12:54 PM

---
Looking great Tony! Things seem to moving right along. The thing I like about these kinds of projects is that it isn't work, it's therapy!

01-28-2012, 01:51 PM

---
Thanks to all for your support. Bruce, when are you heading back to TX ? Carl, we removed the doors from the 79 in about 5 minutes, hope the 80 doors come off as easy. Chuck, yes, the plan is to use the red cars (80) unibody. Will be using the rear bumper cover, and no rub strip doors from the 79. All parts that can be salvaged from the 79 will be used. Brian, we are now offering free therapy lessons at the shop, so come on down anytime

77Tony

01-30-2012, 10:35 PM

---
Rear bumper & cover, gas tank, complete wiring harness out today. Also disassembled the seat bottoms to have the front seam repaired. 77Tony

01-30-2012, 10:37 PM

---
Tony, you are sure learning a lot about 928's FAST! You jumped in to the deep end with BOTH your cars! Very cool! I love it man!

01-30-2012, 10:41 PM

---
James, The guy with the hose sticking out of his head in the pic above is there to guide me.


T

01-30-2012, 11:50 PM
Petie3rd
Rennlist Member
This Post Sponsored by:
Dow Corning« & DeoxIT«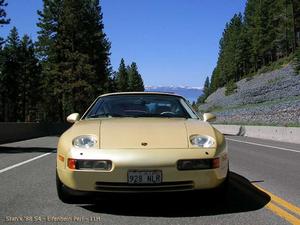 Join Date: May 2004
Location: Philly PA
Posts: 20,863

---
and after you get all the parts off you will again realize that you need 5 parking spots to store all of the parts from one car, of course you prolly learned that from doing the black/ blue car

01-31-2012, 12:06 AM

---
---
Last edited by 77tony; 01-31-2012 at

12:23 AM

.
Thread
Thread Starter
Forum
Replies
Last Post

Posting Rules
You may not post new threads
You may not post replies
You may not post attachments
You may not edit your posts
---
HTML code is Off
---