How to adjust the hand brake

09-26-2011, 10:12 PM
User
Join Date: Jan 2005
Location: Centennial, WY
Posts: 612
Likes: 0
Received 0 Likes on 0 Posts

How to adjust the hand brake
---
I've read that you are supposed to adjust the hand brake from inside the car, essentially at the handle, I gather. Looking down into the upholstered slot, I see a gear quadrant and a nut, neither looks like an adjustable part. Help, once again.

09-26-2011, 10:21 PM
Petie3rd
Rennlist Member
This Post Sponsored by:
Dow Corning« & DeoxIT«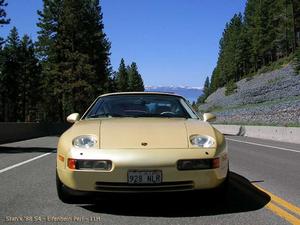 ---
before you adjust the handle you need to adjust the brakes at the rear rotors,
remove the wheels put the hole in the face of the rotor at either 3 or 9 o clock and turn the star adjuster till the rotors tight,
then back off 3 clicks set the brake a few times to set the shoes.

then if the handle wont set the brakes at 3 clicks of the handle then remove the rear portion of the carpet area and with a 15mm and 10mm wrench adjust the cable

09-26-2011, 10:30 PM
User
Join Date: Jan 2005
Location: Centennial, WY
Posts: 612
Likes: 0
Received 0 Likes on 0 Posts

---
Thanks for the quick reply Mr. Merlin Next spring I might want to bring the car down to you for some AC work. Gonna put it away for the winter pretty soon. I'm in Wyoming, 35 miles west of Laramie in the Medicine Bows.

Which engine do you have in your plane? Rolls Royce or Allison? Hope you're not clipping your wings like the guy in Nevada did. I suspect, amongst other things he may haave pushed the plane into stall.