79-85 Rear Mufflers

07-07-2010, 12:19 AM

79-85 Rear Mufflers
---
Request assistance finding vendors for intermediate and rear mufflers for 79-85. Specifically, I need a rear muffler for '81 Euro, M28 11/12, two in and two out (dual tips) which I am told is the same as '85 US. Thanks, Jimbeau.

07-07-2010, 12:03 PM
Addict
Rennlist Member

Rennlist
Site Sponsor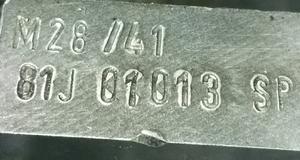 Join Date: Jan 2003
Location: Double Oak, TX
Posts: 15,622

---
Hi Jim,
IIRC the rear parts are still available from Porsche but very expensive.
Have you talked to Mark or Tom at 928 International for a used system?
Borla also sells a Cat back system that works well on the early cars.
Do not know if it fits your Euro or not.
Is yours a twin system?
Roger
__________________
Does it have the "Do It Yourself" manual transmission, or the superior "Fully Equipped by Porsche" Automatic Transmission?
George Layton March 2014
928 Owners are ".....a secret sect of quietly assured Porsche pragmatists who in near anonymity appreciate the prodigious, easy going prowess of the 928."

07-08-2010, 12:20 AM

---
Devek used to have some Euro speck overstock mufflers by Liestritz. I had one, seemed solid and sounded great but I took it off and sold it when I went to the 86.5 system. Not sure if it's at all possible to rund down any of their inventory anymore.

07-08-2010, 03:02 AM

---
Thanks for the info! 81s usually have a single pipe with intermediate or cat then back to the single entry rear exhaust with twin tips. My 81 is a 4.7 like the US 83 and has twin pipes from the manifold to an intermediate then back to a double entry rear muffler with twin tips. I have checked with Tom at 928intl as suggested and usual he is a great source, but has only used. I also checked Devek and Leistritz with no success. I never thought the 86.5 duals were an option but I'll check. Also check again with Borla about a cat back. Thanks again for the leads. Ya'll come go fishin with the old Tailhooker!