Firewall Grommet installation

07-06-2010, 06:27 PM

Firewall Grommet installation
---
In the middle of replacing center console, LED upgrade for clock, hvac, removing all old dealer installed cell phone wiring, etc on the GTS and while I had the CE panel pulled forward, I noticed the Larger of the 2 grommets behind it is not pushed in to the firewall. That explains some engine noise and the fact that the CE panel looked a little dusty (dirty). Well after about an hr of trying to
[email protected]
@@ with it, pushing in w blunt instruments to get it to mate up w the body, I figured that there has to be a trick or a better way to re-install this sucker!!
I shined a light through the grommet and it looks like there is a straight shot to the engine bay, but before I jack the car up and try to go in from underneath, wanted to see if this is more of a 2 man job or if there is a trick to getting this thing in. Tight fit for sure!!
I've attached a pic that I grabbed off another thread which shows the grommet.
(Thanks nick for posting on the CE panel removal thread)
There are WAY more wires on the GTS, but the placement of the Grommet is the same. Its the bigger of the 2 (to the left with a red arrow). Again, if anyone has been there, done that, I'd like to know if there is an "easier" way.
Thanks a bunch!!!

07-07-2010, 01:34 PM

---
Chuck,
IF you still haven't gotten it in place, contact Earl Gillstrom (
[email protected]
). He's done a LOT of S4's GT's, as well as my GTS when he pulls engines. He always takes out the wiring harness through the holes in the process. Re-installing is a trick, but he may give you some hints.
Gary Knox

07-07-2010, 01:47 PM
Addict
Rennlist Member

Join Date: Jul 2002
Location: Glen Mills, PA
Posts: 509

---
Gary and Chuck,

That grommet is not the one that you remove when you R&R the engine.

I have no experience with the one in the arrow in your picture. But, there was good advise about lubing it with soap. I use tire mounting lube for that purpose. It is very slippery and seems to dry up and become non slippery so the tire can't slip around the rim.

07-07-2010, 01:52 PM
Addict
Rennlist Member

Rennlist
Site Sponsor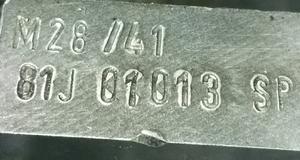 Join Date: Jan 2003
Location: Double Oak, TX
Posts: 15,604

---
Two words Chuck ----Your F**********
__________________
Does it have the "Do It Yourself" manual transmission, or the superior "Fully Equipped by Porsche" Automatic Transmission?
George Layton March 2014
928 Owners are ".....a secret sect of quietly assured Porsche pragmatists who in near anonymity appreciate the prodigious, easy going prowess of the 928."

07-07-2010, 05:30 PM

---
Do NOT drive the car for any length of time without that grommet in its proper place. After having a "reputable" shop install some wiring through that grommet as a means of providing power to an "accessory" mounted in the front bumper cover, I set off for a pleasant trip to Florida. Just outside of Louisiana, I experienced an electrical fire with tons of smoke in the passenger compartment. I was able to make it into Florida but just barely, and then towed the car the rest of the way to Tampa. There it was rendered only just operable for the return trip to California, (without many accessories however).
Once there, that same "reputable" shop removed the dash, and discovered the grommet had "come loose" and allowed wiring to chafe against the body sheet metal and that resulted in a huge cluster f*** of a ball of burned and fused together wiring all over the underdash area! According to the shop, all the wires were then rendered operative by splicing in replacement links and sorting the cluster f***. Ha! Sure. Not very successfully however! From that day forward, my car has had an elusive gremlin requiring me to install a cut-off switch which I use to disconnect the battery when I park the car overnight. Of course the fix is to re-enter the area and properly repair the burned wiring and sort all the circuits, but I had already subsidized the shop twice for the job at $125 per hour, and am still recovering from that rape. If I keep the car, I'll do it myself when I replace the heater core.

Just make sure that grommet is not out of place and is in good condition.

07-08-2010, 01:01 AM

---
Ron,
Luckily it's only out a little from the firewall, doesnt look like any tension on the wiring harness.
Who knows how long its been off, I've had the car for 2 1/2 years, but it could have been a while before that.
I'll take the advice of the KY, Soap, tire mounting lube, etc to lube it up, but I'm thinking its going to be a 2 person job for sure. One from inside to push, one from outside to pull. I don't drive the car in wet weather, but regardless, I want/need to get it done asap!!
BTW, I think I'll refer to Tom and Andrew as the KY brothers from now on!!