Automatic transmission noise only in 1st and reverse

05-07-2010, 11:58 AM
Addict
Rennlist Member
Join Date: Aug 2006
Location: Norway
Posts: 161
Likes: 0
Received 0 Likes on 0 Posts

Automatic transmission noise only in 1st and reverse
---
1990 S4 Auto (70k miles)

The noise is "turbine like" and sound to my ears like an oil pump reving up fast and then stays at high speed. The sound is coming from the gearbox.

The noise is only noticeable in reverse (standstill or moving) and when driving slow in first gear. Pull the shift-stick into 2nd at low speed and after it downshifts into first gear the "turbine noise" revs up.

I changed gear oil last summer, but that had no effect. When driving in "D" or "3" or "2" (without it shifting into first) the gear box is dead silent and shifts perfectly. Silky smooth when driving nice, punching hard when driving like a mad man.

It's been like this for years and after almost 20K miles in my ownership it stays the same, not getting either better or worse. I still doubt this is normal though, so anyone got any ideas what it might be?

05-07-2010, 02:22 PM
Petie3rd
Rennlist Member
This Post Sponsored by:
Dow Corning« & DeoxIT«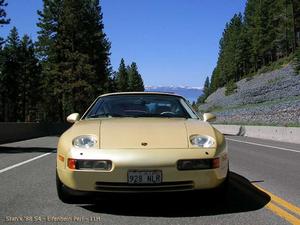 ---
it sounds like a front pump gear whine . if the oil levels are good and your not finding any metal in the samples then keep on driving unless you want to take it apart and try swapping in a new or different front pump