928 Rennlisters you're thankful for...

11-21-2007, 06:31 PM

---
Happy to help with the cardio workouts, Sean!

There's a lot of great folks here and I'm particularly thankful for Dr. Bob, Alan, Andrew and Jim B.
Their blend of wit, technical expertise and gentle nature sets a nice tone for the forum.

11-21-2007, 07:40 PM

---
I've never personally met anyone on the list, but from all the responses that I have gotten and just from reading many- many posts- I don't think that there is a finner group of people willing to go out of their way to help poor sloops like me- and for that I am truley thankfull!!

11-21-2007, 08:18 PM

---

I've gotten an immense amount of help this year from so many guys I can't remember them all.
Tomcat (John), Andrew, Bill Ball, Imo000, Flying Dog, JKelly, Adam G., John Veninger, Randy V., Stan Shaw, Big Dave, Tass, Captain Earl, Jim Morehouse, The Guy (Kevin) ....Lots more I can't think of.
I'm really thankful for the support we get from Roger, 928 Spec., 928 Intl., Nicole, and Carl at 928 MS. You guys provide an amazing blend of experience, enthusiasm, knowledge, and wit.
It's been a cool first year of ownership for me. Thanks everybody!
---
Last edited by Mike Frye; 11-22-2007 at

10:09 AM

.

11-21-2007, 09:01 PM

---
This forum - tons of knowledge, experience and a dash of good fun. I'm amazed at how willing so many here jump in to help others out. Fantastic!

Jim B and 928 Intl - always patient, always helpful and parts the next day at no extra $$.

Jim Morehouse and his Tech Pubs on CD - a treasure that has helped me immensely and quite possibly the best thing since sliced bread!

11-21-2007, 09:16 PM

---
I gotta thank the Detroit 928 OC gang: especially Andrew O. and Dave K. who finally got my '91$4 started after 6 weeks of chasing no-start-ghosts. Now we just hafta find a space to REALLY start working on it because Andrew's wife treatened to castrate him if she didn't get her garage spot back. Thanks again guys, It was nice to hear it running after 3 1/2 years! Now I can hardly wait to drive it!

Paul Barrera ' 91$4 with parts waiting to intstall: TB, WP, TT, X-pipe, shocks, Eibach springs, tie rods, drilled rotors, pads, braided brake lines, wheel bearings, motor mounts, oil pan gasket, vacumn lines,
probably a Porkensioner, etc, etc, etc...........and other misc junk, stuff and things WYAIT!

11-21-2007, 10:04 PM
Supercharged
Rennlist Member
Join Date: May 2002
Location: Back in Michigan - Full time!
Posts: 18,899

---
Paul... Thanks for the kudos.
BTW, your car stalled again...but then started again.

Also, I think we found a place for us to do some more work on it... Dave is chasing this one. Will update you later.

11-21-2007, 11:19 PM
Addict
Rennlist Member

Rennlist
Site Sponsor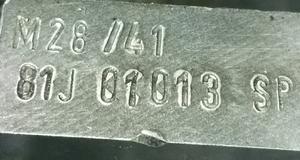 Join Date: Jan 2003
Location: Double Oak, TX
Posts: 15,663

---
In our house you are all welcome and you are all FAMILY!!!
You all have automatic refrigerator rights including Doc.
Happy Thanksgiving to you all.
__________________
Does it have the "Do It Yourself" manual transmission, or the superior "Fully Equipped by Porsche" Automatic Transmission?
George Layton March 2014
928 Owners are ".....a secret sect of quietly assured Porsche pragmatists who in near anonymity appreciate the prodigious, easy going prowess of the 928."

11-21-2007, 11:26 PM

---
I'm thankful that several sharks came to the Fall meet... It was great to see the 928s... I'm not thankful that my power-to-weight ratio is going in the crapper after tomorrow's feast

Gina and I wish everyone a very Happy Thanksgiving...