929 panamera coupe concept surfaces

04-25-2019, 08:06 AM
Addict
Rennlist Member
Join Date: Jun 2011
Location: CT and FL
Posts: 1,115
Likes: 0

929 panamera coupe concept surfaces
---

04-25-2019, 10:06 AM
Addict
Rennlist Member
Join Date: Mar 2003
Location: Washington DC
Posts: 580
Likes: 0
Received 0 Likes on 0 Posts

04-25-2019, 10:10 AM
Super Moderator - Cracklin' Rosie
Lifetime Rennlist
Member

---
Reading the article this is nothing more than speculation from another car magazine, in this case Autocar, and Motor1 is simply re-hashing the article.
Original story here:
https://www.autocar.co.uk/car-news/n...8-series-rival
The "official" word from Porsche, sounds just like every previous story about the "new" 928 over the past 15 years....basically "anything is possible, but as of right now nothing is really in the works".
Motor1 conveniently left out the second part of the quote from Michael Mauer to make it sound as if such a project was further along than it really is. Here's the full quote from the Autocar article:
Asked about the possibility of such cars, Porsche design boss Michael Mauer, who designed the original Panamera, said: "As a designer there are no limits to what I can conceive. I believe it is the design department's role to sketch and consider every model it can for the future so that we are ready should anyone wish to pursue a project.

"But if you are asking me to confirm if such projects are on the way then you are going to be disappointed. It is not my role to consider such things."
As I've said over the years, I don't know why 928 fans get excited over such news. The 928 being the most original Porsche at the time....compared to whatever the new car will be, a parts bin hodgepodge most likely based on an Audi chassis.
I'm sure the car will be great, just as most Porsche's are, but it will be a far cry from what made the 928 what it is.
A two door GT version of the new electric car is more likely to be the future for Porsche.
Note: Porsche 929 speculative render pictured

04-25-2019, 01:06 PM
Addict
Rennlist Member
Join Date: Apr 2006
Location: North Richland Hills, TX
Posts: 1,528
Likes: 0
Received 0 Likes on 0 Posts

04-25-2019, 10:26 PM
Vegas, Baby!
Rennlist Member
Join Date: May 2009
Location: far away
Posts: 10,998
Likes: 0

---
We have the one and only 928. There will be no others! Be happy and content with what you have!

There are some really nice ones for sale right now, grab another while you can!

04-26-2019, 06:10 AM
Addict
Rennlist Member
Join Date: Feb 2011
Location: Mostly in my workshop located in Sweden.
Posts: 1,365
Likes: 0

---

04-26-2019, 07:20 AM
Cottage Industry Sponsor
Lifetime Rennlist
Member
Join Date: Oct 2001
Location: Silly Valley, CA
Posts: 25,317
Likes: 0

---
I can't imagine that they would invest in a car that would directly compete with the 992.

I also doubt they would make a Taycan Coupe with 2 doors and shortened wheelbase - even though it would be the first of this kind of vehicle on the market. At this time they need volume production of the Taycan and Taycan wagon, where most parts can be shared.

04-26-2019, 09:25 AM
Addict
Rennlist Member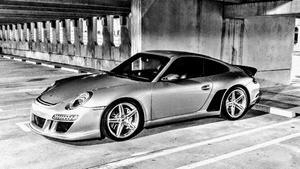 ---
I'm glad this design isn't real or happening as that rear window treatment is ridiculous.

What they should do is leave the 911 series ICE and make a 2-door version of the Taycan for the other crowd, but don't try to compare it to the 928. Porsche needs this rendering as much as they need a Cayenne Coupe - oh wait, they actually are doing that one, but it doesn't change my perspective - an SUV with less utility that looks worse than the original - ought to sell well.