Looking for a specific car 1979 VIN 9289201723

03-31-2019, 06:36 PM
Super User
Join Date: Nov 2006
Location: Colorado
Posts: 3,210
Likes: 0
Received 0 Likes on 0 Posts

Looking for a specific car 1979 VIN 9289201723
---
My dad owned this car from 1979 to 1987.
i learned to drive in it as a kid.
Iĺve been a long time member here and have had my own 1987 S4 for about a decade.
My dad passed away a few weeks ago and while cleaning out his stuff today I found a pile of maintenance records from 1983 that included the VIN to the 928.

03-31-2019, 09:19 PM
Petie3rd
Rennlist Member
This Post Sponsored by:
Dow Corning« & DeoxIT«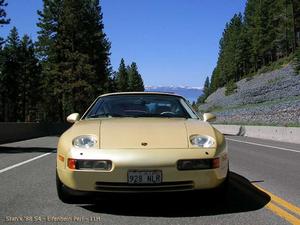 ---
Cole sorry to hear about your dad,
god bless you and your family.


About the car, any details you can add would assist others that might have seen this car,
color, interior ,miles, trans type, options, wheels.

03-31-2019, 09:24 PM
Super User
Join Date: Nov 2006
Location: Colorado
Posts: 3,210
Likes: 0
Received 0 Likes on 0 Posts

---
Thanks Stan! Hope all is well with you.
Its a USA 1979 Mocha Brown, all tan interior, 5 speed, no sunroof, would have needed some paint and body work on the drivers door and passenger fender.
Originally a Colorado car. We traded it in to Herbert Motors Jeep dealer in Longmont Colorado in 1987. 109k at trade in.
Had a few screw holes in the in the center armrest where the 1980s mobile phone was mounted.
Also missing the pliers....cause I still have them 😂
It wouldnĺt surprise me if it reached the end of its life in a junkyard somewhere.

04-01-2019, 03:36 PM
Addict
Rennlist Member
Join Date: Apr 2016
Posts: 525
Likes: 0

---
Have you tried hiring a private investigator? I think they'd be able to check all the DMVs for any registration information. Once they have a last registered owner, it would just be a matter of locating them to find out where the car is or what happened to it.

04-03-2019, 03:04 AM
Addict
Rennlist Member

---
First, you have my condolences, finding his car is a worthy pursuit.
NelaK has a great point. At least start with a search of Colorado's database.
Best of luck on this one!