89 Fuel Sender Leak

12-16-2018, 10:57 PM

89 Fuel Sender Leak
---
I am curious if the fuel sender itself can leak from the top. I have replaced the seal but when the tank is full the top of the sender has fuel sitting in it. The return line is new and not cracked, I have replaced several sender gaskets over the years on various 928s but this is the first time I have come across this. It looks like the fuel is coming out of the black plug area. Before I bite the bullet on a new sender I wanted to hear some thoughts.

12-17-2018, 01:38 AM
Petie3rd
Rennlist Member
This Post Sponsored by:
Dow Corning« & DeoxIT«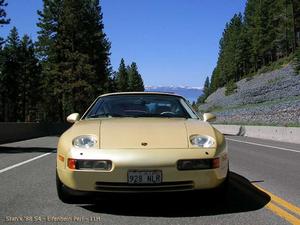 Join Date: May 2004
Location: Philly PA
Posts: 22,614

---
this sender plug area could be a leaking point and you can reseal the inner area of the sender with fuel resistant sealant.
Check the local aircraft supply store for fuel tank sealant.
Otherwise a new sender is available for about 550.00 .
NOTE if you get a new sender,I would be interested in your old one.

12-17-2018, 01:54 AM

---
In epoxies, PC11 has proved to be fuel proof on my tank - sealed the damaged outlet for several years. Are you sure the nut is properly tightened? Warm it up with hot water before fitting to soften it a touch.
jp 83 Euro S AT 57k

12-17-2018, 04:43 AM

---
At $550 a pop for replacement, I see a lot of incentive for repair of whatever ails your current setup. Finding a petrol resistant sealant is surely not that difficult in your part of the world.

If you do go down the repair path kindly post some pics and details of what you propose to do for group learning purposes. I work on the principle that knowing what does not work helps one find a solution that does work.

12-17-2018, 06:28 PM

---
I will probably go down the path of buying a new one and I am certain the nut is on tight , I just wasn't sure the connector was a leak point. Right now I'm going for a drive to lower the tank level and will remind myself to not fill up until this is fixed.