Loctite for throttle plate screws?

12-10-2018, 10:35 AM
Addict
Rennlist Member
Join Date: Jan 2017
Posts: 1,323

Loctite for throttle plate screws?
---
I have read a few posts with differing opinions about which Loctite to use to secure the throttle plate to
its shaft, and the flappy plate as well.

is blue strong enough to keep those screws from getting loose, (constant vibration, and temp swings)
and ending up inside the engine, or is red more appropriate. concerned if the screws are secured with red,
and need to be removed, will heat damage the shafts and other associated bits.

12-10-2018, 10:40 PM

---
Who is going to need to remove the screws again? In what, another 30 years?

If you've never seen what one of these screws can do between the piston and the cylinder head...try to imagine it. It's not pretty.

Use ample amounts of red.

I like to see it squeeze out between the shaft and the throttle plate.
__________________
greg brown
714 879 9072
[email protected]
There's always different ways to do a particular job.
The trick, in life, is to know which of those ways are stupid....

12-11-2018, 07:07 PM
Petie3rd
Rennlist Member
This Post Sponsored by:
Dow Corning« & DeoxIT«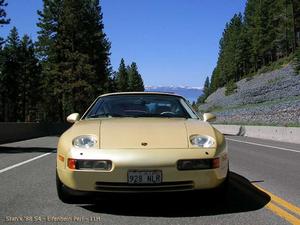 Join Date: May 2004
Location: Philly PA
Posts: 22,568

---
FWIW if you ever need to remove these screws,
I suggest to file the end of the screw down to remove the swage,
the original install had a swage crimp on the end of the screw.

Then open the throttle plate and use a Mapp gas torch to heat the screw area ,
this will loosen the loctite.or the throttle shaft.

Then use a long fresh screwdriver to remove the screw.

NOTE I use red to set the screws after centering the throttle plate.

Important NOTE.
Make sure the throttle plate is centered and seated in its bore.
IE what your looking for is the plate to be fully closed.

NOTE its quite possible to install the plate with one edge keeping the throttle open just enough,to pass air.
This can cause the idle control valve to not be able to control the idle as too much air will be passing past the uncentered throttle plate.

I like to put the plate in the shaft then the screws half a turn from tight,
then open and close the shaft a bit to let the plate find its home,
then remove one screw at a time and loctite it and install it.

NOTE messing with the throttle stop can cause the same issues that I have pointed out.