Hall of Shame

12-02-2018, 07:13 PM
Petie3rd
Rennlist Member
This Post Sponsored by:
Dow Corning« & DeoxIT«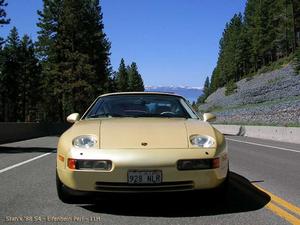 Join Date: May 2004
Location: Philly PA
Posts: 22,452

---
I am working on an 86 machine I t still has original paint,
and at some point in its recent history someone decided to install and electric antenna,
it looks like its a Hirshmann copy .
Now antennas are cool and all,
but whats worse is that the installer thought it was a good idea to put it in the fender.
This required cutting a hole on the top of the fender and fitting the antenna next to the Cruise Control unit
Now when the radio is turned on and your in the drivers seat,
guess what pops up into your view of the road.
yep that big black elex antenna.
Since I am replacing the front PU cover I had some ready painted material to plug the hole.
I found an area that had a similar curvature to it and removed from the Old PU.
It will get silicon ed into place from under the fender, then a piece of 3M paint protection film will cover the area.
What you see here is the paper I glued to the PU to act as a template,
then used the dremel to cut down the outer area so its a PU fender plug
with original paint.