Bought my 2nd 928...I'm hooked!

10-03-2017, 12:05 AM

Bought my 2nd 928...I'm hooked!
---
It's a 1981, no option except the Sunroof and from what I can surmise a 'Competition Package'? Forgive me if I am 'wrong' in assessing names etc for this probable package. It's a 5spd car. I think it was put away in 2002 when a previous owner had dug into the dash and electronics attempting to install new speakers. It looks like he gave up on it as new Kenwood speakers are on the back seat, and the rear interior qtr panel covers are off and basically rotted to dust. One of them actually he tried to render some fiberglass repairs to achieve a 'custom' look -- perhaps a more bulbous area for said speakers? Half the dash is removed, and an endless amount of wires are 'hanging' down from the underside. All the switches are broken or missing or on the floor.
Given my insane desire to know these cars, and my near-insane other 928 disassembly I've decided to do the same to this one, except take it all the way down to a bare body shell, and start over on the wiring. I know I will drive myself insane trying to chase this and or that wire down with little familiarity of the overall systems except for my aforementioned other 928 tear-down (Body off).
This Body I will gut, media blast the entire vehicle, put it on one of my rotisseries and introduce it into the paying work flow I have in my business (drblast.com). This car has a lot of rust, and I know it always is worse that it appears as I've media blasted oh I think close to 200 car bodies so far and rust really is miserable stuff! But, the biggest misery is how many 928s have languished in our society over the years. I have found these cars to be fabulously engineered. The castings on the Lower Control Arms and rear K Member frame are elegant, absolutely functional and beautiful!
My immediate plans is to do a Body off on this vehicle, bring the powertrain to 3rd coast on my Powertrain dolly in which I admittedly copied from pictures published from Porsche. So, all of you here in Texas that will attend the event in Marble Falls next month will have something unique to see! I am looking forward to meeting many 928 folks and learning from you all. And I want all of you to see up close and personal what only the video on youtube shows -- that is these cars being built, except I'm unbuilding it.
I will also bring some of my S4 parts all cleaned up post media blasting and epoxy primer and paint, etc. I will have my Intake Manifold for you all to closely inspect, and evaluate against perhaps past Intake Manifold excursions to limited success? I'll grab a few other goodies from my S4 to do a hands-on for anyone interested. Granted, I'm a noob to this 928 community and I greatly respect this automobile. The hours put into this design was decades ahead of every other manufacturer which I state not just as a hobbyist but from a professional opinion given all the cars I have media blasted and done countless evaluations on.
Here's a few photos, I know some may see a scary looking car, I used to be scared too -- but now, I dive right in. Some may remember my S4 posts here on RL, well, I've decided to go with a K motor, this is year-correct for my car and only 100 engines later came this new one I'm going to buy from Hermann right down the road in Corpus Christi area. It won't be a numbers matching, but it is a correct engine for that year which MAY be the factor that gets me a few more $$$$ when these cars really start to climb in price -- when that happens I'll be positioned to have the nicest S4 as I have yet found anyone anywhere that is doing what I'm doing.
My plan is for my 81 to retain the 16v engine, yes, retain it! If I really want a Chevy LS/LT motor I'll buy a Camaro that is attached to it. I'm sort of a purist in that regard and given there are so few 928s remaining -- and plenty of people would 'pass' on this 1981 car, I take that as a challenge to really surge and put at least 2 cars back on the road that are in tip-top shape.
Enough blabbering...

10-03-2017, 12:52 AM

---
wow Donald - love the enthusiasm. Will be following. I trust that you have the WSM and the wiring diagrams. They are invaluable, and once you get the logic behind them, actually not too bad to follow.

10-03-2017, 02:31 AM
Addict
Rennlist Member
Join Date: May 2012
Location: Thousand Oaks California
Posts: 3,249

---
You will be pleasantly surprised at the cost of the wiring. A rear body loom is ~$100 ( all the sub looms are around $70 last I looked) and the entire front body loom for an 81 is $350 direct from Porsche.

I'm replacing the front body loom in my 81 as that loom is where most of the wiring faults come from in my car.

Shorted headlight washers, cut wires for a alarm system, voltage drop to the starter etc all come from this loom in my car and many others.

The under dash looms are usually untouched and in good condition so even if yours is toast a good used one is readily available and easy to replace with the interior out of the car.

I would recommend getting rid of the existing exterior and sourcing a good interior from a parts car. It will save a lot of money, time, and hassle of having your existing interior redone.

You have quite the project, can't wait to see what you have in store for it.

10-03-2017, 11:32 AM
Petie3rd
Rennlist Member
This Post Sponsored by:
Dow Corning« & DeoxIT«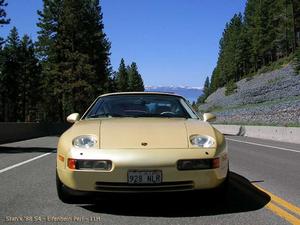 Join Date: May 2004
Location: Philly PA
Posts: 22,609

---
Don you have immense enthusiasm .
After looking at what your starting with.

My only suggestion to you is that,
if your going to put the TIME and MONEY into a full restoration car.

Do a Euro 928S instead , its the same time and money and,
it has a higher HP engine and is faster and more desirable.

NOTE your reward for your efforts will bring a bigger payday should your ever decide to sell it.

Otherwise you will have a more exclusive and faster version than a same year USA version.

If you have never driven an early Euro you should to understand the power increase.

FWIW the best Euro cars are the 84 and 85 MAF 2.2 versions,
they are the easiest to keep running well,
since the FI system are the newer versions compared to the earlier CIS systems

Goodluck in whatever path you choose.

10-03-2017, 11:28 PM

---
What is a 'Jump Post Cover'? I appreciate the advice for this or that Euro model etc., but with limited 928s out there, ie here in Texas, and, considering I found this car along with a 65 Mustang Fastback in the same car lot, along with a 72 BMW E9, I really wanted the E9 but that was really badly rusted, I scored the Mustang, and scored the 928 after the owner came off his silly money request.

I will have this chassis on my Dolly for 3rd Coast. Got to get cracking on pulling the Body off!

12-25-2018, 01:31 PM

---
Revisiting this thread. I've done a LOT to this car since last updated herein. Body is off, Fenders, Doors, Hood, Deck lid are all off and completely media blasted and in Epoxy primer. Doors and Fenders I welded up the Rub Strip holes. This Body took me about 7 hours to remove, whereas the S4 took me a good 15-18hrs. I am sure my next Body off will be much quicker too. I read and observe others pictures of removing Heads etc while the entire car is assembled, wow, what a time grab that is? You do not know how wonderful it is to work on these cars with no body in the way.
This engine is locked-up, I don't know the extent or situation yet as I have not even pulled anything off the assembled powertrain chassis except 3 bolts holding the Torque Tube to the Transaxle and used them on my S4. (I didn't feel like digging in boxes for my S4 bolts - I just moved shops - what a PITA that has been).
This Dolly is going to Richard in Atlanta mid to late January.

12-25-2018, 01:36 PM

---
Notice the pics; top pic is the bottom of the Doors, the corrosion, ONLY exposed and cleaned by Media Blasting - sand blasting would really tear aluminum up. Cleaned up, and Epoxy primed, then 3M Panel Bond applied liberally all over the bottom seam area filling in the corrosion holes and acting as glue where the spot welds failed from the corrosion process. The Deck Lid, notice the 'line', a sort of demarcation line per se; I have clean metal, where the rust was, and where the galvanizing remains in the metal (where there was no rust). Ask your sand blaster to retain the galvanizing in the metal. I assure you they will say 'No speaky English', smile and blast away at 100psi. How long to change the shifter bushings now?

12-25-2018, 03:47 PM

---
Wow. Quite an ambitious project. However given you have the space, lift and ability will save lots of money in labor.

Since you you have an 1981 I strongly suggest a 5.0L bottom end from an 85-86 USA. It will increase performance to a modern level, even more if you have euro cams and heads-intake. With decent exhaust a 5.0L should make around 300whp-torque which will feel pretty strong in an 81 5 speed.