968 Tiptronic question

07-03-2012, 01:21 AM
New User
Join Date: Apr 2012
Location: Miami FL
Posts: 2
Likes: 0
Received 0 Likes on 0 Posts

968 Tiptronic question
---
I'm almost done with my engine and suspension rebuild and now I'm turning my attention to the transmission. The tiptronic selector gets stuck on manual once-a-while. Also it did stall a few times while on gear when I received the car. I pulled the bell housing and the damper plate is fine. I checked the selector and it looks ok from an electrical and mechanical perspective. I have a couple selectors that look newer and I may replace it just in case but I'm 99.99% sure the selector isn't the problem.

The transmission is leaking some ATF. A few drops a day but again this doesn't look to be the problem. Checking the arm that is connected to the selector it fells loose. This is the arm that connects to the cable that goes all the way to the tiptronic selector in the cabin.

I haven't drop the transmission yet but from what I can tell from using my fingers over the exhaust there is some bushing either broke or loosen. Does any of you have any experience with this kind of issue? I will try to post some pictures if the web site and my computer literacy allows me :-)

07-03-2012, 03:02 AM

---
I wonder how you were able to remove the bellhousing without dropping the trans... I have changed once the damper and also removed the trans. What comes to gearselector, it's cable operated. If your trans have never been off, i don't see any reason why cable would stuck. Have you checked the trans oil level. If it is too low, you might have some difficulties. Check oil first. Drive car first to be sure oil temp is in normal operatinig level (about 80C). Then place your car's rear end to a bit higher than the front end. Put gear selector N and while car is idling check the oil level.
Here's few pics i took while changing the "rubber duck"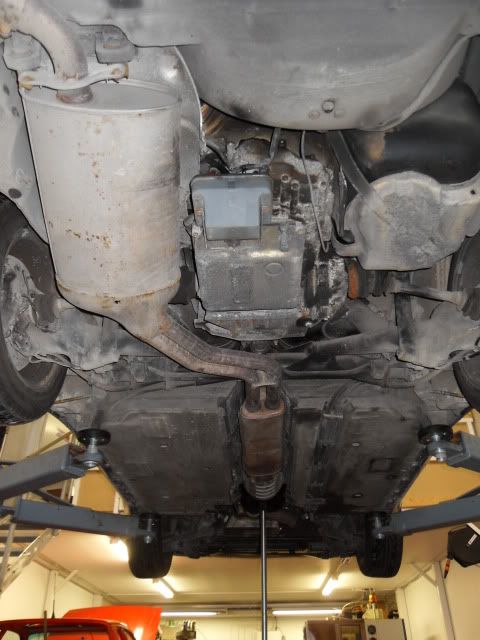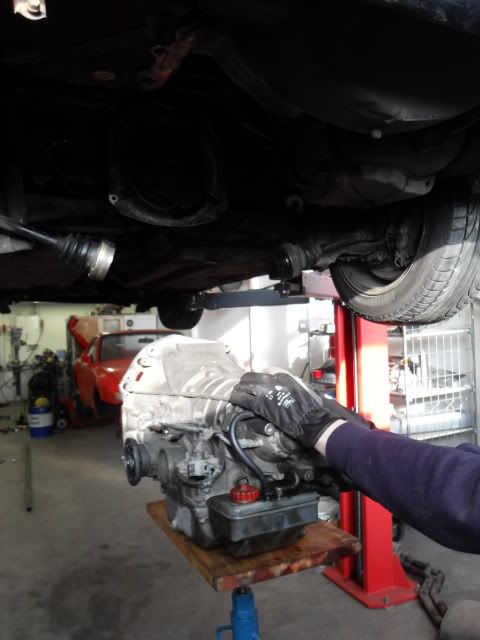 07-03-2012, 11:06 AM
New User
Join Date: Apr 2012
Location: Miami FL
Posts: 2
Likes: 0
Received 0 Likes on 0 Posts

---
Thanks for the pictures Olli.

I removed the engine from the car. It comes out with the bell housing. I'm guessing you removed the transmission to move the torque tube back and remove the bell housing which makes more sense if you aren't going to remove the engine.

My main question is regarding the arm where the cable is connected. The arm fells loosen as if the bushing was worn or missing. Does the arm on your transmission was tight or loosen? If it is normally loosen I'm going to finish the rebuild of the engine, fill the transmission of new ATF and give it a try, if not I'm going to drop the transmission and address the problem.