1980 911 SC HP Upgrades

01-05-2004, 10:22 PM
Addict
Rennlist Member
Join Date: Jan 2004
Location: CT
Posts: 31
Likes: 0
Received 0 Likes on 0 Posts

1980 911 SC HP Upgrades
---
~90k miles

The Performance Handbook says to install an SSI exhaust system to add 17-22hp

It also recommends a camshaft upgrade but doesn't suggest how much hp gain.

Third, replace the CIS fuel injection with dual Weber 40 IDA-3C carbs for 20-30 hp

The last two seem a bit much for me.

Since I won't need to pass emissions in a year I'm thinking about getting a euro pre muffler 11hp and some headers ?hp and new exhaust. Can anyone recommend an exhaust other than the SSI that would give more hp?

I'm open to any performance suggestions, exhaust or otherwise

I guess i'm nearing the time to bring it in to have it checked out, maybe I could do some upgrades while it's opened up.

Thanks
-Seth

01-05-2004, 10:45 PM

---
Euro premuffler does not go along with the SSIs. The SSIs do away with the cat so you don't need a Euro pre muffler. Also, SSIs are not the whole exhaust system. The SSIs are stainless steel replacement heat exchangers that are similar to the '74 style that was on the 911. You would need a dual in muffler to hook up to the SSI heat exchangers. Do a search on exhaust and you will find plenty of opinions and even some sound files. Fabspeed makes a nice combo that comes with a euro premuffler and single out or dual out muffler for pretty cheep. There are LOTS of options. I have a Bursch on my car installed by the PO. It's a cheep system, adds a little performance(?), and adds a bit of a growl to the sound.

01-05-2004, 11:02 PM

---
Just re-read your post, and then mine. I didn't realize that you probably already knew about the differences between SSI, and euro premuffler, etc... So disregard. Anyway, I have always heard that SSIs are the biggest bang for the buck you can do to an SC, without removing the CIS.

01-06-2004, 01:47 AM
RL Technical Advisor
Join Date: May 2001
Location: Portland Oregon
Posts: 11,837
Likes: 0

---
Seth:
The best performance bang-for-the-buck for any SC are the addition of the SSI heat exchangers and a dual-in/dual-out sport muffler. Headers will not do you any better unless you make huge changes,....

CIS fuel injection really limits what cams you can use but you can install the 964 cams (modified) for a bit more mid and upper end power. Beyond that, its new pistons and either carbs or an EFI system.
Lastly, SC's really benefit from displacement increases and you can make it a 3.2 litre motor by installing 98mm P/C's.
I'd really install close-ratio gears first though,.....


01-08-2004, 12:22 AM

---
Agreed. I've got a bonus coming up and I figure this year I'll add SSIs and later this year or beginning of the next I'll switch to the early 70s gears. I'm happy with my horsepower, and would just like a bit more pick-up.

Emanuel

01-08-2004, 10:13 AM

---
I put SSI's on my 82 911SC and it made a noticeable difference. I went from stock to a test pipe to a pre muffler and did not notice a difference in performance, only sound. It went from stock quiet to kind of loud to stock quiet. We also put 2 in 2 out muffler on the SSI's and then the 2 in 1 out. I again did not notice a performance difference but a huge difference in sound. the 2 outs were really loud. It was an older muffler where the 1 out is a new muffler.

01-19-2004, 12:58 AM
User
Join Date: Nov 2001
Location: New Smyrna Beach
Posts: 139
Likes: 0
Received 0 Likes on 0 Posts

---
Also, keep in mind that you can't "add" the bhp for each mod. Usually, a series of mods will yeild a certain outcome.

Like posted earlier, SSI's are the best way to go. You'll definitely notice the difference!

09-22-2014, 01:50 PM

---
My 82 has 964 cams, SSI, no cat, light flywheel and clutch, goes 205hp at the rear wheels on the Dyno. In addition, If you lighten up the car, down to say about 2500 lbs, (after that it gets real expensive and involved) you have a serious mover for an SC. Steps to making it light, carbon back seats, remove the spare and jacks, delete the AC, fogs, add fiber glass bumpers and light bumper struts, Fuchs wheels, you have a 2500lb car, and it's fast. The last 100lbs you remove from the car, always makes the biggest difference.

09-22-2014, 04:18 PM

---
First, I'd recommend keeping the car as close to stock as possible. Some day, your lowly SC will be a $50+K car, and if you crap it up with performance mods, it'll be worth $25K, and you'll be kicking yourself.

That said, a good exhaust is a bolt-on that can give you 10-15 hp.

If you have the budget, a close ratio gearbox will give a huge kick in performance at near-legal speeds. Most SCs need new synchs anyway, and it will not hurt collector value, but will set you back about $4K.

Removing weight, lowering the car, doing a good performance alignment, and buying excellent tires will also add performance.

A performance rebuild of the engine with high CR pistons, cams and PMO carbs will create about 250HP, but for the cost, you could buy a nice used 996, and keep your SC stock.

My bottom line, an SC with a performance exhaust, lowered and aligned with extreme-performance tires and a close ratio gears will be so fast you'll soil your pants.

09-26-2014, 10:11 AM

---
This is why we all need 2 SCs...
My car is stock 3.0 with 964 cams, CIS, running rich as hell (see pic).
Also have SSIs and dual outlet sport muffler nice and loud, great sound.
I have toyo r888s, lowered, corner balanced and aligned. Pulled AC and rear speakers and deck and the thing weighs 2556 lbs or something around there. (Pulled engine sound pad too, its pretty heavy).
Rebuilt my gearbox as well, and have 7:31 ring and pinion in there, its pretty peppy. I can pull on my buddies 3.2 when we are in same gear and same speed, but after about 3 seconds he starts to pull me.
On the track I dominate him. typically 5 seconds a lap faster.
I also have racing brake pads, drilled rotors, stainless lines and racing brake fluid. Rennline pedals and properly adjusted so you can drive the thing too!
I get by the white 3.2 here

09-30-2014, 11:42 PM
Addict
Rennlist Member
Join Date: Aug 2006
Location: Down the Street from Hooters in Sunny FL.
Posts: 4,787
Likes: 0
Received 0 Likes on 0 Posts

---
My 83 cab received head work, SSIs with a B&B & 964 cams, and is much quicker than my 88 Carrera.
Keep it simple and you will be happiest in the long run, as others have already stated.

10-01-2014, 09:26 AM
Super User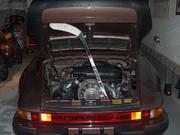 Join Date: Aug 2005
Location: Cambridge Ontario Canada
Posts: 22,877
Likes: 0

---
oh Jonathon .. you just wait till Porsche0nut hears you talking smack about his 3.2 ... personally i think its in the skills ( may as well pile on since im here )


10-01-2014, 07:24 PM
User
Join Date: Apr 2007
Location: Along a road in South Carolina
Posts: 320
Likes: 0
Received 0 Likes on 0 Posts

---
It's been well over 10 and a half years since this thread was posted but I am sure Aries 9 appreciates the responses. Heck, can you even buy PMO carbs or SSI exhausts anymore? Have they moved overseas?

10-01-2014, 10:52 PM
RL Technical Advisor
Join Date: May 2001
Location: Portland Oregon
Posts: 11,837
Likes: 0