Economics of daily driver in Ontario....

02-01-2019, 12:31 PM

Economics of daily driver in Ontario....
---
I'm trying to figure out how much it costs for me if I switch to a 2014 A4 stick or a 2014 A6 TDI.... both would be upgrades from my current 2006 Jetta TDI... am I missing something in the following screenshot?
I have included my current daily driver in the last column (2006 Jetta TDI)
I estimate my mileage going ahead will be about 30,000km as I am now going into work 40 less days per year (down from about 35,000km/yr for the past 5 yrs)
edit, I changed the attachement , also added my numbers for my porsche boxster, and fixed a formula for the 2006 jetta....
---
Last edited by petee_c; 02-01-2019 at

01:07 PM

.

02-02-2019, 01:39 AM
Addict
Rennlist Member

02-02-2019, 06:46 AM

02-03-2019, 09:29 AM
Addict
Rennlist Member
Join Date: Jul 2015
Location: Halifax, NS. Canada
Posts: 1,073
Received 0 Likes on 0 Posts

---


I applaud your efforts and think your formula will likely work pretty well when comparing similar vehicles, say class compatible domestic sedans, but once you add in Euro tax or "special vehicle" tax, it goes off the rails fast. I would also suggest you might add in insurance costs, as there can vary dependant on vehicle as well (again, should be fairly compatible across classes)

02-03-2019, 12:12 PM
Addict
Rennlist Member
Join Date: Aug 2006
Location: Montreal, Quebekistan
Posts: 1,684
Likes: 0

---
Damn premium here is 1.20 or so and that's at Costco... Im at the point where if it starts and runs Ill drive it. Sometimes we get a car off the hauler and it has a full tank of gas, its like winning the lottery.

02-03-2019, 07:09 PM
User
Join Date: Feb 2013
Location: Edmonton, Alberta
Posts: 559
Likes: 0

---
I had a '14 A6 TDI which I just traded in after receiving my dieselgate cheque. 120k km/4.5 years and the only money I spent on that car was replacement tires and a new windshield. Not one warranty repair, still on original brakes, didn't throw a single MIL, lifetime average of 6.9L/100km, 1200 km fuel range, huge torque.... perhaps the best car I ever owned and I should probably still be driving it.

02-05-2019, 11:42 AM
Captain Obvious
Super User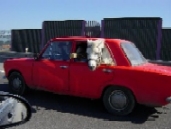 Join Date: Aug 2003
Location: Cambridge, Ontario, Canada
Posts: 21,228
Likes: 0

---
At only 30K/year, it's not really worth driving a diesel anymore. They cost more to buy and a real PITA tor start them when it gets below -20C. I would stick with the gasoline engine.