FS: 2013 TPD Vortech enclosed car trailer 24'

05-20-2014, 04:22 PM

FS: 2013 TPD Vortech enclosed car trailer 24'
---
For sale is my amazing 2013 TPD Vortech 24' car trailer I custom ordered directly from TPD. I'm the only owner of this trailer. It is in like new condition, not a scratch on it. I've only used it for one season approx April 2013 to about Sept 2013. I've taken it to 6 or 7 track events. I've added some nice touches to it through the time I've owned it.

Attached are some pictures including cad drawings. Please only contact me if you're serious... the trailer is located in WA state. It needs nothing, everything is like new so its ready to go. If you're SERIOUS please private message me and I'll respond ASAP.

Here's a list of the options/features:
- 8.5 x 24 vortech tandem 5k axle
- 15" aluminum wheels with 15" aluminum spare mounted neatly on the wall
- upgraded 5' long tongue
- stone guard at the front bumper and ramp door
- 4 D-rings installed by factory, spread out far/wide to accommodate all kinds of vehicles
- ladder to access roof (you can walk on this roof without any issues)
- side step pull out
- i upgraded the curb side door to 4' wide, really nice and wide
- there is e-track all over the place. installed by the factory which is a huge benefit: welded instead of screwed on, painted white matching the rest of the interior of the trailer.
- front L shaped workbench up front with a shelf
- 6 drawer ball bearing toolbox located up front under the workbench
- generator door on the street side of the trailer, slides outs, very nice
- wall cabinets above, from the factory
- 3 4' fluorescent lights inside the trailer extremely bright against the white walls, floors, etc
- 2 quartz spot lights outside incredibly bright
- 110 v outlets inside and out, breaker box, 30 amp shore power plug
- Air conditioner 13,500 BTU cool and 12,000 BTU heat pump (AC and heat!)
- Superwinch electric winch with synthetic rope upgrade (off set to the right to better accommodate european cars which have tow hooks over to the right)
- electric tongue jack with a LED night light (never crank again!)
- solar panel on the roof to help maintain the battery charge
- custom tinted window on curb side with mini blinds

Items I've added:
- 2 stainless coat hangers under the upper cabinets
- arrow components trailer door shelf (all aluminum, simply the best)
- maxxair roof vent covers x2 (protects the roof vents from flying off, another must have)
- wireless winch remote for the superwinch

asking $23k

05-21-2014, 04:20 AM
GT3 player par excellence
Lifetime Rennlist
Member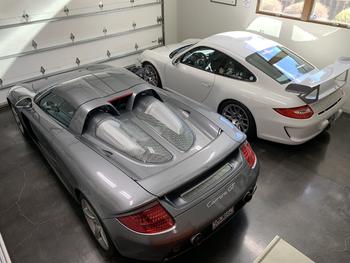 ---
i told you to hold your horses and dont get your pantie all twisted.... see, just listen and stop talking.... oops, that's what i tell my 5 YO......
u r pres of POC now?
nice. maybe i'll come race with you all at LS again. once i find a car.

05-21-2014, 11:03 PM
GT3 player par excellence
Lifetime Rennlist
Member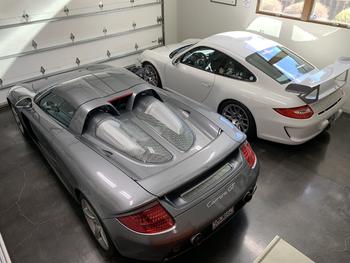 ---
will try. I will be at e GGR event after the parade which is right b4 POC. needs wife approval
lol....
which one I bought few yrs back?
20
24
36
38
44
48
24
and two open trailers
if I knew how to park, I would have bought a 53 double decker. I've been checking out jwe's. but it would take a day or two for me to park that thing haha