Redline Water Wetter Users: Just a heads up..

02-11-2012, 11:12 PM

Redline Water Wetter Users: Just a heads up..
---
I've noticed a number of people mention Water Wetter around here..so I thought I would share this. Thought this might be the best place to put it, although it doesn't seem like the general forum gets a lot of traffic. Please re-post as seen fit in the water cooled sections I suppose!
Before I got my 993 I had a mullet mobile that saw a fair amount of track time. Despite not having many miles on it I wanted to flush my coolant out for a lower concentration of antifreeze, as well as add Water Wetter for a little insurance. Over the next few thousand miles I stared to notice an oily residue in my coolant tank (translucent white plastic). I feared that I had blown a head gasket and was getting oil in my coolant.
I decided maybe I should clean out the tank, and just monitor it and see how quickly it got fouled up again...so I removed it, and first tried a degreaser to clean it out. When that didn't work, I started googling around looking for tricks..I first tried coffee grounds and then bird shot mixed in with hot water and various cleaners. At this point I started to wonder if it wasn't oil, and maybe there was some sort of incompatibility between the OEM antifreeze and the Water Wetter...low and behold, I ran in to this on another forum. Granted it sounds like the guy was using a very high concentration in his car, but I was getting the same result at about the recommended strength. I posted this on another forum, and a considerable number of people using this in their coolant systems, engine and/or intercooler, and found the same residue in their tanks.
Nothing against Redline (I just filled my transmission with 75-90NS actually), and I don't work for another company with a competing product..just a concerned Rennlist citizen I suppose you could say.

Greg Theisz
Southeast Regional Manager
Cell 713-253-3422 Fax 210-568-2940
[email protected]
We recently had a consumer provide us with a coolant sample that he thought had been contaminated with motor oil from a blown head gasket. We performed an analysis, and found it wasn't motor oil. It was polysiloxane polymer (i.e. silicone) from Red Line Water Wetter. He had been using this product for several years, adding a couple bottles per year.
Seeing this prompted us to look into the issue further in the controlled environment of our coolant test lab.
We setup our ASTM D2570 Simulated Service coolant test rig, and ran Water Wetter through repeated heat/cool cycles. We found that after 8-10 cycles, the polysiloxane polymer become completely insoluble. After another 5-6 cycles, it turned brown, and began coating the inside of the radiator. After another 15-20 cycles, it turned darker brown, and in the high heat area of the system became thicker in consistency -- almost like molasses.
As mentioned in a previous report on this topic, Red Line uses polysiloxane polymer as an antifoam ingredient in their Water Wetter formula. This is "old technology," as there are now far more sophisticated antifoam ingredients available for coolant. The problem with polysiloxane is that it is only marginally soluble in water, and polymerizes through repeated heating/cooling cycles.
Have a look at the attached photos. Two of them are glass beakers containing the Water Wetter/water solution drained from our ASTM test rig at the conclusion of the test. The other one is the coolant reservoir of the consumer who needlessly rebuilt his engine after using Water Wetter.
As you can see, this material looks a lot like motor oil. It coats everything it comes into contact with. It would take a lot of flushing to completely remove this from a cooling system. It's pretty nasty stuff. I can tell you, it took plenty of work to get it out of our ASTM test rig!
I have heard through the grapevine that the chemist who originally developed Water Wetter is no longer at Red Line, and none of their existing technical staff has any background in the area of coolants. For this reason, they are probably unable to update their formula to any newer types of technology. And of course, they are not members of ASTM, so they may not have any access to research or updated test methodology.
I share this info with you for two reasons:
1) Some uninformed consumers may errantly assume this material is motor oil in their coolant from a blown heat gasket, causing them to perform a costly motor teardown that is completely unnecessary.
2) There may be consumers who use Red Line Water Wetter before using Purple Ice. We certainly don't want them to think that Ice caused this. For this reason, I think our research on this subject may prove helpful at some point.
We have full documentation to back all of this up. And of course the web is filled with similar reports. If you Google the words "Water Wetter Brown" you find scores of them. Feel free to use this info however you may see fit.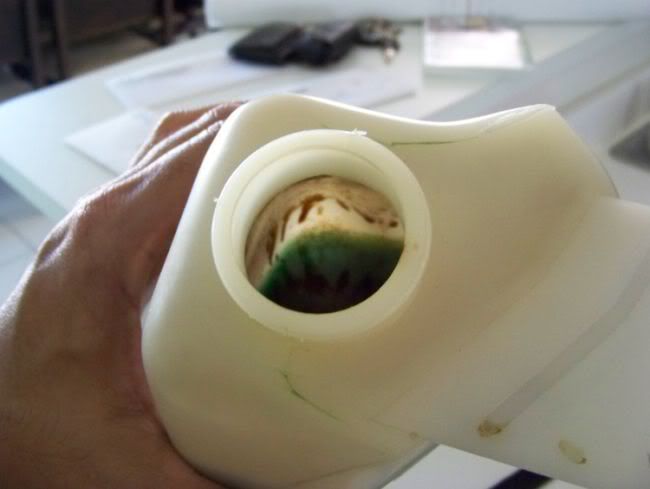 02-14-2012, 09:38 PM

---

06-30-2012, 08:42 AM

---
Is there a better/more modern water wetter that doesn't do this?

Jay

06-30-2012, 01:07 PM

---
That's a good question..however I went air cooled not long after I found this out so this is about as far as I got!

08-02-2012, 08:29 PM

---
I've used it in my 928 once. I am presently having to drain my coolant ie timing belt check and tensioner. I will look closer and determine if I have any of these effects to my system. On a pos note... it does work. I was having overheating problems when running the A/C, and I found a thread on here highly recommending it. Heating problems cured.
Thread
Thread Starter
Forum
Replies
Last Post
924/931/944/951/968 Forum

Posting Rules
You may not post new threads
You may not post replies
You may not post attachments
You may not edit your posts
---
HTML code is Off
---