A little something for everyone, 3D artist sharing my work

09-13-2018, 06:16 PM

A little something for everyone, 3D artist sharing my work
---
Hi everyone, I've posted a few times if different sub-forums but now I'm thinking I'll keep it all in the general Porsche discussion forums. If anyone has a better suggestion I'm happy to oblige.
I'm a 3D artist (digital that is, created on a computer screen first and then sometimes printed) and about 98% of the stuff I put out is Porsche-centric. I'm not in the business of discriminating, I enjoy the lowly 914/924's as well as the big dogs, both new and old, which is why I'm thinking the general area might be best. It is a hobby and most of what I do I create purely for my own interest and I can post freely, the purpose of this thread is to share the latest personal work I've been doing. I do occasionally do client work, but as you can all expect those are client privileged and cannot typically be shared here. If you want to see more, you are more than welcome to check out my Instagram page @autoillustrated
It should probably be noted that all references to and depictions of Porsche vehicles, logos, and trademarks are property of Porsche. Any depictions of sponsorship decals on race car liveries are property of their respective owners. I'm not selling anything here so I don't think that would be a problem, but I'm also not a lawyer so... who knows?
I'll answer a few questions that I often get, any other questions let me know.
-I 3D model using a variety of softwares, I do both nurbs and polygonal modeling. For Nurbs think Solidworks, Pro/E, Creo, Inventor etc. Polygonal think 3D Studio Max, Blender, etc.
- I have been doing it professionally for about 15 years but not in the automotive industry. I typically work on plastic molded parts, sometimes machined or sheetmetal
-For rendering I use Keyshot
-The rendered images I produce are made up of models that may have several sources, some like the engine model are completely scratch built, others like the 934 and 914 and mostly scratch built with some smaller items from purchased models, still others are primarily purchased models with some slight adjustments and a few scratch built features. I can't remember the last time a purchased model was good enough without some model work on my end.
-Purchased 3D models are available from a myriad of places, a few off the top of my head are Hum3d, CGtrader, Behr Bros... none of these places sponsor me, just sharing where I get stuff from sometimes.
Giant wall of text, I know. Most of you are falling asleep if you've gotten this far so now I'll post some images. I'll try to have a little description with each one.
This has been a long term project, disassembling the project engine for my 914 and then systematically bringing the cleaned parts inside and modeling them. The engine is nearly complete, missing some bolts here and there and some small items. Engine is a '71 911T with Zeniths
All of the internals are there
I take that back, I haven't done the piston rings yet...
I mentioned a 914 model, I have done several variants including narrow and wide versions, and this was an outlaw style with a few custom bits I created.
I made a lifted offroad Forest Service version
Fell in love with the 911R and made a few color variations but this green with matte stripes won me over.
a new GT2RS
GT3 Cup with an oldschool livery
An artistic view showing a few colorways of my latest Fuchs model with Michelin TE15's
The current progress on my 934 model, I still need to correct the front fenders and some other details but it's getting there.
A Macan with the iconic Rothmans livery
A 964 Turbo S lightweight with wheels modeled after the wheels on the America GS
Here's a 356 Speedster, I created this hardtop for it.
That's it for now, I have hundreds and hundreds of projects I can show but don't want to overwhelm you all. If you see something on my Instagram account and want to see more views or higher res images, just lemme know.

09-14-2018, 03:16 PM

---
Thank you! I'm still learning and trying to progress my work further.
September 14th can't go by without me posting some 914 love. From the 1971 Monte Carlo rally, here's the #7 9146/GT
I am aware there are some differences (i.e. wheel finish/color, etc) I just like these layouts more. This isn't meant to be a historical archive submission.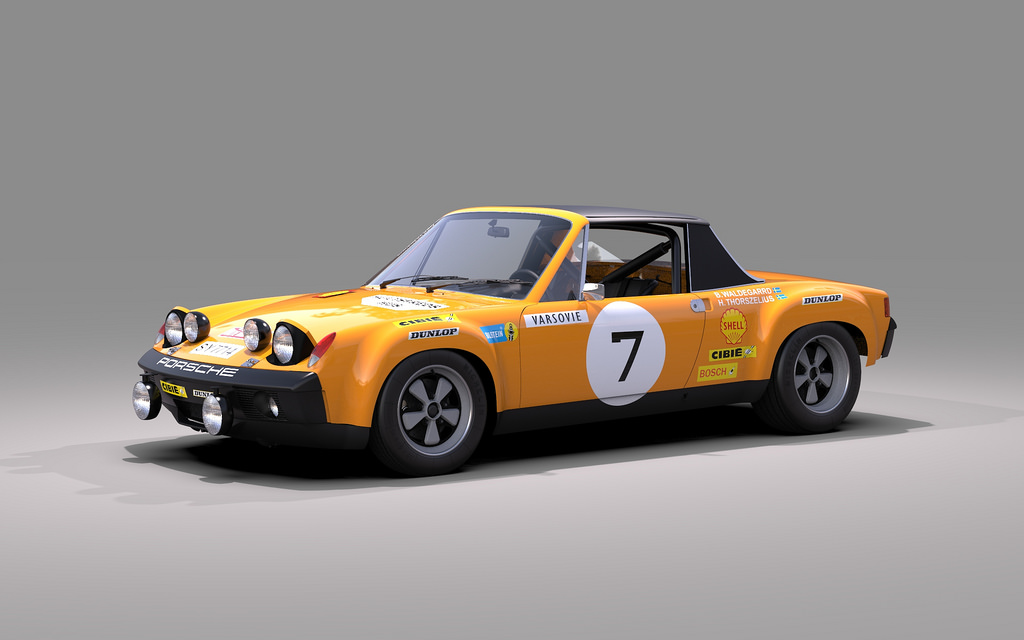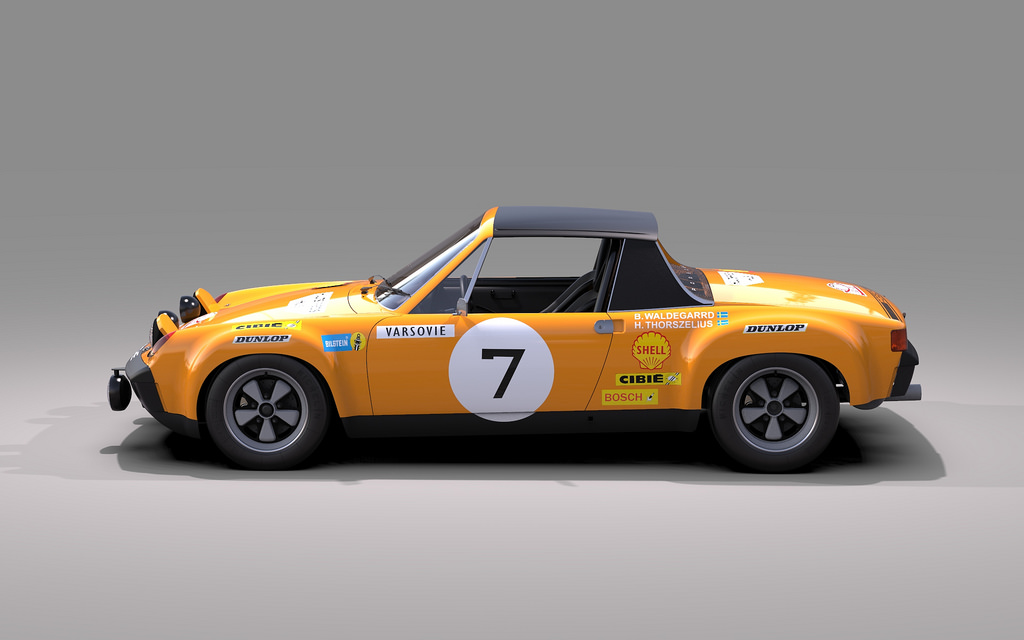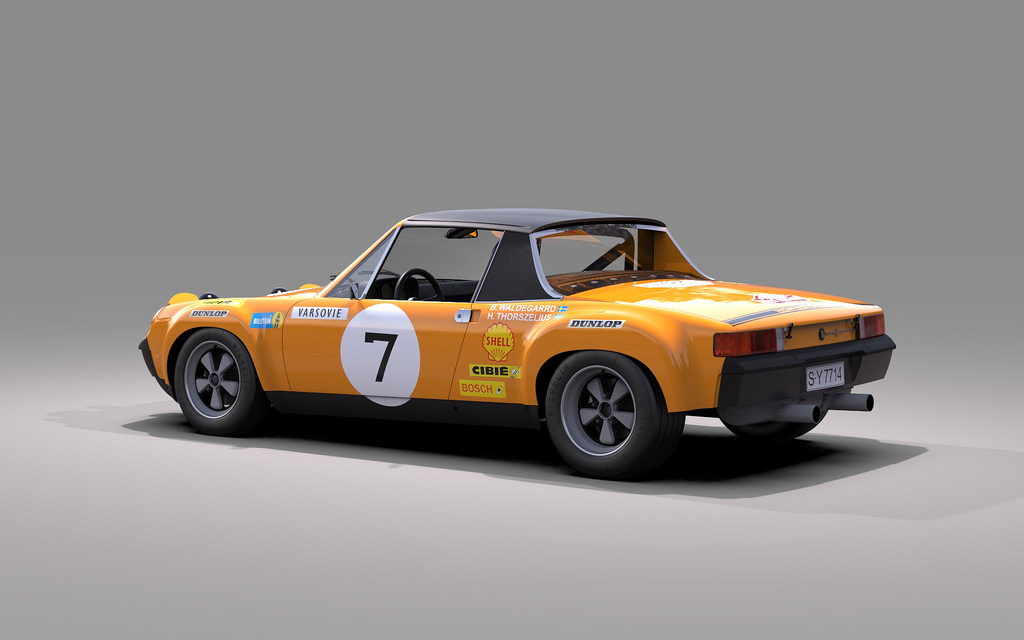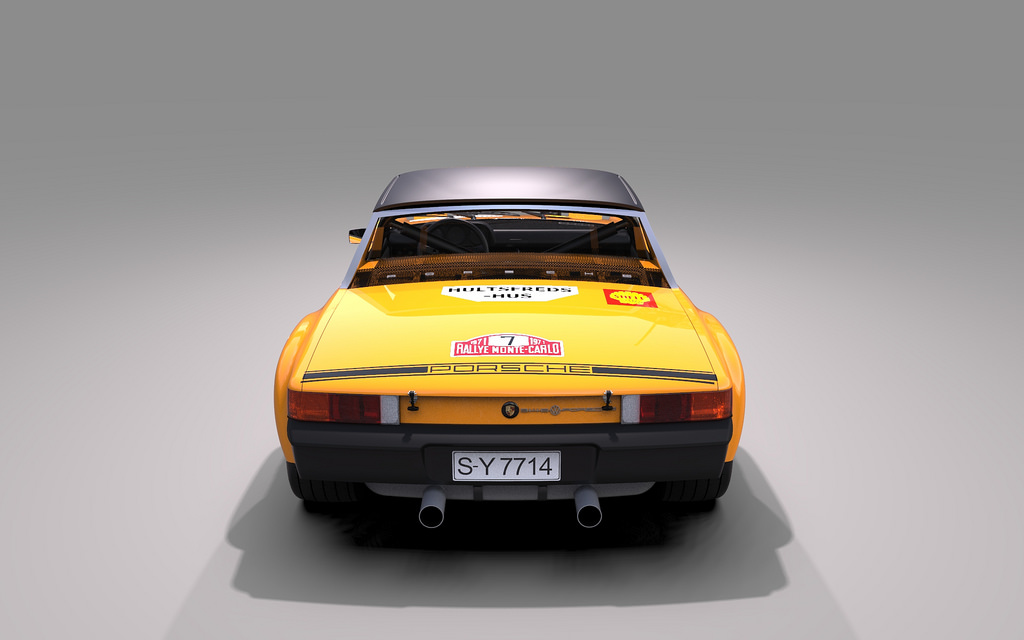 09-17-2018, 09:49 PM

---
Absolutely Stunning! I have no idea how you do this. How long does it take to do one model?
__________________
Stoptech/Brembo Rebuild Kits
www.ohioperformancesolutions.com
[email protected]
Rennlist 10% discount code "RENNLIST"
2007 C4S F77 Aerokit / 2011 E90 M3 / 2004 E46 M3 / 2016 Subaru WRX STi

09-19-2018, 11:16 AM

---
Time commitment varies greatly depending on the part and what references I have. It's also rare that I'll be working on a model in one stretch start to finish since this isn't my day job. So it's difficult to really put a solid time estimate on it. All I can say is that the engine model took 9-10 months of working on it here and there. The 914 is even longer as I always find more stuff I want to bring out the detail on.
I modeled the sculpture from this years GoodWood FOS, For the time being I populated the spires with a handful of cars I already have, but do plan on creating an accurate version.
And a while back I did a 917-30 in bare carbon fiber

10-08-2018, 11:47 AM

---
Some more random stuff.
This one still is getting worked on to recreate the livery.
Vic Elfords 911 from the Monte Carlo rally
This one is a modified 959. I'm using the BBS centerlock wheels from a 962, some RSR mirrors, and the turbo fans are carbon with a color matched fade.

10-25-2018, 11:17 AM

---
Haha, earlier on in my hobby I was doing custom artwork for people. It's very time consuming - trying to match individual details, colors, wheels, etc. With my day job, a 2 year old, and contributing to 000 (Did I mention that yet? Check out Build in issue 007 and beyond) I just don't have the time right now to do custom artworks justice.
Just looked back and saw that I hadn't mentioned it here. Many of you know the wonderful publication
000
. And you may know that illustrator Steve Anderson, who had been contributing to 000 for "Build", unexpectedly passed earlier this year. It was a huge loss for many, he was a big deal in the automotive artwork community.
In Pete Stouts words "When we lost Steve, which was both a hard shock and scary given his young age, it didn't feel right to simply find another illustrator. Steve was a very special guy, and way overqualified—as in, full on captain of industry when it comes to car design. (He just never had to let anyone know.) We let Build gap for an issue, and took a pause. It seemed that the right thing to do was to carry the project on in Steve's memory—he loved Build and put a lot of hours into it—but in a new direction with new talent and new technique. Enter a perfect opportunity to work with Glen. "
Pete and I share a love of the 914, both of us had one as our first Porsche. He saw some of my work I had posted on 914World and we connected. It was fitting then that my debut in 000 Build be centered around a 914. I will leave the details there, if you want to check it out I cannot recommend a subscription enough, serious quality in these magazines. It's not possible to fill Steve's shoes, but I'm hoping that my work will honor his legacy and provide some creative content that many will enjoy for years to come.
Now for some more pretty pictures.

on an unrelated note, I just picked up my second Porsche, a 2009 Cayenne S in Olive Green Metallic. Loving it so far.

11-08-2018, 03:23 PM

---
I'm gauging the idea of opening up for custom bespoke Porsche artworks once again, on a very limited basis. Drop me an email for pricing and information if interested.
[email protected]
Here's a recent one you might enjoy!