Racing Boxster's? Where are you guys?

09-01-2010, 12:06 PM

Racing Boxster's? Where are you guys?
---
Doesn't seem to be much forum presence for fellows out there racing / tracking their Boxster's seriously. Who here has a seriously track-prepped Boxster? Looking for a support group...

And, also a good opportunity for gratuitous photo sharing...

I'll start, here's my project.

09-01-2010, 10:14 PM

---
Safety Gear:
* Schroth harness
* Sparco EVO 2 Plus seat
* OMP fire extinguisher
* External battery kill
* Schroth left and right window nets
* Proper SCCA / FIA compliant cage
Brakes:
* 996 / 986 S Calipers / rotors
* Pagid RS29 Pads
* GT3 Cup ducts
* Goodridge lines
Suspension:
* Moton Club Sport Struts
* Tarett Camber plates
* Mode rear strut monoball mounts
* H&R sway bars
* GT3 control arms front and rear
* Cup toe links / Tarett locking plates
* Tarett / ERP front tie rod ends w/ bump steer adjustment
* Wevo engine and transmission mounts
* Using Hoosier R6's on Fikse's most of the time (OZ's / A048's in the photo)
This car doesn't really qualify as a 'street-driveable' car. It is still road registered though, and I can / do drive it to the local autocross / track days. Anything further than an hour away and I'm towing for sure.

09-01-2010, 10:15 PM

---
The car does have 'go' to match up with the 'show'. It has one of Jake Raby's 3.6 engines in it. Goes pretty good.

09-01-2010, 10:16 PM

---
[QUOTE=budmanv24;7864368]I don't know if I'd say seriously, but I'm getting into it as much as my wallet supports. Plan on attending 3 upcoming DE's this fall with the next one coming up the 18 & 19. Here's a pic of my Boxsturd

QUOTE]

It's pretty addictive stuff, this going to the track thing...

09-02-2010, 02:54 AM

---
Currently building 2 Box S models, both will be stock 3.2 motors. Well....... kinda stock........ ok, maybe not stock....... ok, not at all stock !
The rest will be pretty standard upgraded stuff, complete custom cages like I always do,new susp. with monoballs, big functional wings too, etc, etc.
I'll get some pictures to follow later.

Hey how did you set up the top adjuster for the Motons with the rear MODE's ? I am thinking of just cutting a hole in the clamshell on mine for easy access. Then cover it with a sticker or tape for looks.

09-02-2010, 03:05 AM

---
You guys seem to know so much about it, mind if I ask you a question? What do you recomend I improve in my wife's 03S tip with factory M030 to make it more track friendly. I would like to tighten the car a lot, stiffen the suspension a bit, get some air into the engine and change the exhaust while I am at it. Lets say I wanna spend $5K. What does that get me?

It also has PSM, 18" hollow Turbo rims. I have changed brake fluid to racing blue, but brakes still feel like shiite.

P.S. Please dont say DE. I've done quite a few. I dont wanna race, just make the car feel more planted and alive.

Thanks fellows.

09-02-2010, 12:55 PM

---
I track mine quite a bit, at PCA events and others.

I have not gone wild with mods though, just tires, alignment, brakes and exhaust.

The one thing I always wondered about is chassis stiffening. Is there a light way (as in not adding 100 pounds) to make sure the chassis is as stiff as when new, or stiffer. I figure the stiffer the chassis, the less the suspension has to work.

09-02-2010, 01:47 PM
User
Join Date: Jan 2010
Posts: 173

I've been really happy with these light mods
---
on my 01 s, for daily street and 10-12 track days / year

brakes - added 2 piece PFC rotors in front and PFC 97 pads all around - they're ok to run street / track, though they squeal a bit when cold on the street - did stainless lines, gt3 brake ducts, and SRF fluid. less than $2k to do that. I've run 60 minute sessions on this setup without an inch of fade. (I also did new rear stock rotors when I put the pads on to get optimal material transfer on the pads / rotors)

chassis - I did front and rear strut braces (though many people who are way more knowledgable than I am say they are a waste)...and rear lower strut brace. - those are easy DIY's, costs about $400 all-in

next step, from my perspective, would be to do sways / drop links and get a good alignment...that transformed the car. $1500 installed roughly

the monoball drop links do transfer add'l noise into the cabin - no doubt.

the WEVO SS trans mounts made a big difference for turn-in...not to harsh NVH in the cabin, cheap. get the 987 front motor mount.

09-02-2010, 02:25 PM

---
SCAN does mine count? Its never been to the track and while I own it 'prolly never will be. Started with a 44k mile minty (but dead) basalt black '05 987. Then...
~'07 CS 3.4 motor
~B&B catless headers and racing exhaust
~Softronic tune/ecu conversion file
~G-Box prepared 987S 6-speed with new Quaife tsd unit
~Bilstein PSS9 suspenders
~Cayman S brakes, braided lines
~Cayman S 18" oe wheels, 6 and 15mm spacers, wheel stud conversion
~Falken RT615 rubber

09-02-2010, 05:16 PM

---
There is always the boxster spec series. We run the little 2.5L motors but get a lot of experience and time out on track.
The priority is keeping the costs down, racing competitive, and getting as large of fields as possible. We had 12 cars on grid at Laguna Seca in late August. I was running 1:44's at Laguna my first time there.
Basically 180rwhp, 2650lbs with driver, Bilstein Pss9's with stiffer springs, sway bars, full saftey equipment, Toyo R888 tires in 225/255 on stock wheels. May the best driver and car set-up win!
The class is recognized nationally in NASA, PCA, and POC organizations.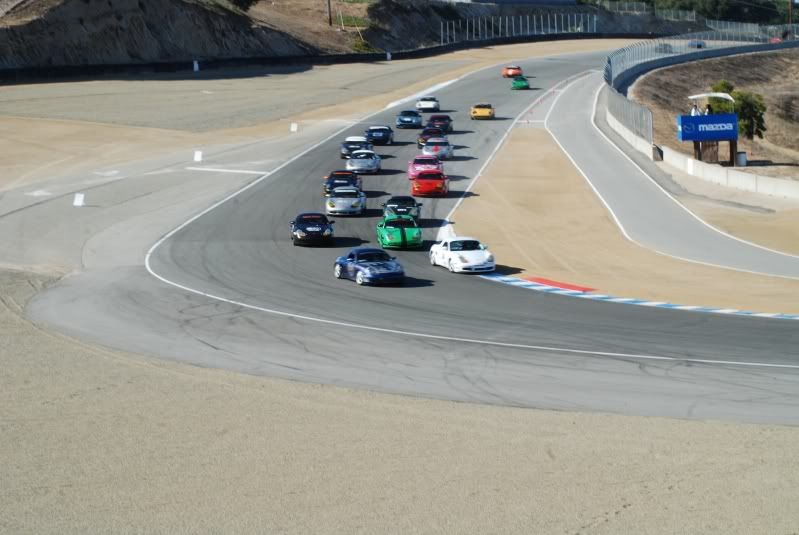 Here is my car I just got together. My shop will be building more of these to play with. Let me know if anyone is interested.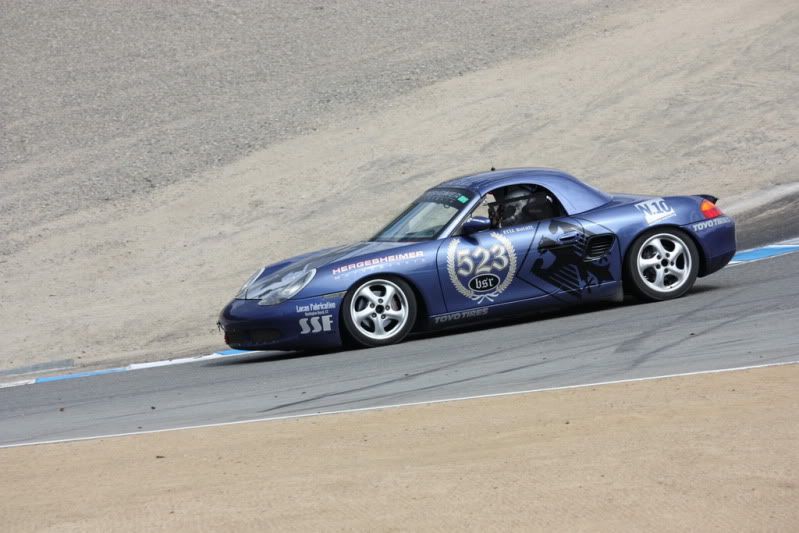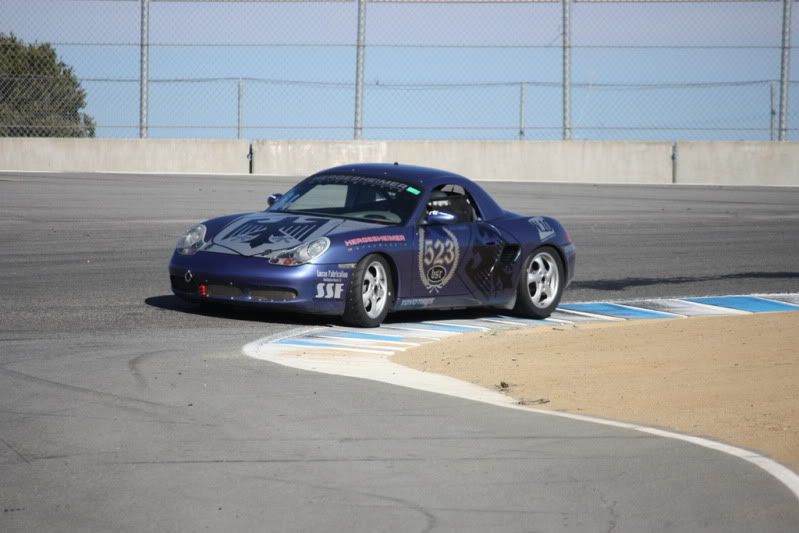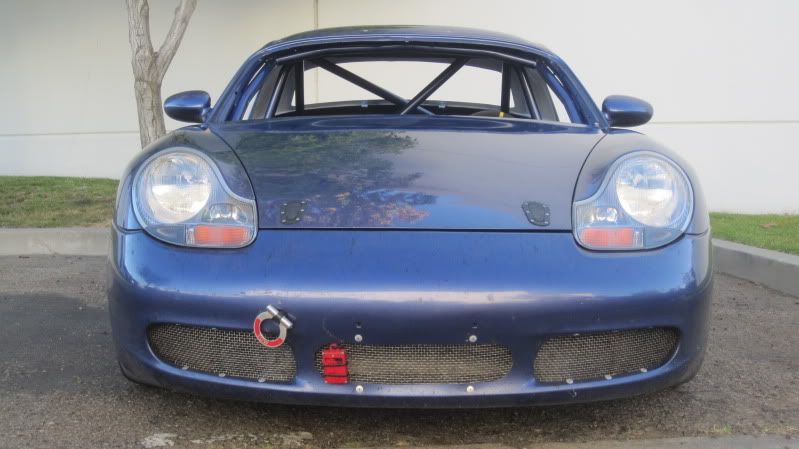 you can check the rule set here.
http://www.nasaproracing.com/series/...ster/rules.pdf
example of the close racing you end up with. This is my in car from second place.
http://www.youtube.com/watch?v=9mufGE6am-I
---
Last edited by eric523; 09-02-2010 at

06:40 PM

.