GT2 Exhaust/Mufler Valves

07-03-2019, 03:55 AM
Addict
Rennlist Member
Join Date: Apr 2010
Location: Bay Area, California
Posts: 211
Likes: 0
Received 0 Likes on 0 Posts

GT2 Exhaust/Mufler Valves
---
Note: it's not letting me correct the spelling for "muffler" in the title....I need more coffee and it was early)

I am the new (and very lucky) owner of a 2009 GT2. I purchased from a wonderful rennlister. I want to keep the stock exhaust, and the high-flow cats that are currently on the car. I did a ton of searching for the exhaust valve mod that is simple on the 997 GT3, but no luck: simply unplugging the little black electric connector to keep the valves open.

The GT2 is a little too muted at low revs. At @4Krpm it howls beautifully. I am unsure if the exhaust even has the same muffler valves as the other 997 variants I've experienced. There is no exhaust button (as on my C4GTS & 987BoxsterSpyder).

Anyone know the details of the stock exhaust, and if a mod is possible?
---
Last edited by TheKane; 07-03-2019 at

05:36 AM

. Reason: spelling error

07-03-2019, 02:39 PM
Basic Sponsor
Rennlist
Site Sponsor


---
Originally Posted by
TheKane
Hi
TheKane
,
If you are interested in getting an exhaust on your car just reach out to us! We'll be happy to help!
https://shop.gmgracing.com/collectio...exhaust-system
1.714.432.1582
or email
[email protected]
gmgracing.com
__________________
[email protected]
www.gmgracing.com
714.432.1582
facebook
|
twitter
|
youtube
Porsche | Audi | Ferrari | Lamborghini | McLaren
Performance Tuning | Motorsport | Factory Service
Pirelli World Challege Race Team GT/GTA/GTS/TC
Pirelli GT3 Cup Trophy USA
Porsche Motorsport Ś Audi Sport Customer Racing Ś Lamborghini Super Trofeo Series

07-04-2019, 11:20 AM
Addict
Rennlist Member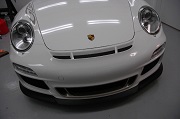 ---
As others have already said, no valves on this particular exhaust. If it makes you feel any better, I'm impressed with how aggressive my 08 GT2 sounds bone stock relative to the 2 996TTs I previously owned. Congratulations on your new GT2!


07-04-2019, 02:01 PM
Addict
Rennlist Member

Join Date: May 2001
Location: UK
Posts: 4,231
Likes: 0
Received 0 Likes on 0 Posts

---
+1 and have 200 cell cats which the OP mentioned makes the car sound really nice IMO in fact probably the sweet spot for a standard/mildly tuned engine


07-05-2019, 06:16 AM
Addict
Rennlist Member
Join Date: Apr 2010
Location: Bay Area, California
Posts: 211
Likes: 0
Received 0 Likes on 0 Posts

---
Thanks Gents. I don't really know how the stock 996TT exhaust sounds as everyone I know has aftermarket. I purchased mine with Europipes already installed, which sound great. I'll live with it as-is for now.