Oil Temperature Gauge/Sensor Malfunction?

05-14-2012, 11:26 AM

Oil Temperature Gauge/Sensor Malfunction?
---
Hi. So I picked up my 997.2 a couple of weeks ago and have been enjoying it greatly.

The temperature of the oil seems to be perplexing me. No matter how long of a drive i take, 20-30 mins, a few hours, the oil temperature seems to always stay at about 150 degrees. On some drives, after about 20-30 minutes of driving, itll raise to 175 degrees.

What is the correct/average/normal temperature that it should be at?

Any ideas at what the problem (if there is one) could be?

05-14-2012, 12:09 PM

---
My oil temp moves up to just over 200 degrees after about 10-15 minutes of driving and stays pretty constant there. By the looks of your oil pressure gauge that seems to be functioning OK. My pressure at 75mph would read a bit higher than that, but I don't think that is an issue. I think your oil temp monitor needs some attention. if you are still under a CPO warranty it should be covered. If not, I don't know how difficult the fix would be.

05-14-2012, 01:20 PM

---
Either malfunctioning oil temp gauge or more likely the coolant thermostat is stuck open which is over cooling your engine.

the oil gauge is giving SOME data which makes me think the thermostat is stuck. By the way, usually they stick and then unstick in some cases.

05-14-2012, 02:46 PM

---
My oil pressure usually at about 1.5 bar. My temperature is usually stuck at 150 or sometimes moves to 175. I actually bought the car in the midwest and drove it back to NY, and the pressure stayed at about 1.5 and the temperature mainly stayed at 150....throughout the entire drive.

05-14-2012, 04:30 PM
Addict
Rennlist Member

---
In normal driving my oil temp runs right about 200 deg while my coolant temp is just a tick above 175 deg, which is exactly what your reading is. If your thermostat were faulty I'd expect your coolant to also read lower than normal. This makes me think the problem is with your oil temperature sender or gauge, not your thermostat.

05-14-2012, 08:36 PM
Addict
Rennlist Member
Join Date: Jun 2004
Location: Sydney Australia
Posts: 620
Likes: 0
Received 0 Likes on 0 Posts

---
The oil pressure pump in the 997.2 is computer controlled and not mechanically connected to the engine, it takes a number of factors into account so not only rpm driven.
In general Porsche has calibrated the appropriate gauges so that the needle is either approx horizontal or vertical (depending on the orientation) when the temperatures have stabilised. The oil temperature may take some time to reach normal, longer than the coolant one. In winter mine can take 20 to 30 mins.

05-14-2012, 09:00 PM
Addict
Rennlist Member

---


BTW, to the OP, the position of the needle on your oil gauge is where mine is when the ignition is OFF. It doesn't appear to be registering at all except for the rare times you say it gets to 175. Another possiblility to a faulty gauge or sender is simply a loose connection.

05-14-2012, 09:12 PM
Super User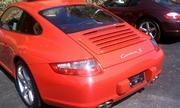 Join Date: Feb 2011
Location: Austin, TX
Posts: 3,024
Likes: 0
Received 0 Likes on 0 Posts

05-15-2012, 12:12 PM

---
Thanks all, yes, I could drive the car for hours and itd stay at 150* as if its not registering, then all of a sudden itd move up to 175* but after a short stop, engine off for 10-15 mins, and restart and drive away, itd be at 150* again for a long time. With all my previous cars, and my cayenne as well, Im used to the guages being in the middle of whatever theyre measuring being a good sign...so that is why i was concerned with this.

I assume that the oil pressure is the only one that should fluctuate. (of course as well as the tach, speed, and gas!)