New Convert - 08 C2S Red on Blk

03-14-2011, 02:55 AM
Super User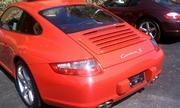 Join Date: Feb 2011
Location: Austin, TX
Posts: 3,024
Likes: 0
Received 0 Likes on 0 Posts

New Convert - 08 C2S Red on Blk
---
---
Last edited by USMC_DS1; 03-14-2011 at

03:03 AM

. Reason: pics not showing up... so will use link instead

03-14-2011, 05:29 PM
Super User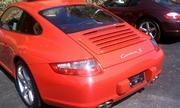 Join Date: Feb 2011
Location: Austin, TX
Posts: 3,024
Likes: 0
Received 0 Likes on 0 Posts

---
Ok, I drove her for the 1st time yesterday... the morning haze had just cleared off in Newport Beach, CA. I got to the dealership when it opened at 10am sharp. Wait I actually showed up an hour before they opened so I could check her out w/o a sales rep buzzing around me. But they had her locked up inside...

go back to hotel. Do some more emails to burn up the minutes then made my appointment at 10am.
It was immediate and evident... something about this particular red on black Carrera spoke to me. I've driven a few of these over the pass few months( Caymans and various Carrera's in various color combo's). They all drove like a dream but none really hooked me like this one... found myself pointing out small imperfections to the sales rep like a rock chip on the passenger rear panel... I was playing my role as a potential buyer but in a non-logical way I didn't really care if they ever touched it up... cause I new right then that I didn't want anyone else to touch her. BTW, my wife already calls it my new GF... She used to call my 1st wannabe sport car - the "_itch". It was a blk 84 Pontiac Fiero... When my better half is competitive with a car... that's when I know it's the one.
Oh ya, back to the test drive... I remember the sales women saying something to me as we got in but I couldn't quit grasp/hear what she was saying... only noticed her pointing here and there on the instrument panel/dash board... reminded me of those CH-46 LZ days when we'd approach the chopper's back ramp with a full ruck sac and my sweet 16 in hand... the planes captain would give us some hands signals over the whop whop sound of the rotors overhead... and you knew deep in your soul that there was nothing better in the world than being a Marine with your fellow jarheads. I started her up and the engine started singing a 6 cylinder hymnal clearing my head... she had my undivided attention now. 1st gear... we crept out of the dealership angling her across the driveway so there was no chance her bottom would touch the asphalt... then 2nd, 3rd, and I'm revving her up until the stop light. The shift linkage was buttery... we drove thru some light commercial and residential areas, up and down some hills, flats, stop lights, 0-50 mph runs, shifting thru all the lower gears and revving the power bands then onto the highway... snick, snick up to 5th and 6th gear. Cruised for a few miles at 55-65 mph up north on the 405 then off the freeway and back on the 405 going south. This time I switch her in sport mode and wow... she tracks better then my '98 M3 with all the suspension goodies modified on it. Went from nice girl you bring home to Mom and became one of Hefner's "girls next door"... with leather, chains, those pointy heels... you get it. Felt every bump and the steering got amazingly tight! I instinctively reached for the helmet and driving gloves... things were getting down right serious. A few rounds of down shifts/gear brake to 45 mph then screaming up to 80 mph... GOD no CHP please. I wanted to slam the brakes but my sale gal was 8 months pregnant and looked ready to pop. It was all very surreal... at least I could rush her to the ER if needed. Back off the freeways with sports mode disengage... Porsche behaves like my sweet wife(btw, an accountant) and mother to my two boys... love that dark side waiting to play though. We pull into the dealership and I'm back on planet earth... a little buzz going(that feeling of vertigo after smoking a good Opus X) as I egress from her leathery warmth. As comely and collectively as I could muster... the 45 year old teenager inside me said those magical words every salesman likes to hear... "OK, let's do this." with checkbook in hand. Man... I envy the sales rep... this product sold itself! I'm so glad I haggled the price down before ever driving my little red hot Porsche. Wow, all I can think about is when do I get to do this again... anyone else affected by this kind of illness out there? It goes away, right? If all goes well... I'll have her on a transporter going from Newport Beach, CA to Austin, TX tomorrow.
BTW, I test drove a new M3 over the weekend as well. I'm an admitted bimmer fan having owned 4 of them previously. The new M3 had a sweet(V8 rumble) and my wife loved it... but it just didn't compare to little red riding hood.
---
Last edited by USMC_DS1; 03-14-2011 at

05:37 PM

. Reason: edits