When did you learn the truth about sports cars?

05-15-2019, 10:42 AM

When did you learn the truth about sports cars?
---
2009 C2S 133K miles MT

What I mean is like.... what really made a good sports car and how to drive one? When/why for you?

I grew up in a western PA steel town (think Deerhunter) and everything was Cameros/Transams, and maybe... just maybe... the goal was a Corvette. Low-dollar guys modded Novas. I was a no-dollar guy so I was always outside looking in. Cubic inches ruled... green lights were flapping red capes.... jack up the back end.... handling? What do you need that for?

When I moved to the bigger cities, I saw BMWs (2002)... talk about heel-toeing.... keeping the revs up.... throttle steering... I had no idea what these folks were talking about .... just no idea. And I really really didn't fully get it until I got my 2000 Boxster S, new, and started going to the track. So... most of my driving life was in ignorance (although I did learn heal-toeing/ rev-matching and always drove a stick.. and figured out the joy of high revs on my own.. but no real instruction).

You?

Peace
Bruce in Philly

05-15-2019, 11:19 AM
User
Join Date: Apr 2016
Location: Espoo, Finland
Posts: 166

---
I think one of the a-ha moments in mymotoring life was talking to an old Aussie race driver (and Porschephile) who explained the difference between a sports car and a fast car - a fast car might be a saloon, a coupe or a hatch, it might have a big engine, lots of cubes and so on, but it would never be a sports car unless you're sitting between the wheels.

05-15-2019, 12:06 PM

---
Grew up in Newport Beach, CA in the '50's (when it was a small town). First ride in a Porsche was my dad's best friend's Speedster who gave me a high speed ride on what is now the 55 freeway. Back then, Newport Blvd was a 3-lane road with the middle lane the passing lane in either! direction.
Father of a teammate on HS basketball team was Managing Editor of Road & Track. Reading R&T really got me started. Newport Beach had some interesting cars. ~1960, I saw a Ferrari Testa Rossa driving up Coast Highway just south of the Arches Restaurant (for those of you who knew old Newport). First car I bought (1965) was a 1959 Elva Courier. Sold it to go to graduate school.

05-15-2019, 01:38 PM

---
I grew up in NYC in the 80s, and my good friend was into 60s and 70s american muscle. I learned a lot from him, and then from magazines like Car and Driver and Road & Track. I lusted after Lamborghinis, but had an american car budget. When I was able to buy a new car, the car I bought was a '94 Trans Am. The new F body came out in '93 and it was a quantum leap from what came before it. 275hp, a solid rear axle, 6 speed manual. I thought the car was insanely fast, and handling was amazing.
A few years later when I started to commute to work by car, the NYC roads beat me, and my car up pretty bad. The Pontiac was a trooper and took everything the streets gave it, but it just wasn't working. My uncle sold me his '86 Mercedes 300E to commute with. The first time I hit a pothole at 60mph on the Long Island Expressway with that Merc, it absorbed that hole like it was barely there. There was a twitch in the steering wheel to let me know, hey you should probably avoid that next time. When I hit the same pothole with the Trans Am, there would be a loud bang and then the whole rear of the car would shift. It was that moment when I said to myself, "oh, thats what an independent rear suspension really does!"
The only solid rear axle car I'll ever buy again will probably be a 1970 Trans Am.


05-15-2019, 01:49 PM

---
Chiming in... Also grew up in western PA. Aliquippa was the heart of the steel belt. One of Tom Cruise' first movies "All the Right Moves" was about HS football in my town.
For me, I was 16 when my old brother picked up a Triumph GT 6+, which I learned to drive on. I've had a slew of 'sports cars' over the years, all manuals. The truth is, I didn't really learn how to drive until last Friday, Porsche Drivers Ed (my first track day) at Pocono Raceway.
Of course, I am a total novice, but now I UNDERSTAND! What a blast!

05-15-2019, 01:51 PM

---
1982 - Trinidad Island, California. One of the neighbors gave their son a brand new silver 928 for his 16th birthday. There's a little curve in the road before you cross the bridge to the island. On the 2nd or 3rd day, the kid smashed the car into the bridge, tearing the Porsche open and exposing the guts of the car's front end. I was more impressed with the quality of the crashed Porsche pieces than I was when the car was intact.
1992 - Topeka, KS - watched an old 911 battle a 429 Mustang around the road course. These two cars traded places on every lap. The Mustang would blast ahead on the straights and be in the lead by T0, the Porsche would pass somewhere in the turns - usually between T10 and T14.
On the final lap, the Porsche was ahead going into the straight. With the finish line about 2/3 the way down the straight, he had a chance of holding off the Stang. That's exactly what happened. Everyone in the crowd was rooting for the Porsche. A total underdog and supreme driving. It was a thing of beauty.

05-15-2019, 03:28 PM
User
Join Date: Nov 2013
Posts: 320

---
When I was 16, I bought my first Miata. First of three or 4. Loved the way it handled, tracked and autocrossed them for years. Moved on to a Cadillac CTS, obviously, night and day difference. I "knew" what a sports car was already, but started to really appreciate it after they were gone.

Cw

05-15-2019, 03:29 PM

---
For me it was it was when my Dad took me to the New York Auto Show when I was 6 years old (1988). Ferrari was there and they had the F40 roped off. The dealer was nice enough to let me sit in the drivers seat. I think it sparked my interest i'll never forget it.

05-15-2019, 03:55 PM

---
Lucky!! I was 3 yrs older than you in 1988 and my experience happened in 4th grade. We had a bake sale at school (I heard most schools don't allow this anymore) and my mom made chocolate chip cookies. For every item sold, we'd receive a ticket to go buy books, posters and toys that were available outside of the library.
Most of kids bought skateboard and BMX books. I was sifting through the posters and saw this Ferrari F40 poster. This was when I fell in love with sports cars. The F40 and the Countach were the cars I used to stare as they were plastered on the wall.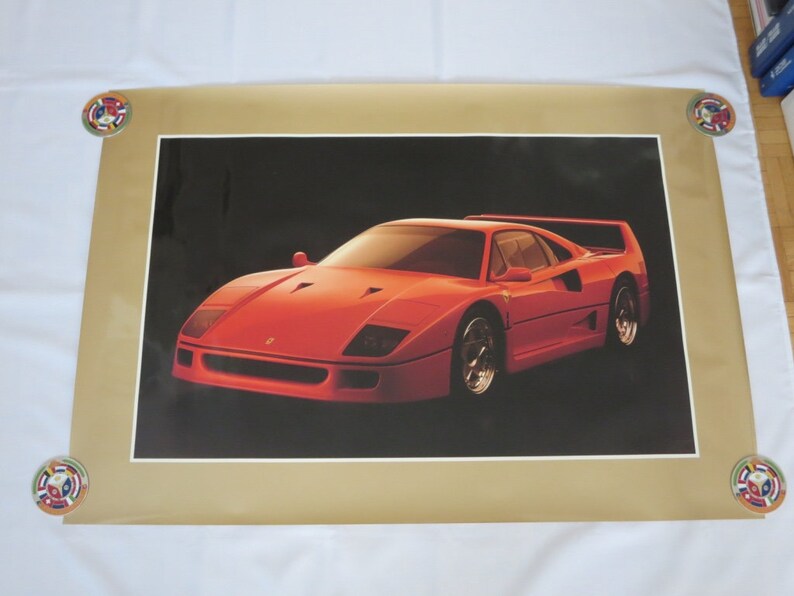 05-15-2019, 04:05 PM
User
Join Date: Feb 2019
Posts: 30

---
My first experience with a sports car was a 1984 red corvette. That introduced to me power, torque and big tires - which brought the car further along the sports car experience than the typical not able to turn mustang, camaro etc...
That ran through a Z06, which took it up another notch. HP and Torque for days. (Still miss that flat torque line)

Then, A friend shared with me that Porsche's were awesome. We book raced for years. Then I jumped into my first Porsche. A 2004 996 GT3. I had made the right decision. A precision scalpel track instrument.

Sold that for a Turbo - which was a step back.

And now, picked up an 18 GT3 - and feel like a man in a desert drinking water after days of heat an nothing. Man I did not realize how much I missed the precision of the Porsche.

05-15-2019, 04:42 PM

---
As a kid, I had one uncle with an Austin Healy 3000 and another with a TR6. Dad had a Dodge Dart sedan with a slant 6. All I new was that I didnt want a car like my dad's.

Then in junior high, I got to ride in a 911 on a pretty long trip. The car was probably an early seventies model. I was hooked.

05-15-2019, 05:16 PM

---
I still haven't learned!
- I decided to buy my first Porsche in the summer of 1995. While picking out a used car at the dealership I sat in a red RS America but was put off by the fabric door pull straps and the hand window cranks. Instead I bought a nice '87 911 Coupe. DUH!!!!
- My second Porsche was a 1996 C4S. I bought it for $42K, drove it 3 years and sold it for $42K. Wish I had that in the garage right now. DUH!!!
- My current 997.1 is a blast but I could have stretched a little further and had a Turbo. DUH!!!
When will I learn?


05-15-2019, 06:11 PM

---
I must have missed something. I bought the Porsche because it's capabilities far exceed mine, and I need all the help I can get. I don't really think of any car as a "sports car", unless it's like the 53 MG I had in 1960. Sports cars don't have roofs!

05-15-2019, 07:16 PM

---
The true definition of a sports car has been changed so much throughout the decades that now a sports cars can be classified with having 4 doors.
A
sports car
, is a small, usually two-seater automobile designed for spirited performance and nimble handling.
[2]
[3]
The term "sports car" was used in
The Times
, London in 1919.
[4]
According to the Merriam-Webster dictionary, USA's first known use of the term was in 1928.
[2]
Sports cars started to become popular during the 1920s.
[5]
Sports cars may be spartan or luxurious, but high maneuverability and light weight are requisite.
[6]
Sports cars are usually aerodynamically shaped (since the 1950s), and have a lower center of gravity than standard models. Steering and suspension are typically designed for precise control at high speeds.
[7]
Traditionally sports cars were open roadsters, but closed coupÚs also started to become popular during the 1930s, and the distinction between a sports car and a grand tourer is not absolute.

05-15-2019, 07:25 PM

---
I grew up like Bruce where a sports car was a big heavy Chevy or Plymouth. Those cars had tons of straight line power and speed. My first ride was in a bug eyed sprite. There were three of us in the car and the passenger door kept opening because the latch didnĺt work properly. I was hooked. My first car I purchased was a Triumph TR6 and from there I had Fiats, a Miata, an S2000, a bug eyed sprite, corvettes, a 914 Porsche (sure wish I had kept that car) and now the Ĺ12C2S. I could work on most of them up to the Corvette, so I thought that was part of owning a sports car. I am still learning to drive properly though and due to my age, I must hurry as I am running out of time to get it right!