LSD, differences between G50 LSD and 996/Boxster S LSD?

01-10-2013, 09:25 AM

LSD, differences between G50 LSD and 996/Boxster S LSD?
---
Hi all,
I've just bought a 2nd hand LSD to fit into a Boxster S (986) /996 gearbox.
Here are some photos of the LSD I've bought.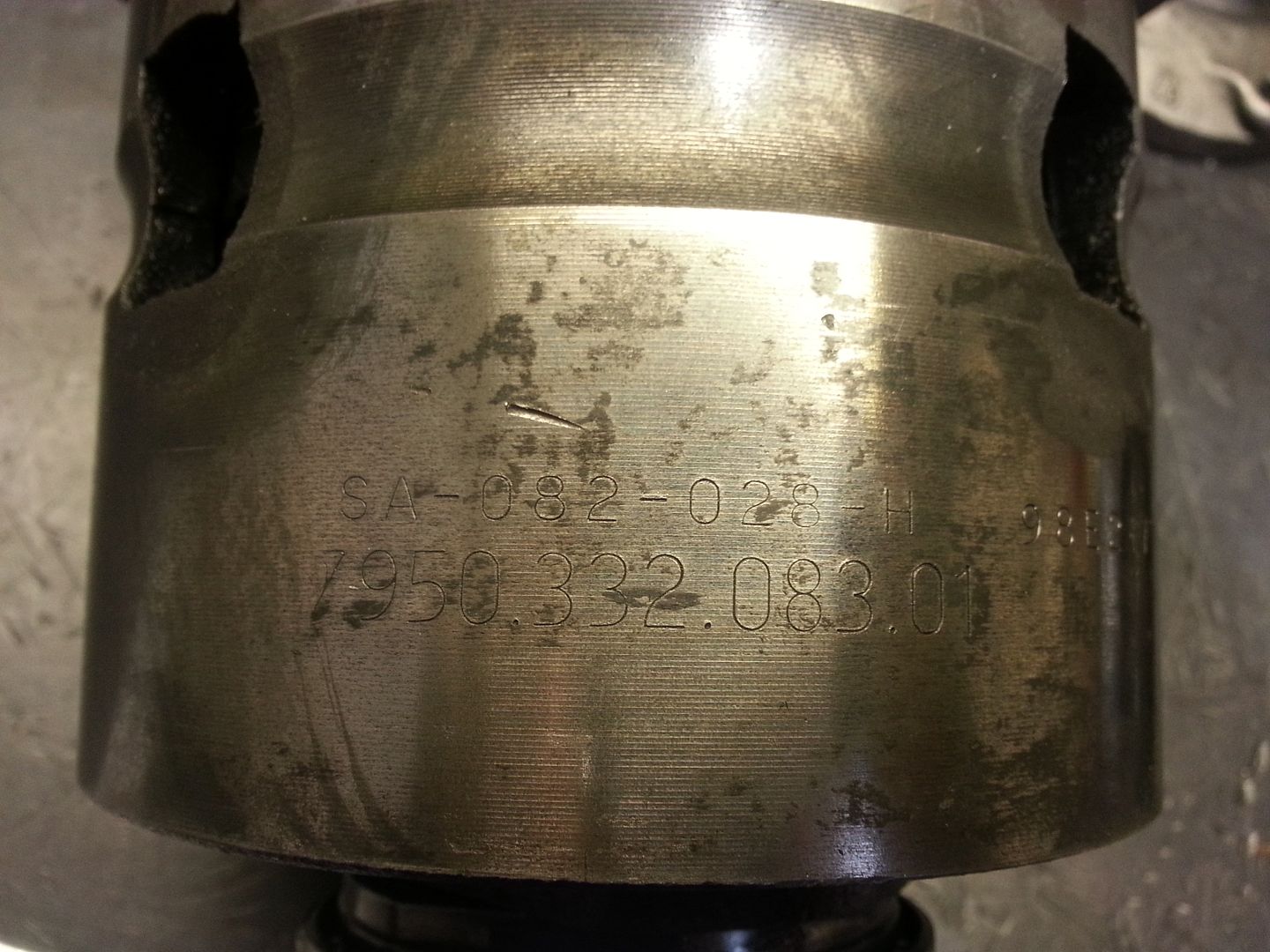 The casting number on the housing is:
950.332.083.01
Along with this are the following numbers:
SA - 082 - 028 - H
98E2177
Now having done some research, some people would suggest that this is a G50 LSD and some would suggest that it was also fitted into 996/Boxster S gearboxes.
I can't find definitive evidence to say either.
Can anyone help please?
I have the option of sending this back, keeping and selling it on and using it if it will fit my gearbox.
MG

01-10-2013, 11:30 AM

---
A little light at the end of the tunnel maybe...
I just checked the output flange part numbers (950.332.209.01) and that is used on both 993 and 996 cars

MG

01-11-2013, 09:34 AM

---
I hope you will post pics of the install as I want to have this mod done very soon.

so this is a porsche oem LSD coming from a 996 or boxster ?

Phil

01-11-2013, 11:40 AM

---
This is from a 996 but will be going into a Boxster S gearbox. They share many parts including gear cluster, diff. The diff is mounted on the other side of the diff, reversing the drive for the Boxster.

MG

01-11-2013, 12:45 PM

---
Do you intend to just install it? Arent there mesurement procedures for the pinion depth and such?

01-11-2013, 01:21 PM
Addict
Rennlist Member
Join Date: Feb 2010
Location: So.CA
Posts: 2,075

---

01-11-2013, 06:06 PM

---
My understanding was that all the LSD diffs had bolt in flanges but I could be wrong.

Yes the early Boxster S and 996 gearbox flanges are clip in.

I will pull it to pieces and check the condition of the plates etc before installing it. I know that these diffs should only have about 15NM drag when testing. I'll also be interested to see the ramp angles.

MG

02-05-2013, 12:42 PM

---
Well I finally managed to find time to pull the diff apart.
Here's a photo of the stack and ramp angles.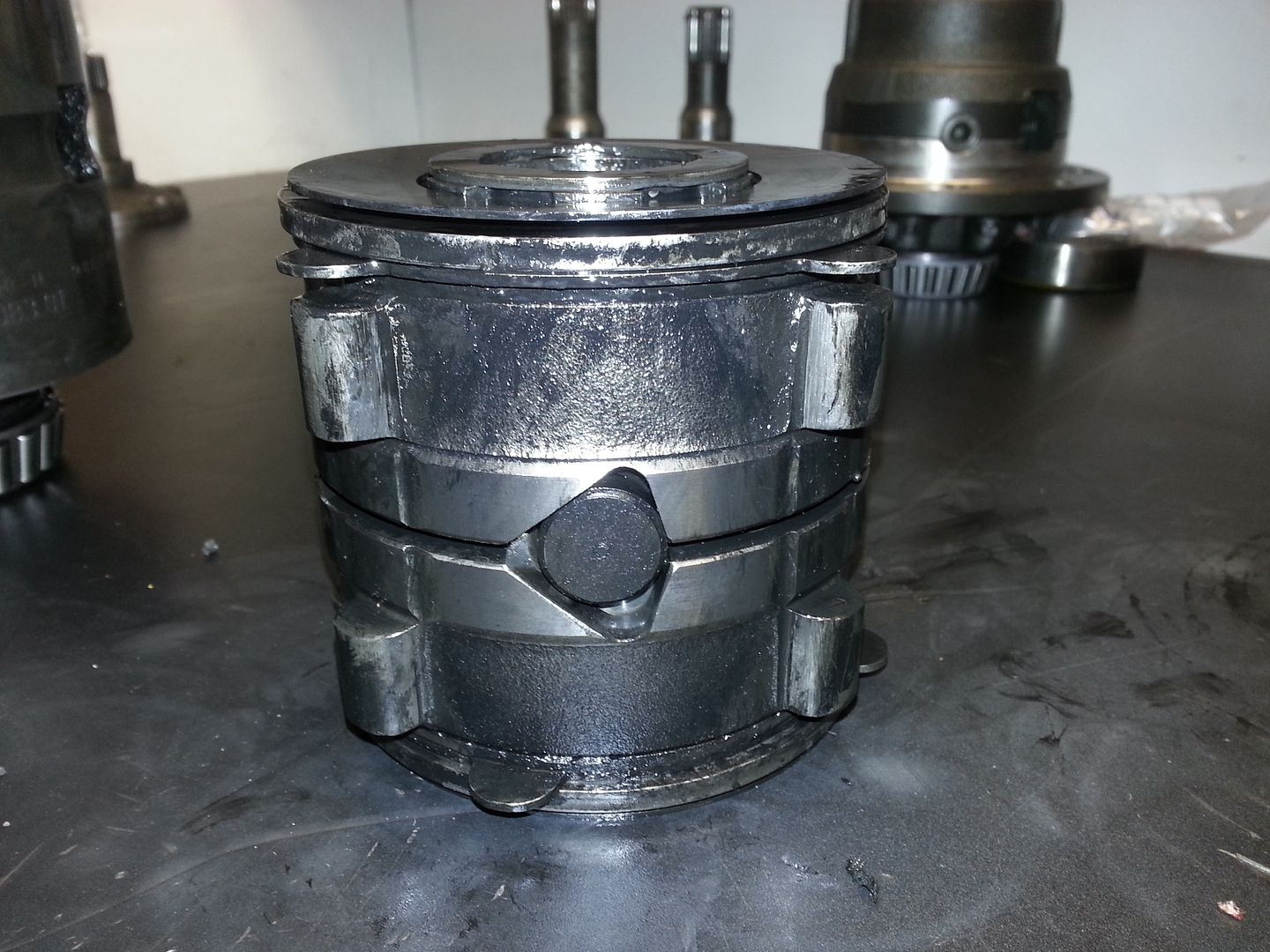 Please excuse the state of it, I haven't cleaned anything yet.
It has 2 friction discs, one of which is missing small section of material so obviously they're past their best.
Can anyone tell me which car this is from and what the ramp angles would suggest with lock-up percentages on and off power?
I am still in the position to say to the seller that it's not what he sold it as... i.e. a 996/986 Boxster S LSD.
Cheers
MG

02-07-2013, 01:05 AM

---
Looks like stock 25/55 ramping to me but I'd call Matt @ Guard. He's got all the right parts to set that diff up correctly....

02-07-2013, 07:27 PM

---
Well looking on here and on other websites, the casing number suggests a standard 993 LSD so I've started proceedings to return it as it's not going to work well in a Boxster gearbox as I'd end up with 25 lockup on acceleration and 55 on deceleration. Not great

MG

02-08-2013, 12:24 AM

---
Before you throw that fish back call Matt @ Guard. I believe the 993 and 996 LSD's are one and the same but call him....
And what-the-hell's wrong with a 25/55 diff? If nothing you might want more ramping like 40/60 (cups) or even 50/80 but that's based on your driving style. Nothing wrong with the 25/55 ramping especially for street cars....

02-08-2013, 04:56 AM

---
Sorry, I've got it mixed up there.

If I have a 25/55 in a 911, surely fitting this to a Boxster S config would mean the opposite as the diff turns the other way?

So I'd have 55/25..

MG

02-08-2013, 02:39 PM

---
Not true. Not only does the ring gear get moved to the other side, but it spins the other way around, making it a zero sum game. Locking factor would remain unchanged installing it into a Boxster.
As you have determined, that is a 993 LSD, but is is 25/65, not 25/55. For a Boxster that would actually be a pretty good set up after you rebuild it. The Boxsters don't like a lot of throttle lock up unless you've done ridiculous things with the power. They have more traction than power, and too much LSD lock and you overdrive the front wheels and get a lot of push. We fought it in Grand Am for a long time repeatedly detuning the LSDs to allow drivers to get on throttle earlier. Even then, proper throttle modulation and not treating it like an on-off switch is key.
If you look carefully, there is one clutch per side, plus that massive spacer. You can remove that spacer and make is a 4 clutch LSD (2 per side). Doesn't really change the nominal lock up, which we usually tie to the ramp angles, but would significantly increase the effectiveness of the unit.
Regards,
Matt

02-11-2013, 01:51 PM

---
Thanks for the reply Matt.

It's going into a Boxster S gearbox which is inturn being bolted onto a W12 engine with somewhere between 450-500bhp so a fair amount of power.

The question is whether I'm better off returning this unit and just buying a new Quaife from Uk as they're around ú790 plus VAT.

Something tells me that by the time I've bought all of the parts from US and shipped them over, it would cost more than buying new.

MG

04-10-2013, 09:57 PM
Addict
Rennlist Member
Join Date: Jun 2008
Posts: 26

---
Can it be confirmed that the G50 diff is interchangeable with the G86/20 trans. without mods?
Thread
Thread Starter
Forum
Replies
Last Post
924/931/944/951/968 Forum
Rennpository Video Clips and Other Online Videos
Rennpository Video Clips and Other Online Videos
Rennpository Video Clips and Other Online Videos

Posting Rules
You may not post new threads
You may not post replies
You may not post attachments
You may not edit your posts
---
HTML code is Off
---