Engine Rebuild Part 3 (the finale)

12-29-2011, 12:20 AM
User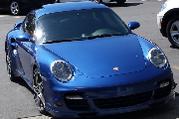 Join Date: May 2010
Location: Nor Cal
Posts: 1,851
Likes: 0

Engine Rebuild Part 3 (the finale)
---
The poll is closed and the results are in. 34% of you said to rebuild my 3.4L 996 M96-01 out to a 3.6L using LN Engineering's "Nikasil" bores. By a narrow margin, the polls agreed with my decision to rebuild with LNE Nickies cylinders and JE pistons.

Long story short, cylinders were down on compression (150psi), and tons of oily soot fouling in bank 1 (cylinders 1-3). I was hoping to find the smoking gun, and not just "normal wear and tear after 75k miles". After complete engine tear down I located one potential source of the oil fouling. A trashed #2 piston jet, perhaps restricting cooling oil flow and leading to overheating #2 piston and cylinder, ovality and loss of ring seal.




A 3 month long endeavor, I am finally starting with assembly. Thanks for all your support and comments.

It started in October, with a 3rd engine drop in 6 months (1st for a valve job, second to repair a variocam solenoid). And the 3rd drop the tear the engine down for the complete rebuild.




The long block nearly back to where I left off the last time...




Case cracked open,. Note the serious oil build up on those tired pistons.




Everything neatly aligned and labelled for later...




And some practice reinserting those wrist pins for when it's showtime... this is going to be tough, and I have a boroscope and a dozen practice attempts on an old piston to make sure I don't F this part up.




Case cleaned and packed carefully to ship to LNE for new cylinders and pistons.




Bearing carrier split, tons of measurements taken, and crank carefully stored until later for engine balancing. Here are some relavant measurements:

Main bearings: 2.3635" ~ 2.3640"
Crankshaft main journals 2.3615"
Clearance ~ 0.0030"
Factory crank diameter specs = 60mm (2.3622")




Rod bearings measured, replaced, measured again, new ARP bolts, and cleaned in preparation for balancing. Here are some relevant measurements:

Rod bearings: 2.0885" ~ 2.0890"
Crankshaft rod journals: 2.0860"
Clearance ~ 0.0030"
Small rod bushes: 0.8665"
Piston pins: 0.8655"
Clearance ~ 0.0010"
rod length = 145mm (measured from bore center)
stroke = 78mm




Checking valve seat seal after the recent valve job. Not a drop of solvent leaking through.




IMS tube with bearing extracted. I badly stripped the old center stud and nut during engine tear-down. Therefore I extracted and then sent the used LNE bearing to Charles for inspection. A new bearing with stud was sourced and later installed.




The parts sit carefully organized in one corner of the garage.




6 weeks later the pistons and case arrived.




During which time I went a little crazy waiting for parts and did some "light" restoration on the car.




And now the engine assembly begins Starting with a very thorough cleaning (followed by more cleaning) of all parts including case, pistons, rods, etc. etc. etc. etc.! Once everything is cleaned and measured I started by gapping the rings. Here you can see a top ring being measured to .015" after CAREFUL filing.




And the .016" gauge doesn't fit, as much as it wants to (his job is for the second ring).




Now repeat this 4 times for every cylinder. Talk about a tedious but extremely important job. I messed up the gap on one of the 2nd rings (brain fart leading to .019" gap) and had to order another set from JE, to arrive in a day or two. Each time you test fit the rings they are inserted to a certain depth, and they need to be pressed square in the cylinder. You can buy a special ring fitting tool to do this, or use a piston with a ring in the oil ring grooves to get appx down to 1" from the top.




Having a temperature controlled environment for this work is CRITICAL. JE recommends 68F 40% humidity IIRC. Some relevant measurements taken:

top ring = 0.015"
middle ring = 0.016"
oil ring >= 0.015"
cylinders finished from LNE = 3.8976"
measured at 68deg F = 3.8975" +/- .0005"
pistons = 3.8945" +/- .0005"
appx piston/cylinder clearance of .0035" +/- .0005"




Once the rings are carefully filed down (with a ring filer tool), they need to be deburred using a knife sharpening stone and checked for squareness against a light. No light visible through the end gap held together is a good thing. Before assembly, they will be cleaned and lubed along with cylinders and pistons. Rings will be staggered according to JE directions. Did I mention cleaning everything before you start, and then more cleaning? I hope you don't get tired of cleaning things.



Once all of the rings are fit, a ton of parts go off to the machine shop for engine balancing. Crank, rods, pistons, pins, clips, rings, pulley, flywheel, pressure plate, bolts, blah blah blah. And what comes back are... Polished, measured, magnafluxed, balanced, cleaned parts!

Crank polished, magnafluxed, balanced, cleaned, and measured.




Micro polished journals




A little material removed from the counterweights during balancing




Pistons, pins, etc. weight matched.




Rods balanced big/small end. New ARP hardware, new rod bearings, more measurements taken. More cleaning.




Heads back from surface grind. They were found to be about .0015" uneven, but not warped. A new mirror like finish was made with just .002" removed, and both heads verified to match in volume and height. Some relevant measurements were taken and problematic warpage was not discovered (just a run of the mill resurface):

factory specs:
permissible deck unevenness = 0.0019"
permissible unevenness after machining = 0.0012"
minimum head depth = 5.5767"
while machining, peak to valley height = 0.0006"

actual machine shop measurements:
current depth = 5.593"
found to be appx .0015" uneven
after finishing found to be = 5.591"




And that's where I'm at now. I've got the new main bearings in, piston jets, and thrust shim/crankshaft end play measuring jig set. Perhaps even dropping the completed bearing carrier into the case half before the new year.


---
Last edited by logray; 12-29-2011 at

01:01 AM

.

12-29-2011, 12:57 AM
User
Join Date: Jul 2010
Location: Delta, BC
Posts: 191
Likes: 0
Received 0 Likes on 0 Posts

---
I'm pulling for you and have been following along since your first engine drop. Thank you for sharing. Wish I was closer so I could help. Please keep updating your build as you go. It's very much appreciated.

12-29-2011, 09:20 AM

---
It looks like you're really taking your time and doing a thorough job. I'm looking forward to the rest of the build and crossing my fingers that this is the last time you ever have to take this thing apart!

-shawn

12-29-2011, 09:23 AM
Addict
Rennlist Member
Join Date: Sep 2007
Location: Kittery, Maine
Posts: 11,792
Likes: 0

---
I'm a little overwhelmed just looking at your concise pictures, and all of the work you've put into this project. Very impressed with your 'light' restoration and cleaning. Needless to say, you are fr beyond my capabilities regarding your complete engine rebuild. Bravo to you for taking on this project, can't wait to hear of your finished engine growling for the first time. Well done.

12-29-2011, 09:42 AM
Addict
Rennlist Member
Join Date: Mar 2002
Location: Charlotte, NC
Posts: 9,091
Received 0 Likes on 0 Posts

---
Are you a "regular" shadetree mechanic or have you done this sort of thing before? Quite impressive but probably terrifying to even consider such a project for most of us!

Can't wait to see it all bolted up and get your review on the upgraded configuration.

12-29-2011, 11:06 AM
Super User
Join Date: Nov 2006
Location: Clifton, NJ
Posts: 12,802
Likes: 0

---
Nicely done so far. Looks like you know what you're doing and being very detailed with respect to clearances, which is key.

What did you end up with for imbalance on the pistons/rods?

12-29-2011, 12:02 PM
Addict
Rennlist Member
Join Date: Jul 2008
Location: Miami, Fl.
Posts: 1,537
Likes: 0
Received 0 Likes on 0 Posts

---
Logray thanks so much for documenting your rebuild. 3 months is a long time and the anticipation mustve be difficult. As you know Im currently waiting for my 3.8 nickies to return to me for my rebuild. I think most of us here can handle small jobs such as brakes and suspension but to rebuild the motor in your own garage is quite impressive. I wish I had the knowledge and experience to do it. Im looking forward to the day you start her up. Good luck with the rest of your assembly. Please post impressions once you've taken her out for a test drive.

12-29-2011, 12:18 PM
User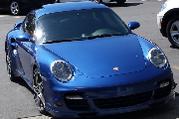 Join Date: May 2010
Location: Nor Cal
Posts: 1,851
Likes: 0

---
Thanks all, can't wait to get the car running again. Really miss driving a real car instead my F150 boat.
The DMF was about 20 grams off at 5 inches out mind you... took quite a bit of trimming to get it in balance. They had everything bolted up and balanced on the balancer... then as soon as the DMF was bolted up it threw the whole thing out of whack.
The pressure plate didn't need as much trimming.
And everything is indexed and ready to bolt back up once I get to that point... which will be a ways away.
It's only a theory at this point that #2 jet was clogged just enough to not allow as much cooling oil to #2, thereby heating it and adjacent #1 and #3 ever so slightly, and very slowly over time. Perhaps it was allowing enough flow and this is just normal wear and tear. The rings seemed overheated and brittle, especially when comparing them with the new rings. While I was removing one of the oil control rings in bank 1 it cracked in two with very little effort on the ring expander.
The oil foiling was in bank 1 where the trashed piston jet was... no fouling on the other bank. And I have been told not to expect conventional symptoms from this engine... so the even compression may have been a red herring. The leak down test did show slightly higher numbers in bank 1, with everything leaking past the rings... vacuum gauge showed below normal readings and also pointed towards worn rings.
Those were the only issues I could find. It's sorta a moot point though with a total overhaul. New cylinders, rings, pistons, and on and on and on as my wallet is burning.