Oil pressure sender unit replacement - DIY

10-25-2011, 02:06 PM

10-25-2011, 03:55 PM
User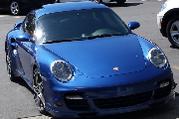 Join Date: May 2010
Location: Nor Cal
Posts: 1,851
Likes: 0

---

04-22-2012, 08:12 PM
Addict
Rennlist Member

---
Thanks for the pointers on this thread, gauge has been reading 5 when cruising at 80mph and occasionally dropping to zero.

Cleaning the contact connections first!

04-23-2012, 09:28 AM
Addict
Rennlist Member

---
I just removed the connectors, sprayed the tabs with WD40 and replaced them, job done.

Started the engine and got 5 reading even at tick-over.

Switched off and back on and restarted the engine and the gauge was reading 4 - which gradually reduced as the engine temperature rose.

Looks like it may have fixed it!

I will know when it stops raining and I can do a full test drive.

04-24-2012, 01:49 AM
Super User

---
I finally got around to changing that sending unit. It was a piece of cake!! It took more time to drive the car on and off the lift than it took to change it.
Step 1: reach hand in and unplug wires
Step 2: raise car
step 3: drink beer
Step 4: with a 19mm crows foot wrench and a wobble extension, loosen sender
step 5: have another beer
Step 6: lower car
step 7: drinka 'hic' nother deer
Step 8: reach in and screw the sender
Step 9: drink beer and congratulate yourself for being half cut
Step 10: reach the sender in hand and screw it in the um um 'HIC' 'fart'
Step 11: avanover beer
Step 12 raise the car up a bit then return to sender
Step 13: tighten new sender with 19mm crows thing then wobble your extension
Step 14: Drop the car have anover beer
Step 15: connect wires somewhere
Step 16: drink more beer and congratulate yourself on a job well done an go to the pub and get absolutly pissed out of your skull. Goodnight evy bloody..
I.m not under the affluence of Incohol as some tinkle peep I am....Hic..
You don't have to be crazy to drive a 996 but it helps lol....

05-08-2012, 02:22 PM
Addict
Rennlist Member
Join Date: Mar 2012
Location: Atlanta
Posts: 529
Received 0 Likes on 0 Posts

---

05-24-2012, 09:12 AM
Addict
Rennlist Member

---
Ordered yesterday just before 12:00 noon. (ebay Porsche-apart in the UK just search for the part number, 48 quid.)
Delivered this morning at 10:20
Fitted without problems in less than 10 minutes. Oil pressure readings are now what I expected them to be (pics later)
photos soon.
Note that the GT3RS version is fitted horizontally to the end of a metal tube with a bracket and it is much easier to fit a standard 0.75 inch spanner on it.
Untitled
by
Stevorocket
, on Flickr
Untitled
by
Stevorocket
, on Flickr
Untitled
by
Stevorocket
, on Flickr
Untitled
by
Stevorocket
, on Flickr
Untitled
by
Stevorocket
, on Flickr
At tick over
Untitled
by
Stevorocket
, on Flickr
at 3000rpm
Untitled
by
Stevorocket
, on Flickr
---
Last edited by StevoUK; 05-24-2012 at

10:21 AM

.

06-26-2012, 01:44 PM

---
I think i´ve got the same problem on my 996tt. Can anyone give me a hint if the sender positioned in the same place as on the GT3 or ?? Metzger-engined as they both are... I just might have some more stuff in my way.

08-12-2012, 09:25 AM

---
Hi all. This is my first post on the forum. Just got my first Porsche 911. A 2002 Targa. More to come later. Haven't taken a descent pic to post yet.

About a week after closing the deal I started getting the failure alert and needle drop. Ordered a Porsche factory sending unit on eBay for $45 shipped and did the job yesterday with a buddy. I used the crows foot on a swivel attached to a one foot extension. I loosened it from the bottom of the car. I did not need to jack the car / remove tire. It was on very tight but I was able to pry it loose without using a hammer.

After the install we cranked her up and monitored around the base of the unit to ensure there was no seepage then drove it about 10 miles. Still no seepage. Everything seemed to be working fine but then I noticed the failure alert again last night when I sat in the car and turned the key to the second click so I could roll up the windows. I cranked the car and it went away and the needle was responding as it should. Then I shut off removed key, put it back in and turned to second click to recreate the scenario and I got the alert again. Im not too concerned about it but I will continue to monitor today and post my findings. I just wanted this to be documented in case anyone else has run into this or does so in the future.

This is a great DIY post and I look forward to working on / getting to know my car in the future with oil changes etc.

08-12-2012, 09:59 AM
Addict
Rennlist Member
Join Date: Oct 2002
Location: Hyde Park, NY
Posts: 11,877
Likes: 0
Received 0 Likes on 0 Posts

---
Welcome to the world of Porsches! I would try to figure out if there's some break or crack in the wires that connect to the sensor - perhaps that's giving the computer/dash a fluctuating reading. Otherwise, there might actually be something wrong that is really restricting your oil flow.