Tell your tale about Tail of the Dragon in your Porsche

10-26-2016, 01:07 AM
Addict
Rennlist Member
Join Date: Nov 2012
Posts: 19
Likes: 0
Received 0 Likes on 0 Posts

Tell your tale about Tail of the Dragon in your Porsche
---
Ok, so my wife and I just got back from a weekend leaf-peeper trip to the Cherohala Parkway and Tail of the Dragon (by the way, air-cooled p-cars seen:zero. Guys, we've got to drive these cars, or they'll all wind up gathering dust in some rich old fart's garage.)

Anyway, I got to thinking about the first time we were on the 'Tail: it was 40 years ago on our honeymoon and it wasn't even known as the Tail of the Dragon 'till five years later! My buddies then told me, "Make sure you give your bride some Dramamine, or she'll puke!" Well, I didn't, ...and she did.

I was a newly minted engineer, and my car: a newly minted 1976 Honda Civic CVCC. In later years, we made the trip in, among other cars, a 4-wheel steer Honda Prelude--a fun car, that one.


So post up your tales of the 'Tail, and let's all reminisce!

10-26-2016, 08:59 AM
Shade Tree Fixer
Rennlist Member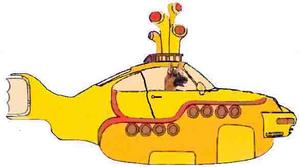 ---
Here in Virginia we have part of the Blue Ridge Parkway, never been on the Tail of the Dragon.
http://www.blueridgeparkway.org/
My experience is the only way to avoid my wife getting sick from a spirited drive on twisting rural roads is to switch seats and have her drive.
Like the yellow early Honda Civic. They didn't last long in Cleveland as the uni-body would rust right out from under you in just a few winters there.
Andy

10-26-2016, 09:09 AM
Addict
Rennlist Member
Join Date: Feb 2008
Location: Michigan
Posts: 325
Likes: 0

---
I'd heard about TOD from a lot of friends so one day, on a whim back in 2012, me and my brother set off from MI and took the Blue Ridge Highway down there to see what all the fuss was about:
It was quiet on the way down so really enjoyed the road mostly to ourselves. Best bit was all the tunnels, FD StageII sound tests every time...
Quiet when we got to the TOD as well, think we were lucky with so little traffic. It is a cool road and even taking it easy driving - I got a good workout over the (11?) miles.
Bought the next two photos off one of the companies set up at the side of the TOD.
On the third run, the same cop we'd seen twice already (parked in two different places) pointed a finger at me which I took as a gentle warning so we called it a day. It was very cool experience although I could imagine it being frustrating if the traffic was busy.
There were other roads around there that we enjoyed as well - so need to go back and have another go!

10-26-2016, 10:16 AM
Addict
Rennlist Member
Join Date: Nov 2012
Posts: 19
Likes: 0
Received 0 Likes on 0 Posts

---
Yep, the BRP is probably our all-time favorite road too. Last fall we traveled a good part of it and especially enjoyed the Linn Cove Viaduct section in NC. Shot the following pic of my wife driving it--and they both wound up as Miss September in this year's 993 calendar! Makes me want to start planning some more fall drives.....

10-26-2016, 12:46 PM
Agent Orange
Rennlist Member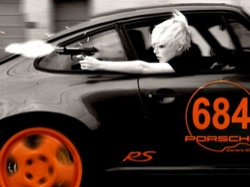 Join Date: Jun 2006
Posts: 15,751
Likes: 0

---
I was fortunate enough to do this trip in April with a number of Rennlisters. Starting at the Hershey Swap Meet, then heading down to PEC in Atlanta, mostly via back roads. Then up to ToD and back roads again up north.
My favorite part was the Blue Ridge Pkwy and the road to Mt Mitchell. Followed very closely by the Cherohala Skyway and roads near the Dragon. The roads in North Georgia were also great as was the Claw of the Dragon. The actual Tail of the Dragon I didn't find all that great in comparison, I ended up driving it 3 times with no traffic at all. The first time was in the dark
All in all it's an amazing part of the country that rivals any Alpine passes in Europe and I've been fortunate to drive some of those too. If you can visit the Smokies in a fun car it's a very rewarding experience! Here's some pics:
First stop, Hershey Swap Meet on Saturday:
Staging at the Hershey Hotel:
Off we go…
She's a thirsty girl, time to fill her up, somewhere in VA:
Dinner w friends:
Good morning from Dublin, VA:
Hitting the back roads:
Chasing a GT4:
Claw of the Dragon:
Blue Ridge Pkwy, Little Switzerland, and up to Mount Mitchell:
OPD:
Filling up somewhere in NC:
At the top of Cherohala Skyway:
Good morning Fontana Village Resort:
Lots of bugs were collected the previous evening:
"Riding" the Dragon...
At a rest area on the Dragon:
Resting after our runs:
Polen filter or polen magnet?
Up in the Smokies:
And a lot of highway driving at the end...
BTW, I did this in a car that I had literally just purchased 4 days prior to the trip. It was an awesome way to get to know each other. It was the beginning of a love relationship I'm planning to savor for years, LOL


10-26-2016, 02:51 PM
Addict
Rennlist Member
Join Date: Feb 2010
Location: Midwest
Posts: 1,249
Likes: 0

---
I and the wife went down about 12 years ago in a Cobra convertible that I then owned, we traveled with a friend who had the identical car but just had a Kenny Brown suspension installed. In exploring the car's limits he found them and unfortunately went off the road and rolled the car, luckily nobody was hurt. Two Cobras went in, one came out. Since then I have refrained from participating in group drives, too easy to get caught up and do something stupid. Except for that, It was a beautiful drive.

10-26-2016, 03:33 PM
Addict
Rennlist Member
Join Date: Mar 2003
Location: kansas
Posts: 1,883
Likes: 0
Received 0 Likes on 0 Posts

---

10-26-2016, 05:54 PM
User
Join Date: Nov 2012
Location: Boston
Posts: 1,490
Likes: 0
Received 0 Likes on 0 Posts

---
Went down a few years ago with a big group. A guy died the night before we arrived on a motorcycle. I had a friend total his m6 which shut the road down for hours. I was so hung over from drinking sazeracs the night before. that my own driving made me sick. Otherwise an awesome drive.

10-26-2016, 10:52 PM
Addict
Rennlist Member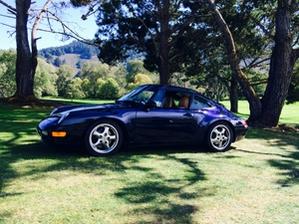 Join Date: Jul 2002
Location: Bend, OR
Posts: 16,361
Likes: 0
Received 0 Likes on 0 Posts

---
Did it early one June weekday morning 9 years ago in my old 928. Not another car in sight, except the others I was with. 2400 miles in 4 days. I tell you, a 928 on empty roads with no LEO can absolutely chew up miles rapidly. When Porsche made a V8 grand touring car, they did it right.

One guy's rear toe was off, and after the Dragon, his rear tires were absolutely bald. Parking lot string alignment fixed it!

10-27-2016, 01:13 AM

Dragon
---
My first time on TOD was in January, 1985, in a VW Rabbit, and I had never heard of The Dragon. We were visiting in NC, and the map looked like that was the shortest way home to TN. I had the flu so I told my wife she had to drive home. As we started into the mountains it started to snow and she said, "I can't drive in this," even though we just moved back South from Maine. So, middle of the night, sick as a dog, in the snow on the Dragon, took us over twice as long as the normal trip.

Since then I've driven it dozens of times in M3's, 2 other 911's, a 335is and my M Roadster. I think there are many other roads up there just as fun and much less crowded. I've got a loop now from East TN over back roads, on the Cherohala, the Dragon and back that takes about 5 hours. I enjoy the other roads just as much as the Dragon.

I love how the pictures make the car look like it's sitting still.

I need to make this run soon to Leaf Peep!

10-27-2016, 02:32 AM

---
I did TOD in '09. Drove my 350ZTT down for ZDayz, a three day Datsun/Nissan event. Had a blast!!....got a few tickets ....almost ran out of gas in the mountains......ccar developed a weird eletrical problem requiring $$$$$ repairs.....partied my....off.......yeah........ good times!!

10-27-2016, 08:13 PM
User
Join Date: May 2016
Location: Wild and Wonderful
Posts: 61
Likes: 0

Slyline Drive portion of BRP
---
I took my (new to me) 993 for a 100 mile drive up and down Skyline Drive in Virginia last weekend. The idea was to go for a nice cruise and look at the leaves. The weather was perfect and the leaved were near peak. Just a great day to get to know my new baby. The only down side was the traffic. Could not do the speed limit much less enjoy the twisties. I did take a picture I really like