turbo twist wheel come factory with a 7.5" front??

03-06-2013, 01:03 PM
Rennlister Extraordinaire
Rennlist Member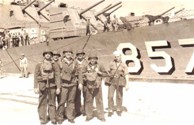 Join Date: May 2001
Location: Solana Beach, CA
Posts: 7,892

I second the motion...
---
The 7 1/2 " hollow 18ö Turbo I spoke Turbo twist wheels depicted and described on the enclosed pdf. If you don't plan on putting monster rubber on the front, these 7 1/2 hollow spoke wheels should work out just fine on a 993. Your local Porsche service shop will have the complete 986 technical bulletin.

When buying used wheels, always remove the tires from the wheels and inspect for welds and repairs (Don't ask me how I found this out the hard way). And be certain to spin the wheels up to be certain they are straight and true.

BTW Wheels America, Inc., I have used the Buena Park, CA store, will strip the wheel, true it if needed, completely refinish it to new, inside and out, for $129. That includes one (1) way UPS ground fright back to you.

TMI? Well let's blame the coffee.
---
Last edited by Martin S.; 03-06-2013 at

04:41 PM

.