Anyone selling 993 Hardback sportseats?

11-17-2010, 09:51 PM

Anyone selling 993 Hardback sportseats?
---
I know what you are thinking....

If you, or anyone you know are selling these seats in any condition, please advise!
I will take any condition poor to excellent...! I would prefer to have cashmere / tan, but beggars can't be choosers...
Many thanks!

11-17-2010, 10:05 PM

---
993 HB's I take it, 996 HB's are everywhere but not as nice IMHO.
keep looking...call ALL the dismantlers, scan all the forum's/craigslist/etc.
Keep after it, they're out there...Expect to pay $35-4500 for a set.
Worth EVERY penny IMHO. comfortable AND beautiful-they just make the interior, look pretty sweet from outside too.
Good Luck!

11-17-2010, 11:22 PM

---
Eh, they came with my car, but I don't see the big allure. I'm 5'10" 160 lbs. and they fit OK, but after an hour or two, they're not very comfy.
If I didn't have them, I'd be looking at some lightweight seats that offer a better degree of comfort.

11-18-2010, 01:44 AM

---
Hey, every seat has an *** for it.............right? I put these at #2, with the early '80s (and likely late '70s but most of them were vinyl) sport seats I had in my SC being #1. I could not imagine doing the 2K Phoenix trip earlier this year with stock seats. Only thing that's close for me right now are the BMW E90 (325i sedan) sport seats in my wife's car.

Heavy? Uh...........for a street car, so what? The yellow car has Recaro shells. Take the bottom cushion out to sit a bit lower and 120ish miles in it Monday were brutal. Couple that with another 100 in the Miata and its Recaro halo seat that was really made for a skinny guy and I'd about had enough for one track day. (Didn't help that I was only 2 days removed from a 720 rollover my student at the BMW school subjected me to.)

11-18-2010, 01:00 PM
Addict
Rennlist Member

Join Date: Jul 2003
Location: Agoura Hills (Los Angeles) California
Posts: 4,548

---
When I bought my 993 and drove it 1500 miles home from Texas it has 12 way seats with lumbar. When I got it home I put the hard back heated sports seats in. The looks of the sports seats with the backs painted the exterior color is great. But IMHO the original seats with the lumbar support were much more confortable if you are going for a long drive.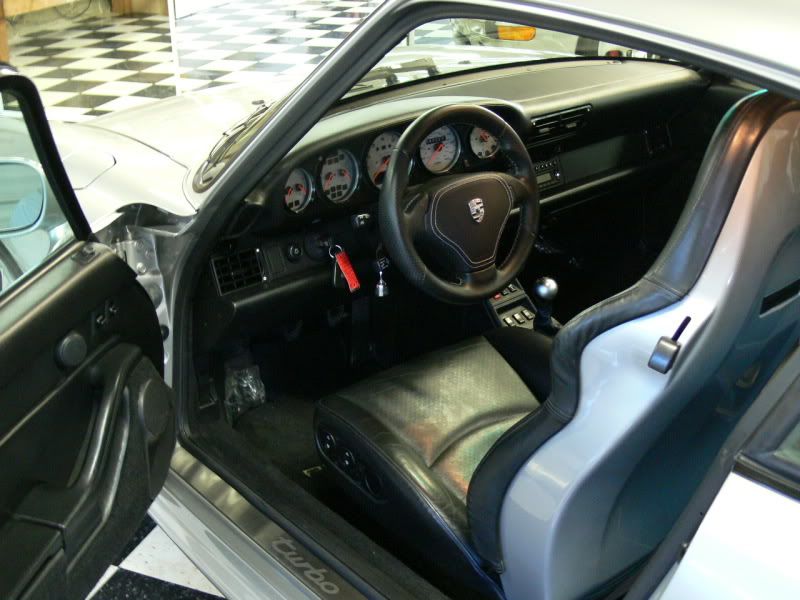 11-18-2010, 01:06 PM

---
Have to agree. Can't beat the looks. I bought a set for my ex-C4S. The stock supple leather seats were more comfortable and supportive in the lumbar area. Nevertheless, in my current 997 I still had to have sport seats, but these are very comfortable.

11-18-2010, 01:30 PM

---
Comfort is OK, no different than the regular seats. I prefer the softback sport seats for grip, those are the best and hold you much better. But yeah, the hardback seats look great. If you find a set of 996 seats go for it, I got mine for 1/4 of what I would've paid for 993 seats. The stitching is a little different but I prefer the back of the 996 seats, looks slimmer (although it's not) and each seat has a pretty decent sized pocket so you can put your stuff in it


11-18-2010, 02:54 PM
Addict
Rennlist Member
Join Date: Dec 2009
Posts: 235

---
I have hardback sport seats in good condition that I will eventually sell / replace. Unfortunately, I can't decide between Cobra Misanos and Recaro PPs, and I just don't see when I will have the opportunity to try them...

Hard to know if PPs will be too much of a pain going in and out in the long run by just sitting in them once, and hard to tell if Misanos will be firm enough at the track (with a harness) without trying them.

Very frustrating situation... Feels like I am sitting on a gold mine but I can't extract any of it!!