1998 993 Carrera C4S for sale

03-31-2007, 07:07 PM

1998 993 Carrera C4S for sale
---
I have listed my 993 in the classifieds. This car has some great options and modifications. At this price it is a great deal. Looking to get a 997 or 996 GT3 and need to thin the herd first. Available for PPI.
993 for sale

03-31-2007, 10:06 PM

---
Forgot to add some of the important modifications:



-ruf spoiler module

-rs motor mounts

-Steve Weiner chip

-rear wiper delete

-3 spoke FVD steering wheel

-alum/leather shift ****

03-31-2007, 10:20 PM
Phlat Black Guru
Rennlist
Lifetime Member
- Times 2

Join Date: May 2001
Location: Back In RI...............
Posts: 4,484

---
LOL.
Greg Good luck with the sale.

for the record, when I sold this car to Greg he said.....Phil, at that price i will be able to sell it for more, I told Greg.......I did not care, I sold it cheap, I was on the hunt for something different.

Greg has all of what I did with this car,and......someone will get an incredibly set up 993........

03-31-2007, 10:41 PM

---
Thanks guys.
I haven't bought a GT3 yet but it is top choice. I think I can add a rear seat or at least a seat belt to make it work. The second choice is a very lightly optioned 997 at my dealer.

03-31-2007, 11:49 PM
GT3 player par excellence
Lifetime Rennlist
Member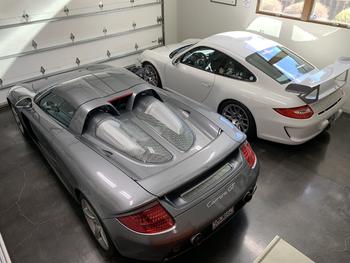 ---
the car greg and ex phil has is great. keep it in the RL family.

greg, forget the 997, plenty of GT3's out there. get one, else you will be selling the 997 soon again!

04-03-2007, 09:15 AM

---
Greg,

Sorry to see this car moving on but eager to see what takes its place...you still coming up to MO next weekend? I'd like to take a look at the car...you've got some things that I'd like to compare to my car & consider as future mods.

Rick

04-03-2007, 10:16 AM

---
Greg:

Unless it is sold, there was a Guards Red 997S that they were trying to sell me. Lightly optioned demo car with 2k miles. Good price and I assume it is lower now.

Let me know which one you are thinking about.

JL

04-03-2007, 12:38 PM

---
Rick,
I want a GT3, I like the 993 a bunch but I want a GT3. I will be there next weekend for sure in the 993. Once you drive it with the close ratio gears you will be hooked...
Jason,
I saw that car, but not sure I want a 997 unless it was a GT3.
I have seen many GT3's for under $80k, some for mid 70;s asking price. I just think they will be more what I want in the long run. I like to get a car and keep it for a while.
The good news is that if nothing happens with my 993, I can continue to drive it.