2020 NEXT GENERATION 992 SPY PICS & RELEASE

09-07-2018, 12:35 PM

---
Originally Posted by
blepski
I figured the same.... Let's hope anyways....

The bumper cover and tail light removal to access the top of the engine is completely unforgivable and aside from the air filters anything that requires access up top from the belts,pulleys more major repair work down the line etc. all requires that first ridiculous step.. In the mid engine Cayman it's more forgivable for obvious reasons but for a rear engine car that should have very straightforward access, Porsche's recent disregard for that is nothing more than lazy , cost cutting and downright offensive to everyone involved after the initial purchase.

As a matter of fact, I can't think of a single mid engined car other than the Cayman that have as much limited engine access as the current rear engine 911's
You don't want to go near mid engined supercars- most have servicer requirements to R&R engines that would finance a new 992! I guess Alpha and Lotus are different. Its just the time they spend in the shop that gets people back to Porsche.

09-07-2018, 02:09 PM

---
Originally Posted by
_fletch
Im not talking about setting a lap record, but setting a lap time for the car. That's the only time I would expect them to put a cage and seat in, but they wouldn't (never as far as I know) do this on a manufacturer's test day. Perhaps they are preparing for an upcoming lap time session so they can quote it in the official unveiling.... It just seems odd to me.
I don't think it is anything out of the ordinary, especially when testing a performance car. Most test cars (that get flogged) are equipped with fire suppression and engine shut-off buttons, the cage is another safety feature. Pretty sure I've seen them on Audi RS cars, BMW Ms, etc. They are driving the car hard to (hopefully) resolve any kinks.
Legally I don't think it is possible, at least without some weird looking headlights. Pedestrian safety rules now prohibit the use of pop-up lights, and headlight minimum height regulations probably require them to be roughly where they are now.
Nevertheless I deleted the lights and added a duct.
There is a company that makes a kit for the 997.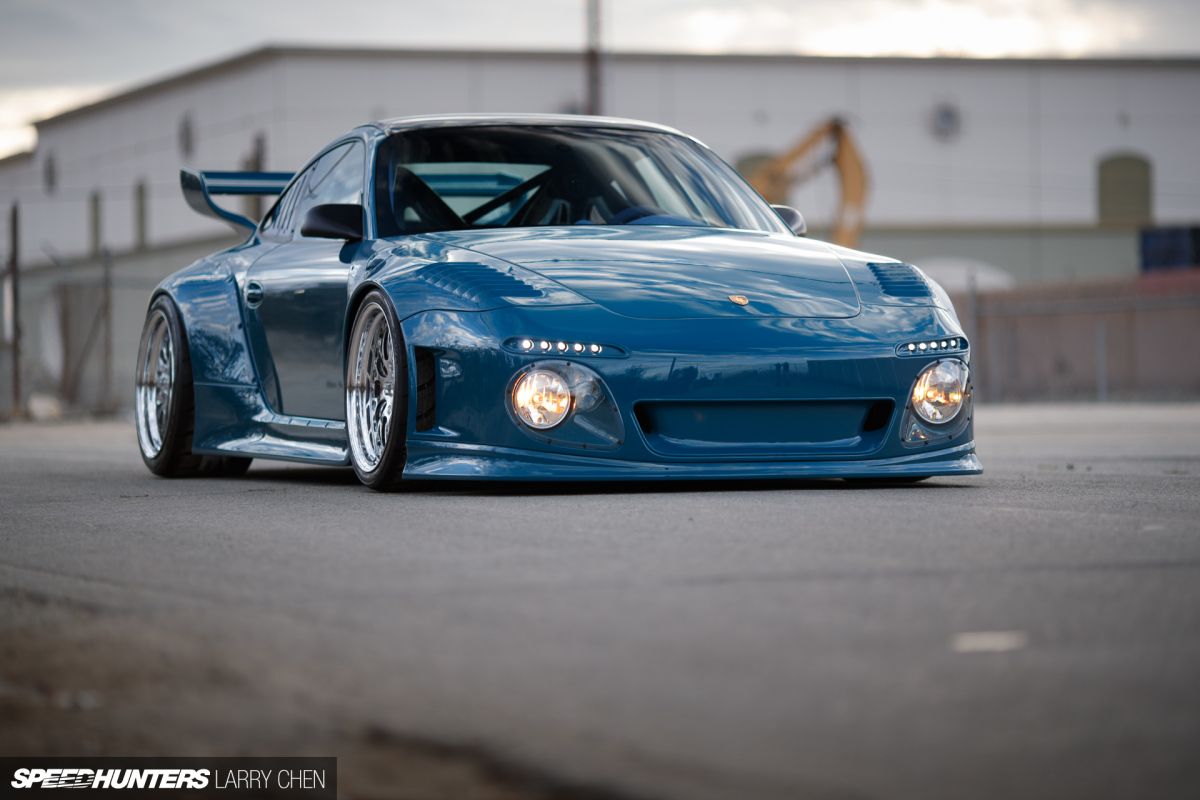 http://www.speedhunters.com/2016/11/...97-slant-nose/
---
Last edited by FrenchToast; 09-08-2018 at

12:26 AM

.

09-07-2018, 02:13 PM
User
Join Date: Jun 2017
Posts: 483

09-07-2018, 02:29 PM

09-07-2018, 03:32 PM
User
Join Date: Jun 2017
Posts: 483

---
Hahahahaha , I really don't understand why there isn't widespread disapproval of this spoiler.
There is such a huge chunk of the vehicles body work flipped up , it looks as if it's broken. I wouldn't even call it a spoiler... I would just call it a "retractable complete rear deck-lid assembly" the only thing NOt flipping up with it is the tail lights and licence plate.
---
Last edited by limegreen; 09-07-2018 at

03:55 PM

.

09-07-2018, 03:33 PM

---
I wasn't doubting that it had a full cage. It's just that a full cage is not the only way to run harnesses.
I wouldn't want to try to go fast on the Nordschleife without a cage, helmet and Hans. But, that doesn't mean that you have to have any of them.
I agree: It will be very cool to see the published times for the 992. No doubt it will be many seconds faster than the 991; this is SOP for Porsche.

09-07-2018, 03:37 PM