992 Interior Spy Shots

09-02-2018, 10:19 AM

---
Interesting...it appears that the console dash (around the shaver gear) has lots of fingerprints on it. I assume they will have touch leds or something on the center console. I am assuming b/c of the all the space shown in the daylight pictures of the console.

But I want the red button

09-02-2018, 03:28 PM

---
Originally Posted by
GordyRay
Well since my current GTS got totaled on WED I will be purchasing a 991.2 with PDK so I get to have a shifter for a few more years. If that ridiculous shaver is there in the 992, I will be going back to a manual tranny when I get ready to buy the 992. The members of my PCA club who use PDK all concur that they routinely use the shifter to select gear changes besides the paddles like when holding a coffee or eating something and you cannot get to the paddles like in a big turn, etc. There are numerous reasons to shift gears with the shifter. This is 100% unsat. If you don't agree then you are in the minority because of 100% of our local PCA club is in agreement with me. Come on PCNA listen to your customers. We don't care for the little nebula shaver ****. Porsche is taking out the character that makes the 911 a "Driver's Car".


Like it or not, the elimination of the center-console shifter is not new to the supercar world. Take a look at Ferrari, Lamborghini, McLaren and others...all have gone to paddle-shifter only shifting.

09-02-2018, 08:36 PM

---
true
in this case I wish they just got rid of that electric shaver/vibrator ****
not sure 992 would make me wait, exterior not sure if its an improvement. The interiror has some nice upgrades, big screens 3 of them now.
but the center console of the 991 and the steering wheels are better.
of course more hp/tq is a given.
weight and final spec remains to be seen. Not sure if they would change the pdk shifter based on negative feedback, may be in the 992.2.
price would be up a little. It will be a nice care but any 911 is a nice car. Wonĺt affect P-sales but will come down to personal taste.

09-02-2018, 09:00 PM
User
Join Date: Aug 2016
Posts: 77

---
One downside to these giant infotainment screens is that it's going to be real tough to put an aftermarket radio in one of these cars. You know, if you're into that sort of thing. Hopefully the stock unit isn't anything like my 981's base stereo before I yanked that thing out of the car.

09-03-2018, 08:05 PM

---

09-03-2018, 10:53 PM

09-04-2018, 04:54 PM

---
Good catch! I had it on my '12 and '13 991S's.
So now I have no cubby hole for my Porsche umbrella in my '18 911GTS hahaha - the only reason I bought it was I thought "I
have
to fill that hole!" when I got my first 991 a while back!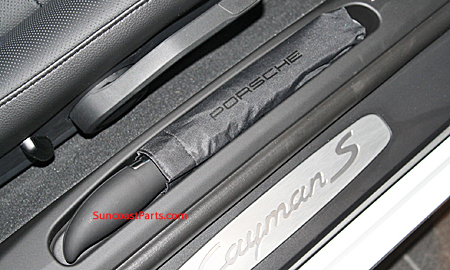 Nice to see it return for the 992!


09-05-2018, 08:11 AM
User
Join Date: May 2018
Posts: 896

---
To me the interior and exterior now both look confused - the interior looks like Porsche meets Audi meets BMW and the exterior (when the tape comes off) looks very messy - both front and rear.

Perhaps it will present better in the flesh.

09-05-2018, 02:38 PM

09-05-2018, 02:51 PM
User
Join Date: Jun 2017
Posts: 491

---
What they should include is a cubby with a micro fiber towel for wiping the greasy finger prints off that absurd glass center console switch center surrounding that electric razor shifter that floats on an island over that ridiculous trough that will be filled with every particle of dust , crumbs, spilled liquids, a lost earring back, gum wrapper and a few loose coins....

09-05-2018, 04:30 PM

---
Meh, from what I've experienced from the Panamera, my feelings on the functionality of the interior are decidedly mixed.
I've had three Panamera loaners for a total of almost 10 days (two P-Cars, and one repair on the Cayenne was a week long). So I have about as good of an experience in them as you could unless you owned one. In addition, I've read the manuals and spent time customizing the displays how I would do so, since there is a decent chance we'll end up getting a Cayenne which has the same interior (minus the stupid power operated vent, thank GOD).
I find the displays to be extremely crisp. Good black levels, good resolution. does not become super distracting at night (I've heard that Audi's Virtual Cockpit is very bright). The map is extremely well-rendered and detailed. There is a very strong level of customization of the main diasplay. It's somewhat Android like in that you have different layouts and widgets that you can put inside of them. The touch panel around the shifter is pretty easy to use without taking your eyes off the road. The haptic feedback it provides helps. And the toggles for the temp and fan speed are easy to find.
That's the good news. Now the bad news.
The black panel gets to be a mess with fingerprints. Really fast.
The main display, despite having like 5 different layouts plus widgets, doesn't have great organization of those layouts / widgets. For instance, if you want to see the map plus other stuff, there's NO PLACE to display radio presets. I mean, really? And there is still no way to scroll through presets using the wheel. The only way to display radio presets is to take up the majority of the screen with the preset info, and then relegate other info to the smaller, right side.
The dedicated "button" on the black panel for the Nav / Map is all the way on the right side. It's hard to reach, and impossible to hit without looking. Shouldn't that have been on the left? In the pics above, I don't see any dedicated shortcut buttons. Wonder if they've done away from them?
The "roller" for the volume is fiddly and more than once I grabbed the selection **** to adjust volume. Glad to see that's gone here.
Speaking of steering wheel, the "hot key" is next to useless. Come on Porsche, give us a track forward / back button. For the love of all things holy! Is the **** on the left in the pics above a track forward / back ? At least it has it there...
The worst part is the screens on the dash. Plenty of real estate but terrible utilization. One thing can only be a clock or time / date normally. The other side also have very limited information normally, like total miles / temperature or something like that (it's been a few months). Basically, the outer two gauges are a total waste.
You can display critical car info on the gauge to the right of the tach like you can on the MFD on the current cars, but then it goes away when you switch to trip info (like on current cars) and that information is gone. Unlike the current cars, where you have redundant physical gauges on the outside.
If you display the nav map on the right two gauges, you can't also view any kind of vehicle or trip info anywhere. It's gone.
The left two gauges are next to useless unless you've got the assistance systems up and running. Since the speedo is digitally replicated at the bottom of the tach and you tend to use that all the time anyway. I mean, I almost never look at the speedo in my 991 as the indications are so far apart it's kinda useless.
I really hope that Porshce issues some updates to the software running the gauges. As, IMO, it totally sucks. For digital gauges, mercedes has them completely trumped in terms of functionality. Even Audi has a better layout. In looking at these shots above, I see they have added fuel and temp gauges on the right. Hope that's a step in the right direction.
All in all, it leads to a system that takes a lot of eyes-off road to read. And that's not good in any car, much less a high performance sports car.